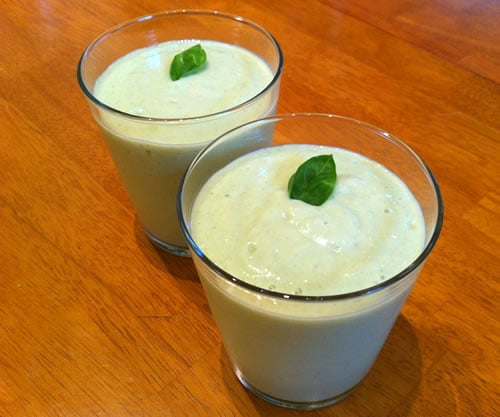 I woke up early yesterday morning, determined to prove (to myself, mostly) that the smoothie flowchart really does work.  I'm confident about the viability of the "Sweet" side of the chart, but to be honest, wasn't completely certain about the "Savory" path. Until now.
As I lay in bed pondering smoothiedom, I developed a craving for a cucumber smoothie, which probably strikes you as odd — as it did me.  (Maybe I needed some Vitamin K, I don't know.) So, I followed the flowchart, and, working with what I had available, came up with this. I think it's a pretty big win.

Cucumber, Basil, Lime, and Avocado Smoothie
Some of these ingredients just don't seem as if they could go together but these are a tasty combination.
Ingredients
1

large

cucumber

peeled and seeded

1/2

large

avocado

1

lime

peeled

1/2

cup

rolled oats

1

cup

milk

1/2

cup

crushed ice

4-5

basil leaves
Instructions
Peel the cucumber, slice into quarters lengthwise, and remove the seeds. Drop in the blender. Peel the lime and toss the whole fruit in. Scoop out half an avocado and add to the pitcher.

(Avocado tip: If you keep the pit in the other half of the avocado and then put it in an airtight container in the fridge, it won't turn brown as quickly.)

Blend to liquefy the first ingredients.

Add the oats, milk, and crushed ice and blend at high speed again, until the oats "disappear" into the mixture.

Add the basil and briefly puree one last time.

Serve immediately, garnished with a basil leaf.