The Smoothie Flowchart
Aug 25, 2010, Updated May 12, 2014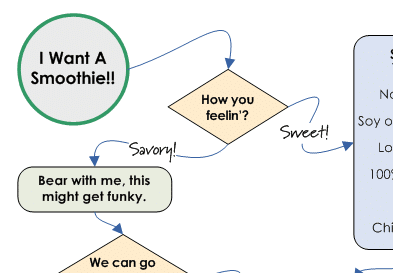 Bear with me, this might get funky.
See, the tricky thing about smoothies is that there are infinite possibilities.  It can be overwhelming for even the coolest of heads out there.
Continuing with (self-proclaimed) Smoothie Week, I figured I'd step up to alleviate at least some of the smoothie stagnation in the world (sorry — once I start alliterating, I'm slow to stop).
Therefore, I proudly present The Smoothie Flowchart! (8.5″x11″ one-page PDF, 919kb)
Print it out, stick it on your fridge, and may it bring you many blenders' worth of smoothie inspiration.
If you'd like to share the smoothie flowchart on your own website or blog, please be respectful (and law-abiding) and share it by linking directly to this post. Please do not link directly to the PDF or copy the PDF to your own server.  Thanks!