Before becoming a mom, Valentina K. Wein had her own catering business, ran Sur La Table's cooking program in Santa Monica, and was a contributing recipe writer to the Los Angeles Times, Food Section. She currently lives in Southern California with her husband and two boys. Now that Valentina's boys are both in school, she works as a recipe developer, and you can always find her over at her blog, Cooking On The Weekends (and on Twitter,  Facebook, and Pinterest, of course).
This is a guest post for October Unprocessed. If this is your first time here, welcome …and it's not too late to join in!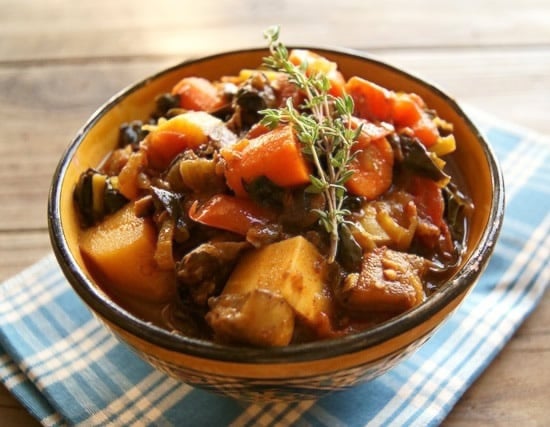 I grew up in a home with a thriving, year-round vegetable garden.  Its produce depended on the season, but you could find my parents pulling things out of the garden and adding them to a pot on the stove, all year long.  So I learned early just how wonderful whole, fresh, healthy, and unprocessed ingredients can be.
Just about everything in this stew comes from the garden!
This stew is to vegetarians what a pot roast might be to those who eat meat.  It's full of rich, deep flavors; it's incredibly hearty; it fills the whole house with wonderful aromas and it's a true comfort food dish.
This stew is perfect on its own and is also wonderful over brown rice or a lovely piece of toasted, rustic bread.

Author:
Valentina K. Wein
Ingredients
Olive oil for the pan
1 cup thinly sliced brown onion
2 Tablespoons roughly chopped garlic, roots removed
8 ounces thinly sliced crimini mushrooms
⅛ teaspoon cloves
¼ teaspoon cardamom
½ teaspoon cinnamon
½ teaspoon turmeric
½ teaspoon chile flakes
1 teaspoon ground cumin
2 teaspoons finely chopped fresh thyme
1 cup peeled carrots, cut into bite-sized pieces
1 cup parsnips, cut into bite-sized pieces
1 cup baby Dutch potatoes, cut into bite-sized pieces
4 cups roughly chopped, loosely packed kale
3 cups roughly chopped tomatoes
1 cup coconut water
½ teaspoon raw cane sugar
½ teaspoon sea salt
Instructions
Coat the bottom of a large pot with olive oil, and place it over medium-high heat.
Add the onions and garlic to the pot and cook, stirring every couple of minutes, until the onions are nicely browned, about 15 minutes.
Add about another tablespoon of olive oil and the mushrooms to the pot. Cook until they are beginning to brown, about 10 minutes. (Again, stirring every so often.)
Add the cloves, cardamom, cinnamon, turmeric, chile flakes, cumin, and fresh thyme, and stir to blend. Pour this mixture into a large bowl and set aside.
Add the carrots and parsnips to the pot, with enough olive oil to coat the bottom (if necessary). Cook just until the vegetables are beginning to brown, about 10 minutes. Then add the potatoes and kale. Cook until the kale has completely wilted, about 5 minutes.
Return the mushroom-onion mixture to the pot, and then add the tomatoes and coconut water. Use a flat-edged wooden spatula to scrape off any bits of vegetables that are stuck to the bottom of the pot. Stir it right into the stew -- it's these wonderful caramelized flavors that help make this such a hearty stew.
Bring the stew to a boil and then turn the heat to low, cover the pot, and simmer for 1 hour.
Season with the sugar and salt.
Notes
The bottom of the pot will likely brown quite a bit when you caramelize the onion, mushroom, and other vegetables. Please don't worry -- this is great! It's flavor! When you add the tomato and coconut water it will work its way into the stew.