Kosher Confidential: Defining Kosher and Debunking Some Myths Along the Way (Roast Turkey with Juniper Wine Gravy)
Oct 23, 2012, Updated Sep 08, 2017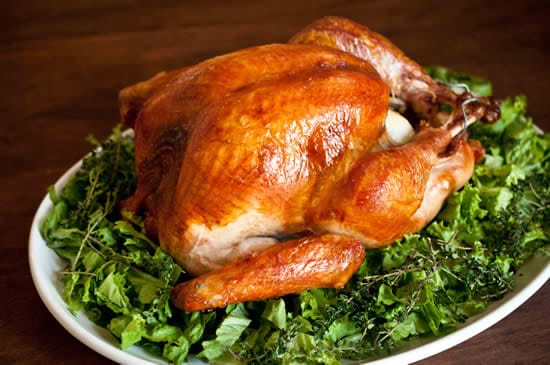 When I opened my eponymous restaurant with my two brothers-in-law more than thirty years ago, in Lincoln Center (we closed about three years ago, after a nice long run), we Kirschenbaums were perfectly aware we were facing a hard sell: introduce fine Kosher dining to the Kosher public, who until then was content either eating at home or grabbing a bite in the rare joints that served institutional old world fare. The general prediction was that the presumptuous idea would fall flat on its face.
Undaunted by being treated as rebels (after all, this is what we were!), we surrounded ourselves with the best chefs, developed the most delicious dishes and waited patiently until the idea of gourmet and natural Kosher dining caught on. The rest again is history: Kosher food and wine has experienced a veritable explosion and has its place among the most prestigious competitions. Many luxury Kosher restaurants have opened and thrived since Lévana's grueling pioneering days, proving it was well worth putting in all the hard work and enduring all skeptical comments! So, how do we "manage" to cook great meals with the restrictions imposed by a Kosher lifestyle? Deliciously, thanks for asking! And thanks to all our non-Kosher-observant customers for patronizing my restaurant all these years, and using my cookbooks, for no other reason than that they loved it and find my recipes a great way to cook the streamlined and natural way!
In light of the above, it was only natural that my fourth cookbook, my magnum opus as I call it only half jokingly, would be prominently titled The Whole Foods Kosher Kitchen: Glorious Meals Pure and Simple. I had meant for the book to accomplish two important things in one fell swoop: Signal to the Kosher public that everything in the book is usable for them as is, with no pesky non-Kosher-to-Kosher adjustment whatsoever (meaning, it contains no pork or shellfish products, and doesn't combine meat and dairy products in any given dish), and that every single ingredient in every single dish is thoroughly unprocessed. It goes without saying that one needs not keep Kosher or even be Jewish to use my cookbook: Indeed I receive countless messages from readers Kosher and non Kosher alike that my new cookbook has become their cooking bible.
So, you ask, what is Kosher food? Spill the beans already! May I please start with what it is not? It is not this ubiquitous collection of expat dishes called in America "Jewish food", smoked, brined, overcooked, schmaltzy, that adorn bagels. Having grown up in Morocco, I had never encountered any of these specialties until I came to live here, almost two generations ago. There's plenty of Jewish food that is not prepared the Kosher way. Likewise, sushi, which is certainly not known as Jewish food, is widely available in Kosher restaurants.
Don't get mad: Get Kosher! is a cute but very telling sign we often see on Kosher butcher storefronts. Kosher animals cannot be diseased or suffer from any lesions, or they will be unfit for ritual slaughtering; in other words, only perfectly healthy animals are suitable for Kosher consumption. Also, the way they are ritually slaughtered, which consists of running an extremely sharp knife across their jugular vein, makes them die practically on contact, and as painlessly and humanely as possible. A Christian friend I was describing this to once told me, "So you people are the original animal rights activists!" We are also commanded not to hunt, to emphasize that our only purpose for killing the animal is for sustenance, not enjoyment.
We entertained many non-Kosher-observant customers at our restaurant, and almost all of them would ask how come our steaks were so much more tender and more delicious than the ones they were accustomed to eating. And the answer is that the salting process acts as a natural tenderizer to the meat.
The word Kosher means "good" and "proper" and so the Kosher dietary laws offer us a diet to maintain our spiritual well-being, our moral and ethical fitness. The laws for keeping Kosher govern everything related to food, including preparation, cooking, and serving. It is not my intention to give a crash course in the do's and don'ts of keeping Kosher, but I would like to clear up a misconception that the sole reason for these laws is hygiene. First and foremost, the Kosher diet is a spiritual diet. According to our Torah (the Bible), the only reason for following a Kosher diet is "holiness." "For I am G-d who elevates you from the land of Egypt to be a G-d unto you; you shall be holy for I am Holy." (Leviticus, 11:44)
Although better health may be a beneficial by-product of observing many of the biblical decrees, certain foods are forbidden for a higher moral reason. For example, the Bible reiterates many times that blood may not be consumed. "Only be strong not to eat the blood—for the blood, it is the life—and you shall not eat the life with the meat." (Deuteronomy 12:23) Based on this decree, our sages concluded that when an animal is killed, care must be taken to drain off as much blood as possible before eating the meat. The Koshering process is completed by the butcher or the cook, who soaks and then salts the meat to remove any remaining traces of blood. This method does not work on liver, which must be broiled on a grill for the blood to drain off.
The animals we are permitted to eat are gentle and domesticated, and would not hurt another species. They are not carnivores, predators, or scavengers. Animals permitted for Kosher consumption must have split hooves and regurgitate their cud. Fish must have both scales and fins. Hence, pork and shellfish are not part of the Kosher diet: Strictly verboten.
Deuteronomy 14:21 says that "Thou shalt not seethe (cook) a kid in its mother's milk." From this commandment, scholars concluded that mixing meat and milk is a violation of Kosher laws, therefore these ingredients must be kept separate in cooking and serving. Foods that are neither meat nor dairy are called pareve, meaning "neutral." Since pareve products include fish, foods that grow in the earth, and all food products made from them, they can be served with meat or dairy meals. This wide category of food that contains no dairy products suits the Kosher community who cannot serve any dishes containing dairy products with a meat meal as well as our dairy-free dining friends just fine. You may know I wrote a book on the subject, Levana Cooks Dairy-Free: Natural and Delicious Recipes for Your Favorite "Forbidden" Foods. Wait till you taste my dairy-free tiramisu, cheesecake, chocolate truffles or Tandoori!
While keeping Kosher involves many laws and restrictions, such as not mixing meat and dairy products, I want to stress that this does not mean sacrificing good taste. With the extraordinary array of ingredients available in today's marketplace, everyone can enjoy the most creative menus while satisfying their taste for gourmet cuisine. Keeping Kosher today means you have access to the best wines, the finest ingredients, and the most creative recipes that cater to the sophisticated tastes of a younger generation.
Those readers who are contemplating a Kosher lifestyle and have been accustomed to gourmet food will find my recipes especially appealing because you learn more than recipes, you also learn a philosophy of cooking dishes that are unusual as well as nutritious. And you discover that you can add a dash or two of your own personality without straying from my basic guidelines, preparing cuisine that is thoroughly unprocessed, seasonal, fresh, lean, streamlined, easy and fun.
Roast Turkey with Juniper Wine Gravy
My new cookbook includes an extensive chapter on preparing turkey, and I will say here just a few words about it, by way of introduction to the following recipe. If only you would follow these very simple rules, you would enjoy turkey all year round, as I do, without any trepidation or wariness whatsoever—and as importantly, without thinking about it as a day-long project.
I often see instructions in famous food magazines for getting a tender turkey and priming it for roasting. One of those articles made me chuckle. It went something like, "Remove 2 shelves from your refrigerator, fill a very large square tub with very cold water, add 2 pounds Kosher salt, leave the turkey in this brine two days, turning it over twice a day, etc."
Is it any wonder the public consumes turkey so rarely, if at all, besides during the compulsory Thanksgiving Day? My own comment about this utterly impractical little adventure is, simply, get a Kosher turkey—end of story! My non-Kosher food spies assure me: The difference in flavor and texture is like the difference between night and day. And the main reason is the salting process that follows the slaughtering. Start with a very tender turkey: It is my solemn duty to tell you that no turkey (or any poultry for that matter) will come anywhere close to a Kosher turkey, as the salting step in the Koshering process makes it ideally tender.
Dear non-Kosher readers, let me allay any fears that any danger of getting inducted into some mysterious order might be lurking just from buying a Kosher turkey! The greatest danger it might get you into is a fabulous dinner!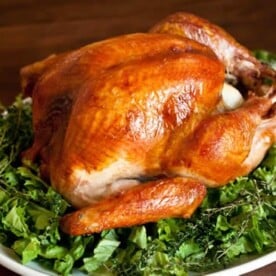 Roast Turkey with Juniper Wine Gravy
I love juniper berries—they are the spice that give gin its unmistakable flavor. They are easy to find in health food stores. Put them in a plastic bag, and crush them with a rolling pin or with a hammer or meat mallet so they give off their full flavor. This is one of my favorite turkey recipes, but there is no reason why you can't make it with your favorite herbs, seasonings, and cooking liquids, just as long as you follow the simple rules I have provided, and get different results each time. Please note there is no salt listed in the recipe, as I start out with a Kosher turkey, which is by definition presalted.
Ingredients
1/4

cup

juniper berries

,

slightly crushed

3

tablespoons

black peppercorns

4

sprigs

sage

6 to 8

bay leaves

12

whole cloves

1

tablespoon

turmeric

2

large

red onions

,

skins reserved, sliced very thin (the skins give the sauce a beautiful amber color)

4

cups

dry white wine

,

if you would rather not use alcohol, substitute cranberry or pomegranate juice, or natural apple cider

1

12 pound

kosher turkey

,

preferably fresh, or frozen and completely thawed
Instructions
Preheat the oven to 325°F. Place all but last ingredient in a real, non-disposable, roasting pan. Throw in the onion skins and combine. Place the turkey in the pan, breast side down. Cover the pan loosely with foil, and bake for about 2 1/2 hours. Turn the turkey over, discard the foil, and bake uncovered about 1 hour more, until the breast gets a deep amber color and the juices run clear when you pierce the breast with a knife. Transfer the turkey onto a slicing board.

Let the turkey rest about 15 minutes before slicing. While the turkey rests and gets sliced, reduce the liquid in the pan on a high flame to about 3 to 4 cups (if that's all you have left, then don't reduce), and strain—pressing hard on the solids to extract the most flavor—over the sliced turkey. Discard the solids. Serve the turkey with its gravy.
Nutrition
Calories:
532
kcal
,
Carbohydrates:
9
g
,
Protein:
59
g
,
Fat:
15
g
,
Saturated Fat:
4
g
,
Cholesterol:
193
mg
,
Sodium:
310
mg
,
Potassium:
842
mg
,
Fiber:
2
g
,
Sugar:
1
g
,
Vitamin A:
190
IU
,
Vitamin C:
0.3
mg
,
Calcium:
79
mg
,
Iron:
3.9
mg
Like this recipe? Rate and comment below!
Roast Turkey photo courtesy of Jackie Dodd.