Egg-Free Garbanzo Flour Quiche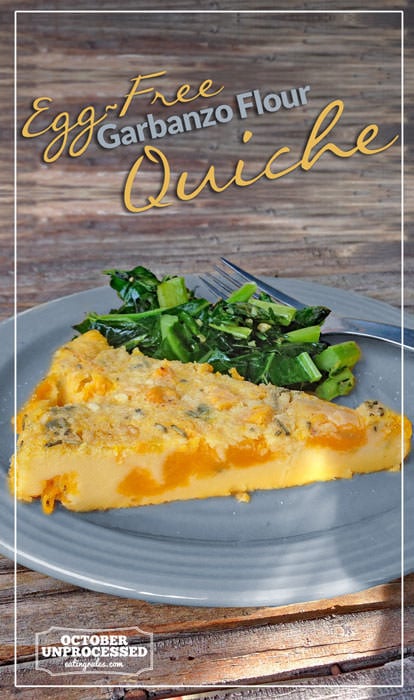 It's quiche o'clock. Do you know where your hen's been? Probably in a tiny cage crammed with other jailbirds on a factory farm because that's where most eggs come from. But not this garbanzo flour quiche. It's plant-based, cruelty-free, climate-friendly and has never done any time in the slammer. You might say it's a feather in the cap of conscious eaters. And being a conscious eater means stepping up to the plate by answering your Mother's call even when it's inconvenient.
Eater: Hello?
Mother Earth: Hey, it's your mother.
Eater: Mom, I'm kind of in the middle of something.
Mother Earth: So am I. I'm having a freaking hot flash! I'm going through the change like there's no tomorrow! Would you cut down on your eggs, meat, and dairy already? Oh, and try this egg-free garbanzo flour quiche. I hear it's yummo with a great mouthfeel. Nom nom nom nom…
Eater: Yes, Mother! Anything you want! Just stop with the foodie jargon!
Mother Earth: Deal. (Ha! Climate mission accomplished!)
Jailbirds that spend their whole lives in small battery cages crammed with other birds in huge industrial warehouses can't flap their wings, move their limbs or ever see the light of day, and they're pumped up with drugs to prevent disease from unsanitary conditions. Plus, animal waste from factory farming pollutes our water and air which causes climate change, not to mention food safety risks.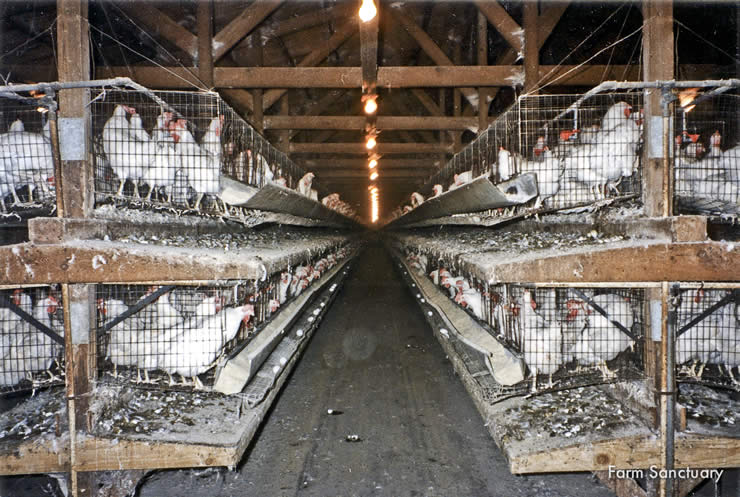 However, if you're going to eat eggs, the best choice in terms of animal welfare, environmental impact, and human health is organic and pasture-raised. Not all organic eggs are truly pasture-raised with outdoor access, though. This short video from the Cornucopia Institute illustrates the different types of outdoor access available to organic chickens. The Organic Egg Scorecard rates the brands that are doing the best jobs, so you can make sure you're buying and rewarding the right companies and farmers. Eggs from your local farmers market not only taste better and are nutritionally superior, you're supporting small farmers and helping maintain the integrity of the organic label.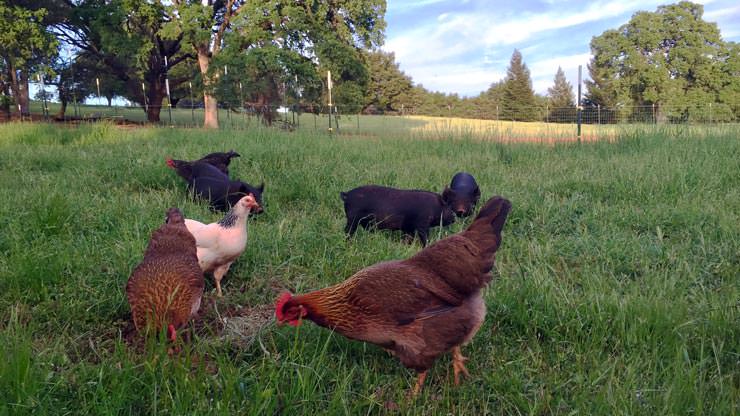 Eater: But mom, I can't afford eggs from my farmers' market! Just because you're going through the change, I have to go broke?
Mother Earth: Hey, I didn't give you any crap about puberty! Those braces cost me a fortune! Do you care about our health or not?
Eater: Well, yeah.
Mother Earth: Then if you're gonna eat eggs, buy the good eggs and just eat less of them. Make this egg-free garbanzo flour quiche as a stand-in. I hear it's yummo with a great mouthfeel. Nom nom nom nom…
Eater: Yes, Mother!
Mother Earth: Works every time.
While one large egg contains 6 grams of protein — garbanzo flour (also known as gram or besan flour in other parts of the world) is also high in protein. According to the package of Bob's Red Mill garbanzo flour, 2 ounces contain 6 grams of protein (about one serving of quiche and even more if you have a larger slice). Not only does it have a higher protein count than other flours, it's also high in fiber, provides low-glycemic energy and is a slower-burning carb. It's a versatile gluten-free staple in Indian, Pakistani, Nepali, Bangladeshi and Burmese cultures, and in Italy and France, it's used to make socca, a type of flatbread.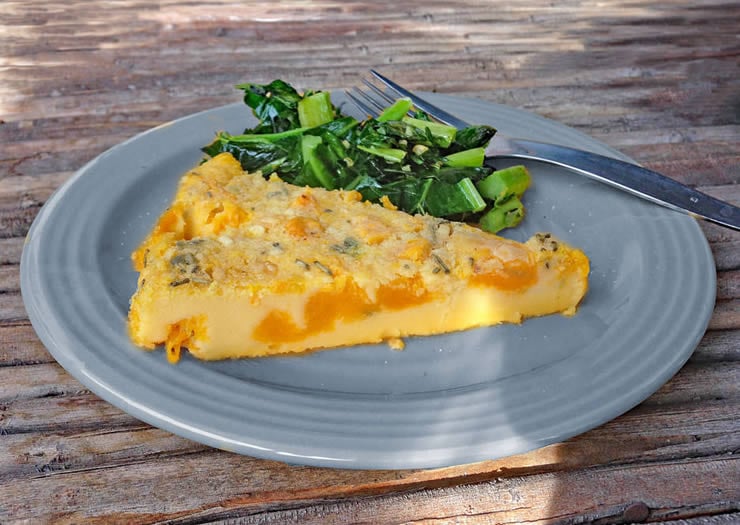 This Egg-Free Garbanzo Flour Quiche has a deeply satisfying flavor, thanks to sweet butternut squash and savory rosemary. Garbanzo flour gallantly holds its shape, from quiche to flatbread to pizza, and the neutral, yet slightly nutty taste lends itself to any combination of herbs and spices. When you can be all things to all eaters, that's a winner in my book. Speaking of my book, this quiche was adapted from my humorous vegan, gluten-free eCookbook Trump at the Table.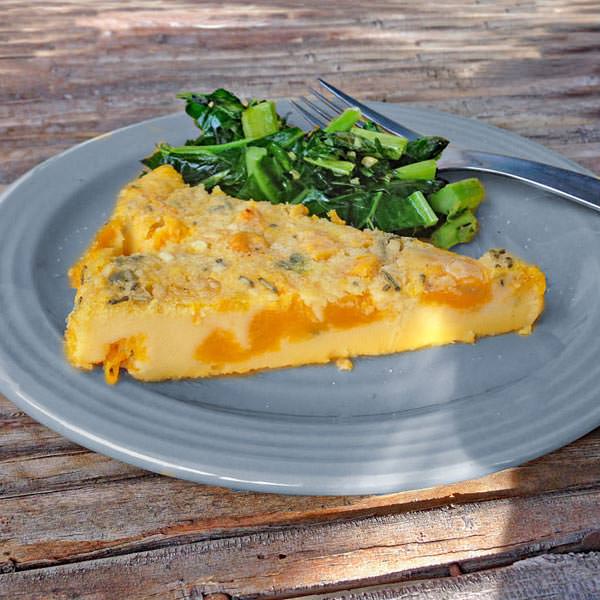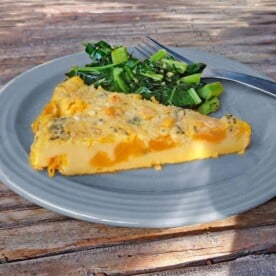 Egg-Free Garbanzo Flour Quiche
This Egg-Free Garbanzo Flour Quiche has a deeply satisfying flavor, thanks to sweet butternut squash and savory rosemary.

Ingredients
2

cups

garbanzo flour

2

cups

water

3

tablespoons

olive oil

1/2

teaspoon

salt

1/4

teaspoon

dried rosemary

,

heaping

1

butternut squash

,

small

1

shallot

,

small

olive oil

,

for pan
Instructions
Mix flour, salt, water, olive oil, and rosemary. Let rest while you prepare the squash.

Cut squash into chunks, rub with olive oil, and roast at 400 degrees F until carmelized, or roast two seeded squash halves face down on baking sheet, 30-40 minutes. Let cool, scoop out flesh, and dice. Turn oven up to 425 degrees F.

In a 10-inch ovenproof skillet, sauté the shallot in olive oil (make sure pan is generously coated). Spread squash pieces evenly in the skillet and cover them with the batter. Put on low to medium heat for 5-10 minutes until it firms up a bit. Put skillet in preheated 425 degree F oven.

Cook uncovered for 25-30 minutes, until edges brown and start to pull away from pan. Put a knife in the center to make sure it comes out clean. Let rest a few minutes before serving.
Notes
For flatbread,
use a combination of your favorite herbs and spices with half the batter recipe (first 4 ingredients) in 2 preheated, greased, 9-inch glass pie dishes. Bake in a 400º - 425º oven for 12 - 15 minutes until edges brown and start to pull away from pan. Cumin powder, cumin seeds and chopped cilantro are a winning combo
alone or
with black beans.
Like this recipe? Rate and comment below!