Jody Ericson Dorow, Nancy Gellos, and Marlen Boivin were having conversations about farmers' markets, farmers, and simple, seasonal food when they found they were all asking a common question: "How can we participate with our family, friends, and community in a way that shares what we know and what we continue to learn?" Shortly thereafter, they found a blog by James Beard Award-winning chef Tamara Murphy, and knew she was the one "living" this work. They met, and decided to create TENDER: farmers, cooks, eaters.
I met Jody and Nancy a couple of months ago, and we instantly connected — I thoroughly enjoyed talking with them about their project and our shared goals. Of course, I was thrilled when they agreed to share this soup recipe, from the collection of recipes and tips included in their upcoming book. To preview other recipes with your friends and family, visit their site Farmers, Cooks, Eaters.
What can I make today, that may also come in handy later in the week when schedules are a little more hectic?
This is a question we have asked ourselves throughout our journey with October Unprocessed. We decided that whatever we make, it must be delicious, simple, and use fresh, seasonal produce. This Farmers' Market Sweet Pepper Soup, from chef Tamara Murphy is an absolute favorite this time of year.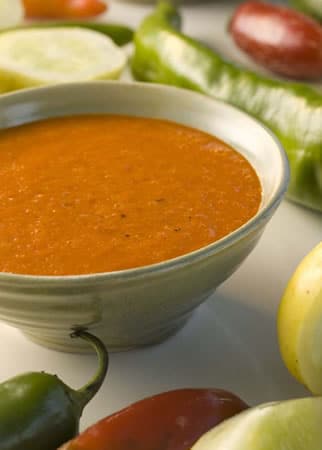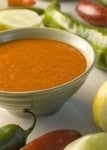 Farmers Market Sweet Pepper Soup
This dish will not only be delicious and simple, but it will use fresh, seasonal produce.
Ingredients
3

tbsp

(a few glugs) extra virgin olive oil

plus a little more for drizzling

1

medium

onion

diced

2-3

garlic cloves

minced

1½ - 2

pounds

sweet peppers

roasted (see note), peeled, and chopped

½

cup

fresh orange juice

1

large

ripe tomato

seeded and diced

4

cups

vegetable broth

3

sprigs of fresh tarragon

leaves removed and chopped

salt and freshly ground pepper

butter

optional
Instructions
In a large sauté pan, heat the olive oil over medium-high heat to the point of fragrance (meaning it's not smoking, but you'll hear tttssscchhh when the onion hits the pan). Add the onion and garlic. Turn the heat down to medium-low and cook for about 10 minutes, or until the onion is translucent.

Add the roasted peppers, orange juice, and tomato. Cook, uncovered, for about 15 minutes, so the flavors can mingle. Add the broth and simmer for an additional 15 to 20 minutes. Remove from the heat and let cool.

Working in batches, transfer some of the mixture to a blender, filling about halfway, making sure there are equal amounts of peppers and liquid. Place the lid on the blender and pulse. (Turn the blender on and off quickly; otherwise, you may have more peppers on your counter than in the blender.) Once the veggies are more smooth than chunky, then you can blend away. When the mixture is nice and smooth, blend in the tarragon. At this point, add salt and pepper to taste.

Serve hot or at room temperature. Add a drizzle of olive oil or a dollop of butter to each bowl before serving.

You can make this without roasting the peppers. Simply sauté sliced peppers with the onions and garlic -- it just gives you a different soup. You can't ruin a recipe; it's only a blueprint.
Recipe Notes
To roast peppers, I sometimes place a rack over the gas flame and set my peppers on that. Let them char on all sides and then enclose them in a paper bag or pop them in a bowl and cover with plastic wrap until they cool. Then gently remove the skins and the seeds.