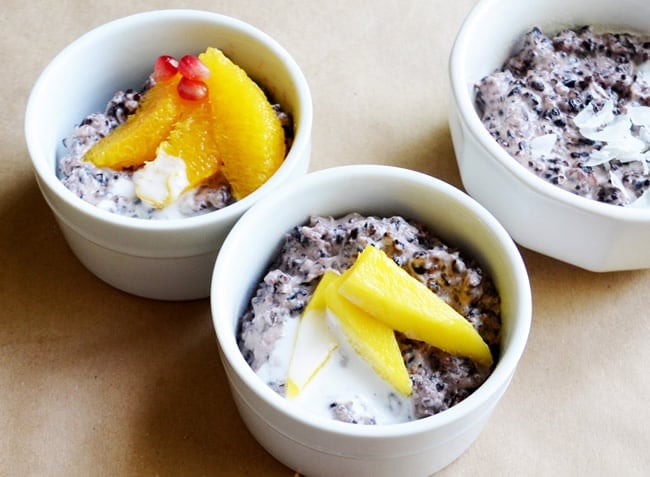 I would squeal with delight when my mom brought home a box of Count Chocula. After all, I'm the byproduct of growing up in the 80s. Breakfast included a few mornings with eggs, but generally it was something out of a box. My husband also ate his lion's share of cereal growing up. Breakfast by this time had been hijacked by brilliantly colored packages, flimsy prizes, and cartoon characters. Kids were thrilled and weary mothers were beguiled by the lure of fortified grains.
Fast forward. My husband and I started making deliberate choices to eat fewer processed foods after Baby #2. However, there isn't a stronger parent trap at the grocery store than the one in the breakfast aisle. We began parenthood as two former kids raised by Tony the Tiger and Toucan Sam. It was tough trying to navigate breakfast without a box.
We were eating low-sugar options, but we saw the habit of cereal take away opportunities for our kids to enjoy a variety of flavors and textures. Cutting out all boxed cereal cold turkey can be a heavy slap for kids who are used to the routine of a bowl, spoon, and box. To help our kids transition to a variety of breakfast foods we did the following:
Invited them to look at pictures in cookbooks and put sticky notes on foods that looked yummy.
Had them pick out special fruits in the produce aisle exclusively for breakfast.
Put 'em to work during breakfast prep, like washing berries or stirring the crêpe batter.
We paired new grains, like wheat berries, with familiar fruits and nuts.
We gave everything a fun name, like Goldilocks Porridge or Ghost Toast.
When they requested cereal, again, we'd just point out that our bodies need a variety of foods.
We came up with backup breakfasts in case we had a late and lazy morning, when the magnetic urge for a box is strongest. Nut butter smeared on a banana, toast made from good quality bread with a piece of fruit, frozen fruit over plain yogurt and a drizzle of honey.
At our home in Northeastern Colorado we now rotate between sweet and savory breakfasts. During the week we need fast items that can cook while I go over spelling words and locate missing shoes. We eat a lot of eggs from our flock of backyard chickens, smoothies, and oatmeal. But for Halloween, I wanted to expand our breakfast routine and introduce them to Black Forbidden Rice. This strikingly dark whole grain sounds terrifying. Perfect. Special occasions are perfect platforms to introduce new foods and flavors.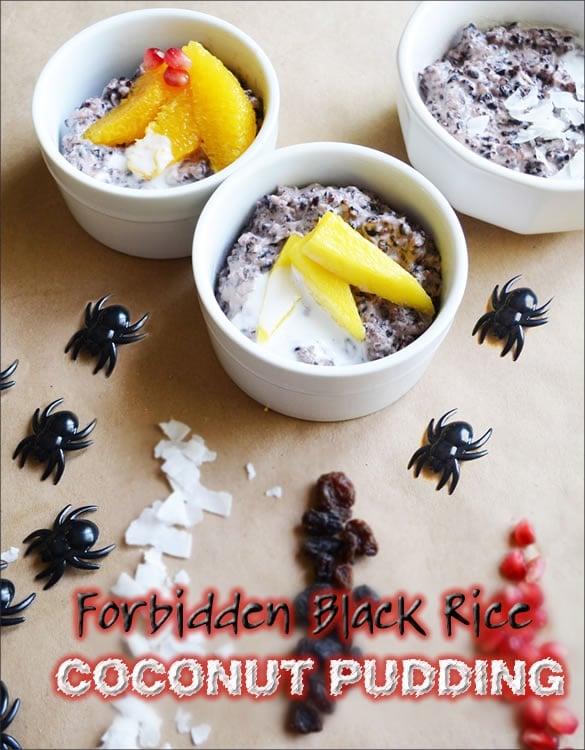 I created a wicked-easy recipe for Coconut Rice Pudding that uses leftover rice – I just throw it in the oven when I first wake up and then it's ready to serve when we are rallying around the table. Rice pudding is filling, comforting, easy, and adaptable. You can make your own coconut milk – or just look for organic brands that can pass the kitchen test.
You and yours can also successfully climb out of the boxed cereal rut. I'm living proof. I don't even miss the Count.

Forbidden Black Rice Coconut Pudding
This recipe is for parents who want to add a little spook to their breakfast routine. The pudding reheats well, but can also be served cold in lunches the next day.
Ingredients
For the Pudding:
1 ½

cups

Forbidden Black Rice

Cooked

2

cups

coconut milk

can substitute one cup for another type of milk

3

tablespoons

maple syrup
Optional Flavor Add-Ins:
1

teaspoon

freshly ground cinnamon

2

cardamom pods

remove after cooking

½

teaspoon

freshly ground nutmeg
Toppings with Halloween-y Colors:
Orange or pomelo

sectioned into supremes

Mango

sliced

Pomegranate Seeds

Dried fruit

raisins or blueberries

Dried coconut

Almonds

sliced
Instructions
Turn your oven on and set to 325 degrees F.

Dump cooked rice, coconut milk, maple syrup and any flavor add ins into an 8"x8" glass baking dish or enameled Dutch oven and stir.

Cover and cook for 40-45 minutes.

Allow to cool slightly and serve with toppings of your choice.
About the Author
Alli Howe, MPH, CHES began parenthood with a lot of anxiety, but quickly traded in her panic for a fun, positive approach to family health. She uses her training in marketing and health education to rally people around healthy living. Her day job is leading preventative health services for a regional health department and serves on city council by night. When she makes it home she loves riding bikes with her four kids, hunky husband, and nine chickens. You can find some of her health writing gems at Don't Panic Mom. Follow her on Facebook, Instagram, Pinterest, and Twitter. "