I eat like a cavewoman. Not the spearing-wooly-mammoths-and-wild-cats kind of cavewoman, but the hunter-gatherer type. I eat straight from the Earth: organic, 100% whole, unprocessed foods like fresh fruits, vegetables, legumes, nuts and seeds. But I wasn't always this way. I was a college kid once, eating Ramen and canned spaghetti sauce just like everyone else. But then something happened. Actually, a lot happened.  I developed a gluten-intolerance while in school. So I ditched the grain-filled goods and swapped in healthy snacks like rice cakes, popped corn, nuts and seeds. Easy, right? But that's just the beginning.
In addition to my gluten-intolerance, I struggled for five and a half years with chronic leg swelling (20+ pounds of water weight every day by 3PM) and severe digestive issues while pursuing a "big" marketing and advertising career in corporate America: VOGUE, Ralph Lauren Corporate and the NBA. I never let anyone know what was going on other than my family. I felt gross, embarrassed, bloated, foggy-brained, confused and frustrated. How was a 26-year-old girl to go on a date with swollen legs and chronic pain when all I could wear were spandex and gulp down water pills instead of cocktails?
I journeyed up and down the East Coast, visiting every doctor – even the Mayo Clinic – but all I received were empty answers and bottles full of useless pills.  But, this is the part where it gets better, right? Well, not quite yet.
One evening in 2007, I was rushed to the St. Vincent's Cancer Center in NYC with chronic low white blood cells. I was told I had leukemia.  But after countless MRIs, CT Scans, endoscopies, colonoscopies, X-Rays, blood tests, genetic tests, bone marrow biopsies, etc., I was told that there was nothing wrong with me. In December of 2010, I had kale from a farmers market – and contracted parasites, pathogens, and numerous cases of bacteria overgrowth. I went on a cocktail of steroids and painkillers – and disability.  No one could figure me out – or believe what was happening to me. My colleagues at the NBA thought I was kidding and Human Resources would call me on the phone to tell me that they didn't believe me. I found huge cysts on my feet and the leg swelling got so bad I could barely move.
Then I did the unthinkable, the unbelievable. I quit my job. I went back to school. And I healed myself (this is the part where it gets better). I studied integrative medicine and worked with an Eastern medicine doctor, who told me I was suffering from heavy metal accumulation in my tissues, that I lacked a gene to absorb folate – crucial in the body's natural detoxification process. Western medicine, our traditional doctors, only tests for heavy metals in your blood. All those years of canned, processed foods stayed in me. So I started chelation to draw the heavy metals out of my body and detoxed my food, makeup, cleaning products, shower curtain – everything.
I healed myself through a fresh, unprocessed diet: eating like a cavewoman. Lean proteins, fresh fruits and veggies, and healthy fats such as avocados, nuts, and seeds. I created a job for myself and started my own business, The Healthy Apple, where I help others to heal naturally through clean eating. As a personal chef, I work with clients all over the country by teaching them how to eat the way we are supposed to – just like cavemen and women – not eating out of a box or a can.  To this day I still cannot eat out of a box or a can or anything processed – my body simply cannot digest it.  At first it was tough but now I'm used to it and I feel great – you can catch me eating an avocado and chia seeds on an airplane or a zucchini and almonds on the subway. What can I say: I'm a unique "Clean" eater! You can do it too; it's easier than you think and I'm here to show you just how easy it can be.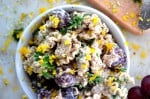 Gluten-Free Grape 'n' Chive Pasta Salad
Here is one of my favorite healthy and simple pasta recipes that combines sweet grapes and hearty gluten-free pasta.
Ingredients
1/2

pound

gluten-free pasta such as TruRoots

2

tablespoons

Greek plain yogurt

2

teaspoons

fresh orange juice

2

tablespoons

avocado oil

1 1/2

pounds

red grapes

2

tablespoons

finely chopped fresh parsley

6

chives

finely chopped

2

tablespoons

ground flax seeds

Amie recommends Barlean's FortiFlax

1/4

teaspoon

sea salt

1/4

teaspoon

black pepper

1

tablespoon

grated orange zest
Instructions
Cook pasta according to package directions. Drain and set aside to cool for 10 minutes.

In a large bowl, combine all ingredients; gently toss to combine.

Transfer pasta salad to four serving bowls.

Serve chilled.
About the Author
Amie Valpone, HHC, AADP healed herself from a decade of chronic pain, including Lyme Disease, Hypothyroidism, and more. Amie now cooks for a variety of clients including celebrities, using organic, anti-inflammatory foods to create recipes and meal plans. She shares her story of how Clean Eating and Detox saved her life, and inspires you to clean up your food too, on her site, The Healthy Apple.
Amie is the author of The 3-Month Anti-Inflammatory Meal Plan, and the best-selling cookbook, Eating Clean: Detox, Fight Inflammation, Reset Your Body & Get to the Root Cause of Illness. You can also find her on Facebook, Twitter, Instagram, and Pinterest.