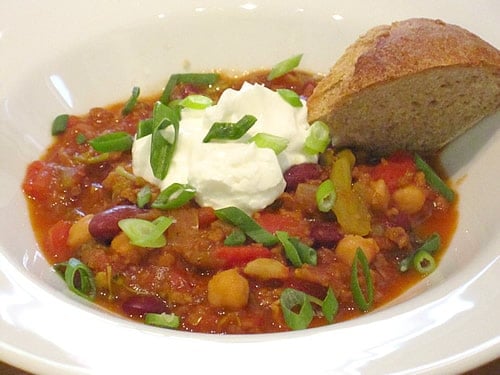 Veggie Chili with Greek Yogurt and homemade 100% Whole Wheat Bread
This healthy veggie chili recipe is more of an Autumnal dish, but that didn't stop me from making it earlier this week.  Obviously there are infinite iterations of chili, so consider this recipe just a starting point — use whatever you've got on hand and I'm sure it'll be great.
If you don't have a slow cooker, you can use the stove — just be careful to stir frequently and keep the heat low so you don't burn the bottom.

Healthy Veggie Chili
Prep Time:
Cook Time:
Total Time:
Ingredients
2 diced Tomatoes
1-1/2 Red Bell Pepper, diced
2 small Red Onions, diced
3 cloves Garlic, chopped
1 cup chopped Broccoli
1 can organic Tomato Paste
1 can Garbanzo Beans, drained and rinsed
1 can Kidney Beans, drained and rinsed
1 package Yves "Meatless Ground" (or similar ground beef substitute), optional*
1 small can Diced Green Chilis
1 cup filtered Water
1 Tablespoon Olive Oil, optional
1 teaspoon ground Black Pepper
1 teaspoon ground Cumin
½ teaspoon Chili Powder
½ teaspoon Curry Powder
¼ teaspoon Sage
¼ teaspoon Ginger Powder
½ teaspoon Mustard Seeds
¼ teaspoon Dried Oregano
½ teaspoon Red Pepper Flakes
½ teaspoon Sriracha Hot Chili Sauce, optional*
Instructions
Add all ingredients to your slow cooker or pot. Stir briefly. If using a slow cooker, cook on "High" for about 4 hours, or "Low" for about 8 hours. If cooking on the stove, bring it to boiling (while stirring frequently), and then cover and simmer on low heat for about 2 hours — stirring every few minutes.
Serve with a two-ounce dollop of Fage 0% Greek Yogurt and slice of 100% Whole Wheat Bread. Garnished with Slivered Chives or Green Onion.

Get the full nutritional profile (PDF).

—

* The veggie "ground beef" and Sriracha won't pass the Kitchen Test, you can just omit them, especially if it's October.

** This sodium number is from the nutrition calculator I used, and does not account for variations in the canned products.  If you buy no-salt-added beans & tomato paste (or rinse the beans first), that'll reduce the amount.  Likewise, nearly 300mg of that sodium is listed from the "generic" Whole Wheat bread in the calculator– so if you make your own, or find a reduced-sodium version, you can reduce it there as well.