How NOT to Cook Fava Beans
Mar 01, 2011, Updated Jun 18, 2014
A few months back Matty and I picked up a one-pound bag of dried fava beans. As with most beans, they're high in protein and fiber, while being low in fat, sugar, and sodium (unless added!).  Favas are also a good source of vitamins and minerals (especially folate, manganese, copper, phosphorus, magnesium, and iron).
The directions on the bag said they did not need to be soaked and merely to "Cook until soft."  We did a bit of googling, but most of the recipes we found called for fresh favas, and we didn't have much luck finding more specific directions.
Turns out, if you go straight from bag to boiling, you'll be waiting about three hours for those beans to get soft. That's not the real problem, though: They have a tough outer shell that you've got to get rid of somehow. We boiled them until the bean inside was very soft, but the shell didn't really loosen up much.  So to get at the morsels inside, we Matty had to painstakingly, bean by bean, peel them apart by hand (I was busy taking photos, naturally).  It was a messy process.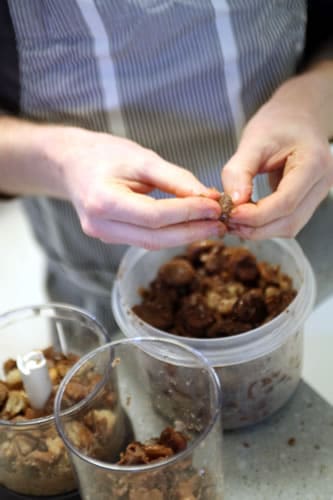 Turns out what we should have done was ignore the vague directions on the package, and instead soak the beans overnight.  Then, after the soaking, it would have been far easier to peel them (still have to go one at time, though!).  After peeling, it would have taken only about an hour or so to cook the beans the rest of the way.
Even so, our Rosemary Fava Bean Pate turned out quite lovely.  Click over to Matty's blog for the recipe and his take on the fava experience.