How To Make Almond Milk
Oct 01, 2012, Updated Sep 28, 2017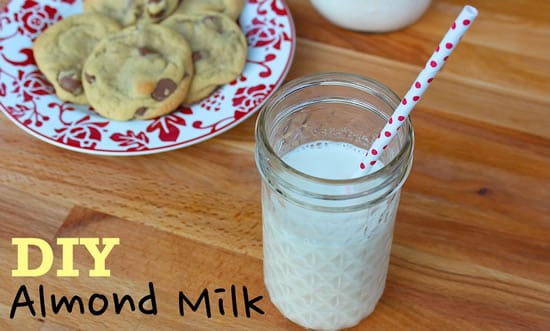 When I committed to October Unprocessed last year for the first time, I didn't think it would be that big of a challenge considering how I eat already. I am a whole foods kind of girl. Already, when I go to my local co-op, I buy one-ingredient items or produce. I've already gotten into the habit of "processing" from scratch the foods I want to eat, such as condiments and bread.
But when the month began and I took a closer look at my daily food choices, I realized I had room to grow. I took on the challenge with gusto as an opportunity to learn how to make the processed foods I do indulge in. I came to realize that going unprocessed does not mean totally abandoning the foods I love or surviving a month of diet-like denial.
Often we buy processed foods out of convenience, thinking it would be too complicated, time-consuming or just plain impossible to make them from scratch. Well as it turns out, almond milk, a processed food I used to buy on a regular basis, is not. A product that used to come from the store in a tetra pak now sits in a mason jar in my fridge, with an ingredient list that consists solely of water and almonds.
A result of last year's challenge has now become a seamless part of my weekly routine and a constant reminder of how easy and satisfying going unprocessed can be.
As far as the economic benefits are concerned, I was able to get about three cups of raw almonds out of a pound, which yields about three quarts of almond milk. Considering that I spent around $6 for the almonds and usually spend $2 – $2.50 on a container of almond milk, I pretty much broke even as far as cost was concerned.
However, the benefit that comes with making your own almond milk, besides the pride, is being able to make the quantity you want. Drinking a quart of almond milk can be a little bit of a challenge for one girl, but being able to make just a pint, which is not an option with commercially produced non-dairy milks, is priceless. Also, the almond paste bi-product I strain out makes a great, protein-tastic addition to a smoothie.
Let's also consider packaging. Like I said, I was able to get three quarts of almond milk out of one package of Trader Joe's raw almonds. So theoretically, I went from three rectangular containers to one plastic bag. Better yet, when I buy my almonds in bulk with my reusable produce sack, I'm down to no packaging at all! Score!
So, the verdict? Making your own almond milk is totally worth the effort and makes me happy every week! Check out this short video to see just how easy and fun it can be!

https://www.youtube.com/watch?v=-ANZ5XpuH5M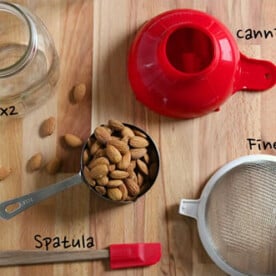 Almond Milk
From
Can It, Bottle It, Smoke It
by
Karen Solomon
. Be advised: Homemade almond milk is a little grainier than you'll be used to if you're a processed almond milk drinker. It grows on you though and is virtually unnoticeable in a smoothie.
Ingredients
1

cup

raw almonds

4

cups

water

,

plus more for soaking
Instructions
Put the almonds in a mixing bowl and cover with water. Let sit for at least 6 hours.

Strain the almonds and put in a blender with 4 cups of water. (It must be a blender, not a food processor – trust my previous experience on this one.) Blend for a full 2 minutes.

Strain the blended mixture into a quart-size canning jar using a fine sieve. Press the solids through with a rubber spatula.

Periodically, scrape the solids from the sieve (save them for smoothies) and rinse the sieve to enable more liquid to pass through.

Strain the first liquid through the sieve again, this time without pushing the mixture through. What you end up with in that jar is your finished product – DIY Almond Milk!

Enjoy within 5 days.
Nutrition
Calories:
205
kcal
,
Carbohydrates:
7
g
,
Protein:
7
g
,
Fat:
17
g
,
Saturated Fat:
1
g
,
Sodium:
12
mg
,
Potassium:
252
mg
,
Fiber:
4
g
,
Sugar:
1
g
,
Calcium:
102
mg
,
Iron:
1.3
mg
Like this recipe? Rate and comment below!