Why make your own soy milk?  My top three reasons are:
It's much cheaper than buying it.
It tastes so much better!
It's unprocessed!
You may still be a skeptic.  No worries, I understand!  The first time I made my own soy milk, I did it because I wanted to say that I'd done it and I wanted to understand the process.  I wasn't expecting much more than that.  My first sip took me by surprise — it was shockingly good.  It was creamier with a much better flavor than the store-bought soy milks I'd had in the past.  Since that first sip I've practiced and tweaked until I came up with a method that was easy and turned out consistent results.  I'm so excited to share my recipe with you today!  As an added bonus I've put together a video that walks you through the process.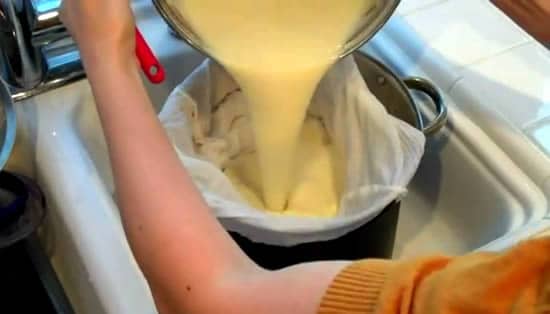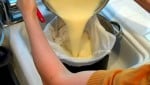 How to Make Soy Milk
Creamier with much better flavor than any store bought version.
Total Time
8
hours
20
minutes
Ingredients
1

cup

dried

organic soybeans

Water
Instructions
Equipment needed
Deep 8-quart pot

Second clean pot

Large colander

Fine mesh sieve

Potato masher

Pressing cloth/sack: A piece of cotton muslin works well, or a nutmilk bag. I use a flour sack dishtowel that I made into a bag by folding it in half and sewing up the sides.
Instructions
Soak the soybeans: Wash the beans in a fine mesh sieve, discarding any discolored beans or small rocks that you find. Drain and place in a large container (the beans expand as they soak). Add 5 cups of cool water and cover. Let the beans soak for 8 hours in a cool place. They can soak for up to 24 hours, but keep them soaking in the refrigerator if you plan on soaking them longer than 8 hours to prevent bacteria from growing.

Grind the soybeans: Drain and rinse the soybeans. Put half of the soaked beans in a blender or food processor and add 2 cups of hot water. Puree at high speed for 1 minute, or until the mixture is relatively smooth. Pour the purée into a deep 8-quart pot. Repeat this step with the rest of the soybeans. Rinse out the blender/food processor with 1/4 cup hot water to retrieve any purée, and pour it into the pot.

Cook the soybean purée: Heat the purée over medium-high heat, stirring constantly to prevent the purée from burning. When foam suddenly rises in the pot, or the purée comes to a boil, reduce the heat to medium-low and continue to simmer for 8 minutes. Remove the pot from the heat.

Press the milk from the purée: Line a large colander with a moistened pressing cloth/sack and place the colander in the mouth of a clean pot. Transfer the soybean purée into the pressing cloth/sack and twist the cloth closed. Use a potato masher to press the sack against the bottom of the colander to extract the soymilk. When you have extracted as much as you can, open the cloth and stir the remaining purée briefly.

Second pressing: Pour 1 1/2 cups of boiling water over the remaining purée in the cloth, stir again, twist the cloth closed and press again until you can no longer extract any more soy milk. The soy milk is now ready for drinking!
Recipe Notes
The soy milk can be served hot, or let it cool then pour into clean bottles and covered tightly. The soy milk will keep fresh for 3 to 5 days in the refrigerator.
The purée leftover after extracting the soy milk is called okara. Don't discard it! It can be used in cooking and is delicious. It spoils quickly though, so keep it in the refrigerator and use it within 1 to 2 days of making your soy milk. My favorite use for okara? Okara crumble!
What else can you do with your soy milk besides drinking it? How about making your own tofu?
About the Author
Rachael Hutchings is a freelance food writer and author of the blog La Fuji Mama, which focuses on bringing world flavors to the family dinner table. Rachael has eaten her way around the world, having lived in a variety of locations, including Paris, Tokyo, Memphis, and Los Angeles.  She is a self-proclaimed Japanese cuisine advocate who loves introducing people to such things as the wonders of homemade tofu, the importance of sustainable seafood, and the secrets behind making professional-looking gyoza. You can follow her on Facebook, Pinterest, Instagram, and Twitter.