How to Make Tofu
Oct 25, 2012, Updated Sep 08, 2017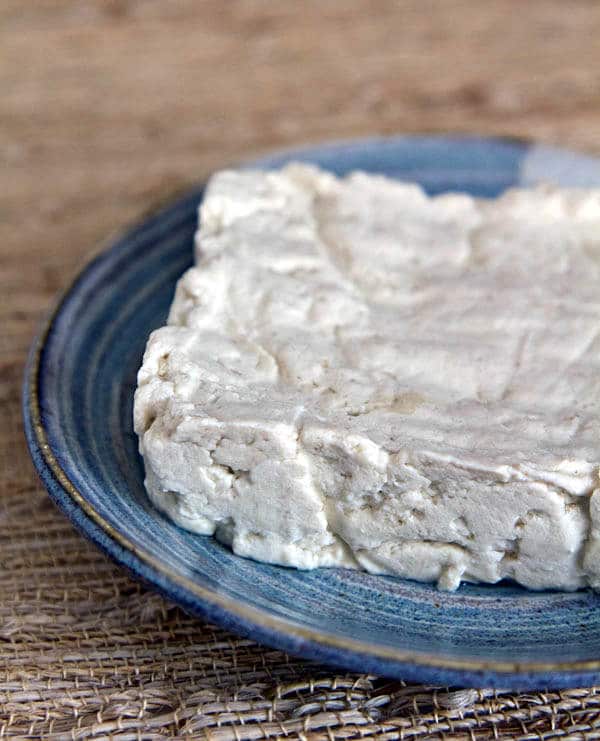 The first time I tasted tofu in Japan I thought, "What? This is tofu?"  The flavor and texture were so much more appealing than what I was accustomed to that my first bite took me by surprise.  I quickly learned that the tofu section in my local grocery store in Japan was filled with a wide variety of tofu, some of which tasted more like their equivalents to the mass-produced tofu I was used to in the US.  But the artisanal varieties were eye-opening.  The fantastic thing is that you don't have to book a trip to Japan to experience these flavors in your own home because you can make your own!  Last year for October Unprocessed I shared the process of making homemade soy milk.  So this year I'm building upon that with a video tutorial on how to make homemade tofu.
Making tofu is just like making a simple cheese, such as paneer.  You heat soy milk, then add a coagulant to separate the milk into curds and whey.  You then ladle the curds into a mold to press them into a block of cheese, or in this case, tofu!  I can tell when I'm in a rush or having a bad day, because my tofu isn't as light and "fluffy" and has a more crumbly texture.  The separation of curds and whey in soy milk respond well to a gentle, loving hand.  As soon as the nigari (or other coagulent) hits the soy milk, coagulation begins, and so slow and gentle movements will produce soft billowing curds, whereas as quick and jerky movements will inhibit fluffier textures and break apart the curds that are already forming.
The biggest key to making delicious tofu is using quality ingredients.  Before we get started, a few quick notes:
Soy Milk
Making soy milk: Using dried organic soybeans from the bulk section of a supermarket is a great way to ensure the freshness of your beans when making your soy milk.  For water, spring water yields the smoothest and most pleasant flavors.
Store bought soy milk: The better the soy milk, the better the tofu. The problem with store-bought soy milk is that you don't know the brix (the percentage of dissolved solids) in the milk, which will effect firmness and coagulation time. Store bought soy milks also often have added ingredients like oils or sweeteners. So when using store-bought soy milk, you are taking a bit of a gamble. Yes, you will still be able to make tofu, but you won't have the same control over the firmness of your finished product. In addition, it also becomes more expensive and you need to make sure that none of the ingredients are compromising your efforts at remaining unprocessed
Coagulants
A variety of different coagulants can be used to make tofu.  Each coagulant will produce different coagulation times and slightly different flavors and textures in the finished tofu. Whether or not a particular coagulant meets the unprocessed definition can be a bit difficult, depending on your interpretation, so I'm including information about each and leaving it up to you to decide!
Nigari is composed mainly of Magnesium Chloride, but also contains other minerals found in seawater, with the exception of sodium chloride. It is produced by removing salt from seawater.  It produces a slightly sweet tofu with a firm, yet still tender consistency and a slightly bitter aftertaste, making it best for making firm tofu (momen tofu).
My personal favorite is tofu made with nigari (comes in granular, flake, and liquid forms) because it makes a firmer tofu. The other coagulants produce a softer tofu with different flavors.  My favorite nigari is made by Mitoku (available through Natural Import Company), a Japanese company that specializes in traditional Japanese natural and organic foods.  A one pound bag will last you for a long time!
Calcium Chloride is a common coagulant for tofu in North America.  It is made by dissolving limestone in hydrochloric or muriatic acid.  As Andrew noted in a comment, "This is one of those fuzzy ones, where it's tricky to find the line, let alone know where to draw it.  Strickly speaking, you could make your own calcium chloride at home . . . Of course, you're not likely to be doing that, and it probably doesn't pass the 'reasonable skill' threshold.  Having said that, it's also just a salt—it's not particularly problematic."    Calcium Chloride affects soy protein in the same way that nigari does, resulting in a smooth, firm tofu.
Epsom Salts (Magnesium Sulfate) is often mined from natural mineral deposits, however it can also be made in a lab by neutralizing sulfuric acid with magnesium carbonate or oxide, so it's important to verify whether or not your Epsom salts are natural or laboratory made.  Epsom salts produce tofu with a grainier texture, which personally, isn't my favorite.
Gypsum (Calcium Sulfate) is the coagulant most widely used in producing Chinese-style tofu.  Gypsum is a naturally occurring calcium sulfate mined from natural mineral deposits.  If you are making your own tofu, make sure you use food-grade gypsum (available through home beer brewing suppliers).
Glucono Delta Lactone (GDL) is found in honey, fruit juices, and wine.  It is produced by the fermentation of glucose (the glucose is usually rice or corn derived).  It is then crystallized to produce a fine powder that is soluble in water.  GDL produces a pudding like texture when used as a soy milk coagulant, making it good for making silken tofu.
Vinegar and Lemon Juice can also be used to make tofu, though need to be used in larger amounts to induce coagulation.  They produce a slightly softer tofu that is grainier and has a tangier, sour aftertaste.  They also produce less tofu than some of the other coagulants.  However, they are inexpensive and easy to find!
Equipment
Tofu Molds: My favorite source for tofu molds, both plastic and wood, is Soy Milk Maker.  They have great prices and I have loved the molds I have purchased from them.
Pressing weights: Although I often use a cutting board or a large can of peaches as my weight in pressing my tofu, you can also use a ziploc bag filled with dried beans or pie weights.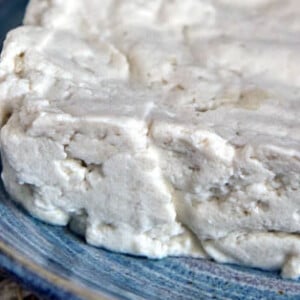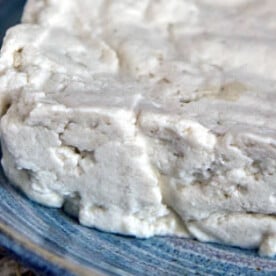 How to Make Tofu
Makes approximately 17 ounces of tofu
Ingredients
1

tablespoon

granular or liquid nigari

1/2

cup

hot water

8

cups

soy milk
Instructions
Measure the nigari into a dry cup. Add the hot water and stir until the nigari has dissolved. Set aside.

Pour the soy milk into a large pot and bring it to a boil over high heat, stirring occasionally (so that the milk doesn't burn).

When it begins to boil, reduce the heat and let it simmer for 3 minutes.

Remove the pot from heat. Add half of the nigari mixture to the soy milk, stirring with a wide wooden spatula in a gentle whirlpool pattern, 5 or 6 times. Then bring spoon to a halt upright in the soy milk and wait until all movement ceases. Then add the remaining nigari mixture, and this time stir a gentle figure eight pattern. When you notice that the soy milk is beginning to coagulate, cover the pot and let it sit for 15 minutes.

Line two small tofu molds (or small colanders) with clean tightly woven cotton cloths and set the molds in a shallow baking dish, or in the kitchen sink.

Using either a skimmer or a slotted spoon, scoop out the curds (the curds are the solid bits and the liquid is the whey) and transfer them into the cloth-lined tofu molds.

Fold the cloth over the top of the curds, set the top (or a small plate, if using a colander) on the curds, and place a weight of about 1 1/2 pounds on top.

Let the tofu sit 15 minutes. Fill a large bowl with cold water. Gently transfer the tofu, still wrapped in the cloth, into the bowl of water, and unwrap it. Carefully remove the cloth and let the tofu sit in the cold water for 30 minutes.

Serve the tofu immediately or store it in fresh cold water in the refrigerator for up to several days.
Nutrition
Calories:
450
kcal
,
Carbohydrates:
32
g
,
Protein:
28
g
,
Fat:
16
g
,
Saturated Fat:
2
g
,
Sodium:
478
mg
,
Potassium:
1200
mg
,
Fiber:
3
g
,
Sugar:
24
g
,
Vitamin A:
2010
IU
,
Calcium:
1200
mg
,
Iron:
4.3
mg
Like this recipe? Rate and comment below!