You say tomato. I say dried.
Oct 14, 2013, Updated Sep 24, 2015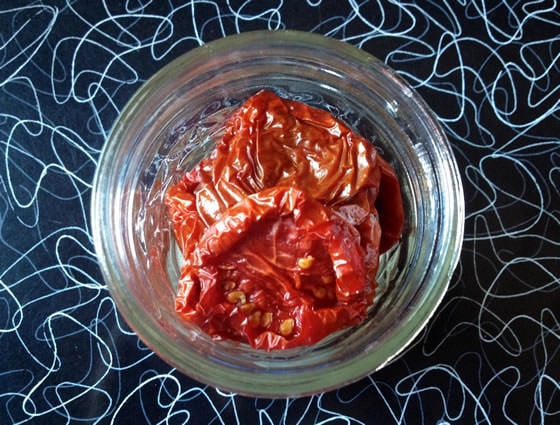 I wasn't particularly aware of sun-dried tomatoes before moving to California 23 years ago, but it wasn't long before I became not only aware but also overwhelmed. They were something of a darling ingredient of the late 80s and early 90s, and I remember receiving them served in, with, or atop absolutely everything. Their overuse sort of dulled my enthusiasm for them, and I more or less forgot about them for the next couple of decades.
Then, early this year, we threw a BLT party on New Year's Day where I made the bacon and my husband dpaul baked the bread. Both of those things were perfectly delicious, and of course the lettuce was fine. But the tomatoes suuuuucked, which in January they are wont to do.
That's why, even though we had already tormented ourselves for an entire weekend converting 100 pounds of San Marzanos into gorgeous quarts of puree and deydrating the skins for tomato powder, I found myself lugging home an additional 20 pound box of dry-farmed Early Girl tomatoes a couple weeks ago. They were absolutely at their peak, ripe yet firm, and I knew I wanted to capture that perfection for our sandwiches on January 1, 2014.
Half the tomatoes I made into tomato jam, another option for the BLT extravaganza. If you think tomato jam sounds weird, you don't know what you're missing. It's the perfect balance between a sweet jam and tangy ketchup. It's good on absolutely everything.
But ah, dried tomatoes! What better way to capture and intensify the flavor, and add a little chew in the process? And as it turns out, it's stupid-easy. Just core the tomatoes (I like the StemGem for this, but a knife will do), cut them in half from pole to pole, and lay them out on a lined sheet pan. Then put them in a low oven (or if you have a dehydrator, knock yourself out), about 200ºF or 175ºF with convection on. And walk away. In about 10 hours or so, they'll look like this.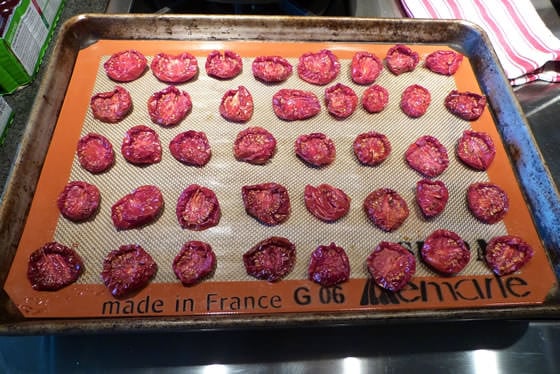 I wanted mine to retain a softer texture, not dried to tomato leather. You can of course dry them completely, in which case you can simply store them dry in a sealed mason jar. But I pulled them while still pliable but not gushy.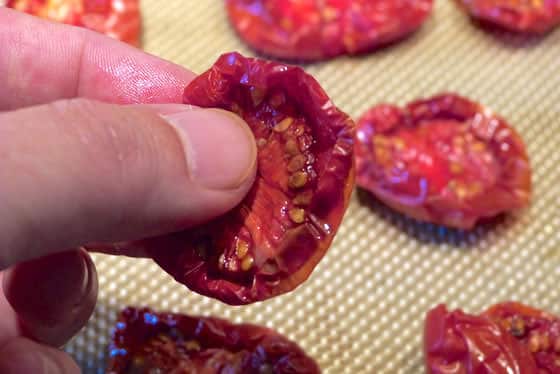 To keep them, I followed the UC Davis Extension recommendations for tomatoes packed in oil. Packing in oil is generally not recommended for many things, as the anoxic conditions can be a good breeding ground for c. botulinum bacteria spores that cause botulism. Tomatoes, however, have somewhat higher acidity, and when dried create a less hospitable environment. Still, it's wise to acidify them lightly. UC Davis recommends sprinkling them with a 50-50 mixture of 5% acidity white vinegar and water. I used the same mix, but lightly dredged the tomatoes to make sure the acid came in touch with all exposed areas. Then I loosely packed them into a jar, and covered with olive oil.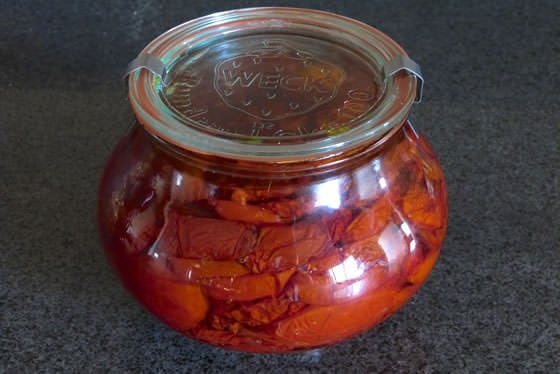 The oil will help retain the chewy texture of the tomatoes. And when the tomatoes are used up, I'll have tomato-flavored oil to use in cooking.
These are kept in the fridge, to extend their life. When it's time to use them, we'll pull them out ahead and allow them to come to room temperature, as the olive oil sets up at refrigerator temperatures. If we don't use them all, we'll repack them into a smaller jar that allows them to be covered with oil to within a 1/2″ space from the top of the jar.
And now, if you'll excuse me, I'm hungry for a BLT.