You'd be hard-pressed to find anything more motivating to help kids learn than playtime and food.  The combination of the two, of course, is pure gold.  We are living at a time where many families are struggling to maintain healthy eating habits and children are spending almost as many hours in front of a screen as they do at school.  Fortunately, one simple activity can help to resolve both of these challenges: cooking with kids!
I know, I know – it can be a challenge to bring the kids into the kitchen, especially when they are really young.  They are messy, they don't follow directions, everything always takes longer than anticipated.  But putting up with all of those challenges far outweighs the alternative – kids who don't know how to prepare their own food, make healthy food choices, or are simply unwilling to try new ingredients.
Not only does cooking give kids some much deserved self-confidence and skills that will last a lifetime, but it also reinforces what they are learning in school.
Science:
The kitchen is just like a laboratory!  Kids in the kitchen can ask questions, observe, investigate and experiment.
What would happen if you used cold butter in a recipe instead of room temperature butter?  What if it was melted instead?  Questions like these allow children to be inquisitive scientists, predicting and comparing results when they make simple (or big!) changes in a recipe.
What happens to ingredients when they are combined?  What if they are frozen? Baked? Boiled?  Guess what? This is science in action.  And the best part is that it is relatable and observable.
Where does food come from?  How does it impact the land where it is grown or the people who grow it?
Math:
In the kitchen, kids get the opportunity to classify, measure, count, estimate, and recognize numbers and fractions in a practical and "real-life" setting…with an edible outcome!
Use cooking to help the needy and practice math at the same time.  Pick your favorite recipe and double or triple it – and then donate it to a soup kitchen.
Language Acquisition:
Recipes encourage kids to practice symbol recognition, language patterns and sequences.
Following along with the steps of a recipe reveal the importance of directions and the sequence in which they are followed.  Would it matter if you didn't beat the eggs before you added them to the skillet for your omelet?  Yep – following both written and oral directions matters!
Cooking with kids exposes them to new vocabulary, ranging from kitchen tools and ingredients to cooking strategies and methods.  Just think – did you always know the difference between steaming or sautéing, roasting and braising – or were those things you learned along the way?
Build connections between story books and recipes by joining Kids Cook with Books, our monthly reading and cooking club for kids ages 2-8.
Social Studies:
Eat your way around the world by preparing dishes from other cultures
Learn about how to be a good citizen by taking turns and feeding the hungry
Don't worry if your child is super active.  My son has ADHD and I used it to my advantage!  There are lots of steps in the cooking process that require action and movement in the kitchen:
Cooking! Washing produce, measuring, stirring and combining ingredients.
Cleaning up a cooking station – wiping counters, tables, scrubbing dishes.
Plating the food and serving it.
Food education isn't limited to the kitchen! With this Grocery Passport, just for October Unprocessed members, you can bring learning opportunities with you when you shop for food with the kids.  Print it and take it with you to the grocery store and see which ingredients you can find that start with the letters A and B.  You can make multiple copies and look for different foods on each visit!  Not only will the kids be doing something productive while you shop, but they will develop a new awareness of the foods around them.
It's exciting to start implementing Cook and Learn activities with the kids. By spending time together in the kitchen, your kids will expand their culinary horizons and will be learning at the same time.  Kudos parents – this is a win-win!
If you'd like to try making a simple recipe with your kids, this is the featured recipe from September's issue of Kids Cook with Books, my online monthly reading and cooking club for kids, ages 2-8.
Mango Lassi
A lassi is a yogurt-based beverage, much like a smoothie. Frozen mango is perfect in this recipe and might be something you already have on hand for smoothies. Coconut milk is now a common ingredient in most grocery stores. You can store the extra in the refrigerator or freezer and add as a replacement for some of the cooking liquid for your morning oatmeal.
Ingredients
2

cups

yogurt

Greek or plain

1

cup

milk or coconut milk

2

cups

mango chunks

fresh or frozen

1/4

cup

honey

1/4

teaspoon

cardamom

ground

1

handful

ice

if using fresh mango
Instructions
Measure 2 cups of yogurt and pour it into the blender.

Measure 1 cup of milk or coconut milk and add to the blender.

Measure 2 cups of mango pieces and add them to the blender.

Measure 1/4 cup of honey and pour into a microwave-safe bowl.

Melt the honey in the microwave and then add it to the blender.

Measure 1/4 teaspoon cardamom and add to the blender.

If you are using fresh mango, add a handful if ice to the blender.

Put the lid on securely and blend until smooth.

Pour into glasses and serve.
Recipe Notes
Refrigerate leftovers, if you have any.
About the Author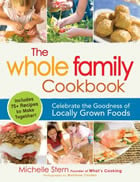 Michelle Stern is a former high school biology teacher and founder of What's Cooking with Kids, a certified green cooking school for children in the SF Bay Area. She is the author of The Whole Family Cookbook, and was invited to the White House to be a part of the launch of Michelle Obama's Chef's Move to Schools Program. With sixteen years of combined teaching experience, Michelle is uniquely qualified to share strategies for parents, teachers, and homeschoolers for using healthy cooking as a teaching tool. You can follow Michelle on Instagram, Twitter, and Facebook.