Jackie Gonzalez-Feezer is the recipe developer and photographer behind La Casa de Sweets, where she shares her grain-free and (mostly) vegan recipes. Having made the switch to a grain-free lifestyle a few years ago, her goal is to make healthy food taste good. You can also find Jackie on Facebook, Twitter, and Instagram.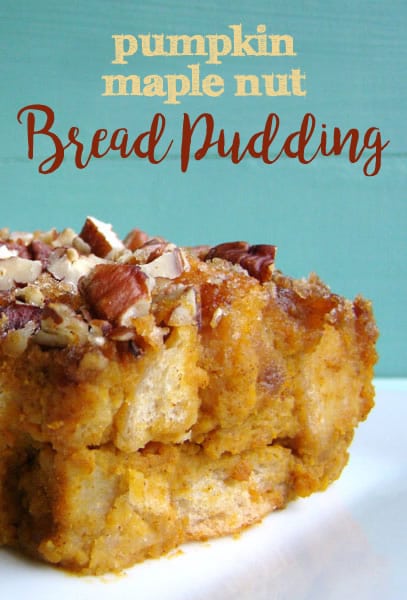 Hi, everyone!  I'm so excited to be participating in another October Unprocessed.  This is such a great month for our family because it helps us refocus on our vegetarian, (mostly) unprocessed lifestyle.  It's so great to take a whole month and really think about why we eat the way we do, why we chose a meatless lifestyle, and why it's so important for us and our children to eat healthy, natural foods.
When Andrew and I first discussed my guest post for this month, about ten different recipes popped into my head at once.  In order to narrow things down, I sat down and thought about the one dessert recipe (it had to be a dessert recipe, of course!), that would embrace the Unprocessed challenge, and be a great Fall dessert.  The answer came to me pretty quickly: Bread pudding.  Not just any bread pudding, Pumpkin Maple Pecan Bread Pudding.  It just sounds like Fall, doesn't it?
This recipe combines all the great flavors of fall: Pumpkin, maple syrup, pecans, and spices like cinnamon and cloves.  Add that to some homemade (or unprocessed store-bought) milk and some toasted bread, and you've got yourself the perfect Fall bread pudding.
Bread pudding is so comforting, and you can make a perfectly decadent refined-sugar-free, all-natural version of it!  So, go ahead and dig into dessert…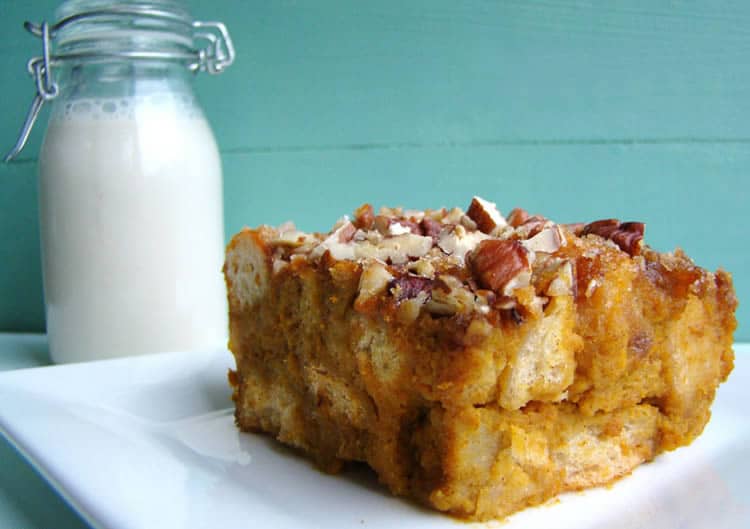 Pumpkin Maple Nut Bread Pudding
Author:
Jackie Gonzalez-Feezer
Ingredients
10 cups of bread, cubed
3 cups pumpkin puree
2 cups milk (almond milk or soy milk)
4 eggs
1 cup maple syrup
1 tablespoon vanilla extract
3 teaspoons ground cinnamon
1 teaspoon ground nutmeg
1 teaspoon ground ginger
½ teaspoon ground cloves
1 cup chopped pecans
Instructions
Pre-heat your oven to 325°.
Line a baking sheet with parchment paper, and transfer the cubed bread pieces to the lined baking sheet.
Bake at 325° for 20 minutes, using a spatula to turn the cubes after 10 minutes.
While the bread cubes are toasting, prepare the pumpkin custard. In a large bowl, whisk together the pumpkin puree, milk, eggs, maple syrup, vanilla extract and spices until combined.
Once the cubes are toasted, remove from the oven and place in a greased 9x13 baking dish.
Pour the pumpkin custard over the bread cubes, and toss with a large spoon to make sure all the bread cubes are covered.
Top with the chopped pecans.
Bake the bread pudding at 325° for 50-60 minutes, or until the bread pudding is completely set.
Let cool slightly before enjoying!