Too Busy to Cook Ancient Grains? Think Again! (Mediterranean Mussels with Farro)
Oct 25, 2012, Updated Sep 08, 2017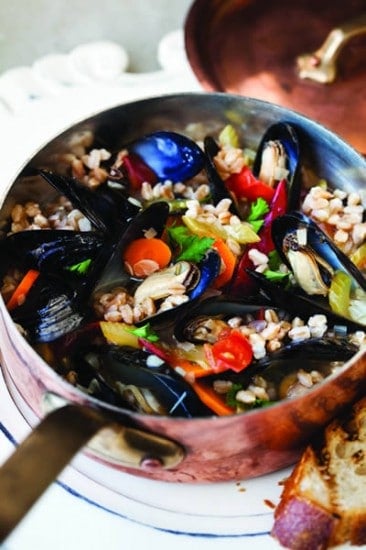 Whenever I speak at events about my lifelong passion for ancient grains, inevitably someone will ask: But I have no time to spare – don't they take forever to cook? To which I always reply, with a smile: Not if you know your grains.
What are ancient grains?
I refer to all whole grains as ancient grains because they have been used as a staple by mankind for thousands of years. They are as delicious as they are nutritious, and they bring subtle flavors, rich textures, and even stunning colors to our tables. Ancient grains include popular quinoa, whole wheat, rye, hulled (whole-grain) barley, corn, and oats. I'm especially thrilled about the comeback of long forgotten wheat varieties—such as trendy farro, Kamut, spelt, and einkorn—as people with sensitive digestion seem better able to tolerate these old types of wheat.
And what exactly is a whole grain?
It is what the name implies, a "whole grain" or kernel. A grain typically consists of three parts: an outer bran layer, the germ where the new grain sprouts, and a large starchy body, the endosperm. When you eat processed (refined) all-purpose flour, white rice or pasta, the fibrous bran and the oil-rich germ have been removed for longer shelf-live. All you are left with is the starchy endosperm which provides what we call in Germany "empty calories."
Flavors, textures, and colors
I cherish ancient grains for the nuanced flavors, distinct textures, and rich colors they add to our plates. I love the slight tanginess of rye, the natural sweetness of whole oats, the earthy aroma of barley, and the faint grassy notes of quinoa. Ancient grains add appealing texture to your breakfast, lunch, dinner, and even to dessert—from the delicate chew of brown rice to slightly crunchy quinoa, from comforting millet and polenta to supremely chewy whole wheat and rye. Last but not least, color: get ready for ohs and ahs when serving a dish with Chinese black rice as it turns a stunning burgundy when cooked. Or try some Kamut berries in a salad and admire their beautiful bronze-colored kernels.
Health benefits of ancient grains
Of course, whole grains also add numerous health benefits to our diets. I call them nutritional powerhouses, full of vitamins, minerals, antioxidants, fiber and even protein. Eating a diet rich in whole grains significantly reduces the risk of major chronic diseases, such as heart disease, type 2 diabetes, and stroke. Eating three servings of whole grains a day can reduce the risk of certain cancers, lower your risk of obesity and your cholesterol levels.
Quick- and slow-cooking
But how is a busy person going to add grains to his or her table? Ancient grains are not only as easy to cook as a pot of pasta. There are also so many different kinds of grains that even the busiest person can include them in their daily meal plan. I have worked most of my life as a journalist, with long grueling work days. When I enter the kitchen during the week I'm usually famished with a capital F. That's when I reach for what I call quick-cooking whole grains in my book. They can be on the table in 15 to 20 minutes. Quick-cooking grains include quinoa, bulgur, millet, buckwheat, and polenta (cornmeal). Just simmer them in a little water or broth, and a super-fast side dish is ready. Then there are slow-cooking grains. These include whole wheat berries, rye, hulled barley, spelt, and Kamut. I like to cook these "slower" grains ahead on the weekend. All they need is an overnight soak in water and a gentle simmer until the kernels are tender with a slight chew. Cooked grains last in the fridge for up to 5 days, or you can freeze them portion-size for up to 3 months. This allows you to always have grains on hand when you crave them. It's that easy.
In this spirit, I hope you will give ancient grains a test-run in your kitchen soon. Let me know how it goes.
Mediterranean Mussels with Farro
Serves 3 or 4 as a light main course, or 4 to 6 as a starter
Ingredients
Farro
1 1/2

cups

water

3/4

cup

farro

1

small

bay leaf

2

whole peppercorns

Pinch

of fine sea salt
Stew
2

pounds

fresh mussels in their shells

2

tablespoons

extra-virgin olive oil

1

cup

finely chopped yellow onion

,

about 1 small

1

cup

thinly sliced carrots

,

about 2 small

1

cup

thinly sliced celery stalks

,

1 to 2 pieces

2 to 3

cloves

garlic

,

lightly crushed

2

teaspoons

minced fresh rosemary

2

bay leaves

1

dried red chile

1/2

teaspoon

fine sea salt

1 1/2

cups

dry white wine

1 1/2

cups

chopped fresh or diced canned tomatoes with their juices

,

(one 14-ounce can)

1 1/2

cups

water

1/4

teaspoon

freshly ground black pepper

1

teaspoon

sugar
To finish
2

tablespoons

freshly squeezed lemon juice

,

plus lemon wedges to serve

2

tablespoons

extra-virgin olive oil

1/4

cup

chopped fresh flat-leaf parsley
Instructions
To prepare the farro, bring the water, farro, bay leaf, peppercorns, and salt to a boil in a 2-quart saucepan. Decrease the heat to maintain a simmer, cover, and cook until the grain is tender but still slightly chewy, 20 to 25 minutes. Remove the bay leaf, drain any remaining liquid, and set aside.

While the farro simmers, rinse the mussels under cold running water, brushing to remove sand and residue on the shells. Remove the beards (hairy clumps around the shell) with tweezers or a sharp knife. Discard chipped mussels. Tap any open mussels and discard if they don't close. Set the cleaned mussels aside.

To make the stew, heat the olive oil in a large Dutch oven or heavy-bottomed pot over medium heat until shimmering. Add the onion, carrots, celery, garlic, 1 teaspoon of the rosemary, the bay leaves, chile, and 1/4 teaspoon of the salt. Cook, stirring frequently, until the vegetables soften, 3 to 5 minutes. Increase the heat to medium-high, add 1/4 cup of the white wine, and cook until syrupy and the liquid is almost gone, about 2 minutes. Add the tomatoes, the water, the remaining 11/4 cups white wine, the pepper, and the remaining 1/4 teaspoon salt; bring to a boil. Cook, uncovered, at a lively simmer until the carrots are crisp-tender, about 5 minutes. Stir in the sugar.

Add the mussels and the farro together with the remaining 1 teaspoon rosemary to the pot and bring to a boil. Cover and steam over medium to medium-high heat, shaking the pot once or twice in between, until the mussels open, 2 to 3 minutes. Remove from the heat, and discard any unopened mussels.

To finish, add the lemon juice. Taste for salt and pepper and adjust. Drizzle the mussels with the olive oil and serve right away in deep plates, garnished with parsley and with lemon wedges on the side.
Notes
To get a head start: Make the farro, as in step 1, ahead. The stew, as in step 3, can be prepared up to 3 days ahead. Reheat before adding the mussels and farro, as in step 4. The mussels should be bought the day they are cooked. For a speedy, light dish, omit the farro altogether, and do not add the water to the stew. To vary it: Easily available and affordable pearl barley plumps up nicely to compete with farro in this dish, or simply use leftover brown rice. You will need about 2 cups cooked grain. Reprinted with permission from Ancient Grains for Modern Meals by Maria Speck, copyright © 2011. Published by Ten Speed Press, a division of Random House, Inc. Photo credit: Sara Remington © 2011
Nutrition
Calories:
480
kcal
,
Carbohydrates:
47
g
,
Protein:
19
g
,
Fat:
17
g
,
Saturated Fat:
2
g
,
Cholesterol:
32
mg
,
Sodium:
688
mg
,
Potassium:
918
mg
,
Fiber:
8
g
,
Sugar:
7
g
,
Vitamin A:
6440
IU
,
Vitamin C:
30.4
mg
,
Calcium:
95
mg
,
Iron:
6.5
mg
Like this recipe? Rate and comment below!