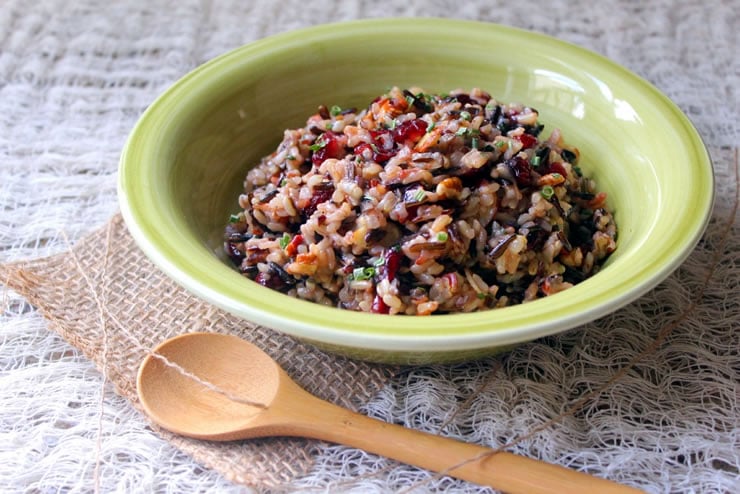 Hello again, my fellow Eating Rules readers! I'm thrilled to be guest posting here about October Unprocessed for the third year in a row!
As I continue my unprocessed journey, one of the things I sometimes find myself struggling with is lunch. In addition to my food blog, I also do some freelance food writing and help out my family's competitive barbecue team, all while holding down a full-time job that sadly has nothing to do with food!
Now, The Chef and I often have leftovers from our nightly meals, and when that happens, my lunch decision is pretty easy. But, we are both busy people and sometimes we find ourselves on the run many nights, which means I end up in the cafeteria at my office for lunch. Trust me, it's not a happy place to be.
All this to say, I've been looking for ways to have healthy, unprocessed lunch options available ahead of time. My new favorite way is to make up a big batch of grain salad on Sunday. With a mild, nutty taste and that signature chewy bite, whole grains are a great base for salads because they easily take on the flavors of whatever you mix in… and you can mix just about anything in to satisfy both your tummy and your tastebuds.
Today's recipe combines an organic wild rice blend with a tangy citrus dressing, tart dried cranberries, and two kinds of nuts for a protein- and antioxidant-packed dish. Want to take it a step further? Meat eaters can mix-in some chopped grilled chicken for an extra protein punch, while vegetarians can serve this salad on a bed of spinach for a hearty lunch option.
What's your go-to whole grain?

Nutty Wild Rice Salad
This recipe combines an organic wild rice blend with a tangy citrus dressing, tart dried cranberries, and two kinds of nuts for a protein- and antioxidant-packed dish.
Total Time
1
hour
5
minutes
Ingredients
1

cup

organic wild rice blend

rinsed

1

teaspoon

kosher salt

2

tablespoons

extra-virgin olive oil

2

tablespoons

champagne vinegar

3/4

teaspoon

orange zest

2

tablespoons

fresh orange juice

1

teaspoon

raw honey

1/2

cup

dried cranberries

1/4

cup

pecans chips

toasted

1/4

cup

sliced almonds

toasted

1

tablespoon

chopped fresh chives

Kosher salt and freshly ground black pepper to taste
Instructions
In a medium-sized saucepan, combine the rice, salt, and 3 1/2 cups water, then bring to a boil. Cover with a tight-fitting lid, reduce the heat to low, and cook for 45 minutes. Remove the saucepan from the heat (leave the lid on), then allow to steam for 10 minutes. Fluff the rice with a fork, then set aside to cool.

In a small bowl, combine the olive oil, champagne vinegar, orange zest, orange juice, and honey, then whisk until all ingredients are evenly incorporated.

Combine the cooled rice with the cranberries, pecans, almonds, chives, and the dressing. Stir to combine, then season with salt and pepper to taste. Serve, or store in the refrigerator until ready to eat.
Recipe Notes
The rice can also be made in a rice cooker, using the same water-rice ratio.
About the Author
Kimberly Henricks-Friedhoff is the author behind Rhubarb and Honey, a food blog that chronicles her love affair with food. Kimberly's culinary style can best be described as 80% "fresh / local / sustainable" and 20% "nostalgic / somewhat bad for you / everything in moderation." An avid home cook who likes to play in the kitchen, Kimberly has been eating mostly unprocessed for years, but she's always striving to do better. She is often joined in the kitchen by "The Chef," her husband, who just happens to be a professional chef. You'll also find her on Facebook, Twitter, Pinterest, and Instagram.