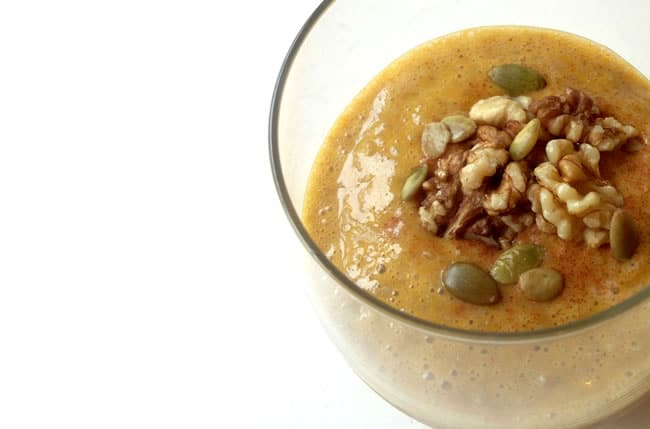 It's October and fall has officially arrived. It's time to dive head first into everything and anything pumpkin, am I right? Sure, the Pumpkin Spice Lattes and candy corn are fun and festive, but do they actually contain any real pumpkin in them at all? The answer is likely no. This is why I'd like to share with you my Pumpkin Chia Seed Pudding, just in time for October Unprocessed.
I am excited to participate in Andrew's October Unprocessed challenge this year, eating clean and wholesome for one whole month. I tend to eat clean the majority of the time, hence my blog, Eat Real Food, and I encourage you to do so as well. But this challenge really brings mindful eating into play. So what does eating real food mean to me? Foods that are minimally processed and eaten in it's purest form. For example, foods that contain artificial flavorings, preservatives or additives are definitely not clean.
Unprocessed or "real foods" are not chemically derived or are unrecognizable. Don't get me wrong, there are positives to some processing, such as bagged lettuce, cut up fruits/vegetables, fortified foods/beverages and whole wheat bread, etc. When you're adding in a significant amount of salt, sugar, fat and ingredients you couldn't make at home, that is not unprocessed. Artificial sweeteners are a big no for me. Do I want to feed my body with unknown substances/chemicals that we do not know the long-term side effects of yet? No thanks.
Pumpkin definitely passes the unprocessed test, fresh or canned. Roasting a whole pumpkin is incredible and I suggest that you try it out at least once. Canned pumpkin is just as good, more convenient and still packed with nutrition. Pumpkin is loaded with vitamin A, potassium and vitamin C. Did you know one cup of cooked pumpkin has more potassium than one banana?
Nuts and seeds are always great-unprocessed options. High in fiber and protein, they are sure to keep you feeling fuller longer. Chia seeds, the main star of this recipe, are filled with Omega 3 Fatty Acids – essential "good" fats that your body does not produce on its own. Omega 3s can lower blood triglycerides (which may help prevent heart disease), contains anti-inflammatory properties and many more health benefits to boot. Chia seeds also contain essential minerals, including calcium, iron, phosphorus and magnesium. They may be small in size, but they pack a huge nutritional punch!
I decided to top my pudding with some heart-healthy walnuts and pumpkin seeds for added nutrition and extra crunch. This Pumpkin Chia Seed Pudding is great for breakfast or dessert. I hope you enjoy!

Pumpkin Chia Seed Pudding
Chia seeds contain essential minerals, including calcium, iron, phosphorus and magnesium. They may be small in size, but they pack a huge nutritional punch!
Ingredients
¾

cup

unsweetened almond milk

¼

cup

pure canned or fresh pumpkin purée

3

tablespoons

chia seeds

1

tablespoon

maple syrup

¼

teaspoon

pumpkin pie spice blend

1

tablespoon

walnuts and pumpkin seeds

to garnish

cinnamon

to garnish
Instructions
Combine almond milk, pumpkin, chia seeds, maple syrup, and pumpkin pie spice in a bowl. Stir until well mixed.

Refrigerate for at least one hour, or overnight is best.

Spoon pudding into serving glass and top with a sprinkle of cinnamon, walnuts, and pumpkin seeds to garnish.
About the Author
Alanna Waldron is a Registered Dietitian based in Los Angeles, CA. She is the author of Eat Real Food, a health and fitness blog that encourages others to live a healthy lifestyle through wholesome foods. You can find Alanna on Instagram, Twitter, and Pinterest.