Risotto with Butternut Squash and Sage
Oct 06, 2010, Updated Oct 03, 2017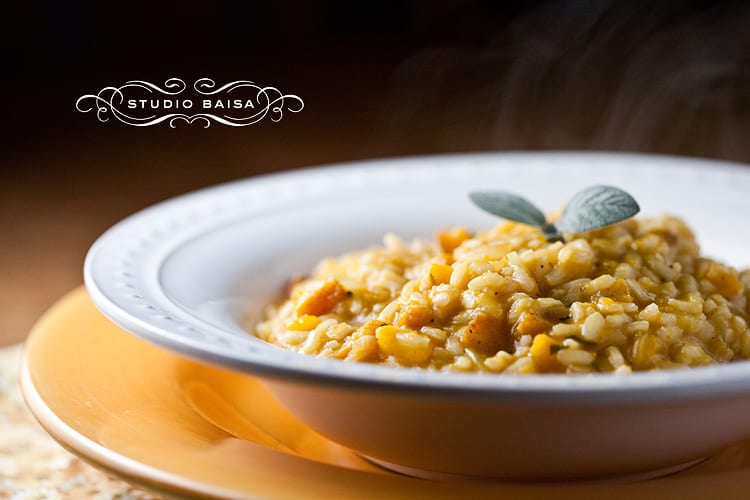 When I first heard about the October: Unprocessed challenge a few weeks ago, I had already embarked on something similar for September.  For no real reason at all, other than to give myself a challenge in the kitchen, I embarked on a 30-day vegan stint. Just because I could.
Oh sure, I'd hoped that I would enjoy health benefits from it — I did lose 8 pounds that I needed to lose — and I was curious about what my vegan friends ate. I've spent my entire adult life using vegetables and legumes as accompaniments to meat, rather than as the star of the show. So, I honestly wanted to educate myself in the world of wonderment that can be found all over farmer's markets and produce stands. I wanted to eat more raw food, but also learn to cook with minimal, fresh ingredients, without relying on meat products of any kind.
Strangely, it was actually a big hit, not just with me, but with my family (happy carnivores) and an impromptu vegan dinner party with friends. There was not one meal that we didn't all rave about. I'm quite proud to have proven not only to myself, but to others, that meat doesn't have to be the centerpiece of all cuisine.
Now that we're well into October now, I am admittedly doing a lot of the same things as I did in September — picking out fresh ingredients, poring over recipes, jotting down meal ideas, and reading labels — so I thought October: Unprocessed would be easy.
So far, it's been about as challenging as a carnivore trying to eat vegan, which is to say: Difficult.
For me, "unprocessed" means to eat things that do not have preservatives, additives, food dyes, and other such shelf-life-extension ingredients or beautification chemicals to them. If they have ingredients that are identifiable as items that I would have in my kitchen, and they are recognized in their current form as "food," then I will eat it.
I noticed that several things I've enjoyed eating this year are indeed processed, including my beloved almond milk. As someone who is lactose intolerant, I substitute almond milk in cereal (also processed), baking, and smoothies. Very distressing to notice that it contained calcium carbonate and potassium citrate, not to mention carrageenan, soy lecithin, and something called D-alpha-tocopherol, which is apparently natural vitamin E. (Why do they need to add vitamin E?!)
Other things that I'm foregoing this month include carbonated beverages and all store-bought condiments — ketchup, mustard, dill pickles, cheese, salsa, mayonnaise, and so on. Other processed foods in my kitchen are items such as commercial bread, pretzels, granola, energy bars, saltine crackers, my favorite enchilada sauce, packaged ham, and commercial bouillon. Even something like canned tuna, which has totally recognizable ingredients, is clearly so processed that it's unrecognizable as a quality piece of fish. So, that's out, too.
I want to eat whole, recognizable foods, and put them together in some form myself, not by some food manufacturer, then shelved in the grocery store for questionable amounts of time.
I like this challenge. In just a few days' time, it's opened my eyes to the things we eat in addition to our standard edibles: chemicals, additives, and a whole host of ingredients that need an ingredient dictionary to decipher. They may be good, or they may be bad, but are they food? I hope that this month of cooking and eating will give all of us more respect for how our food gets to our tables and what we are putting into our bodies.
Here is a great recipe I made recently from all natural, unprocessed ingredients. Hope you enjoy it as much as we did!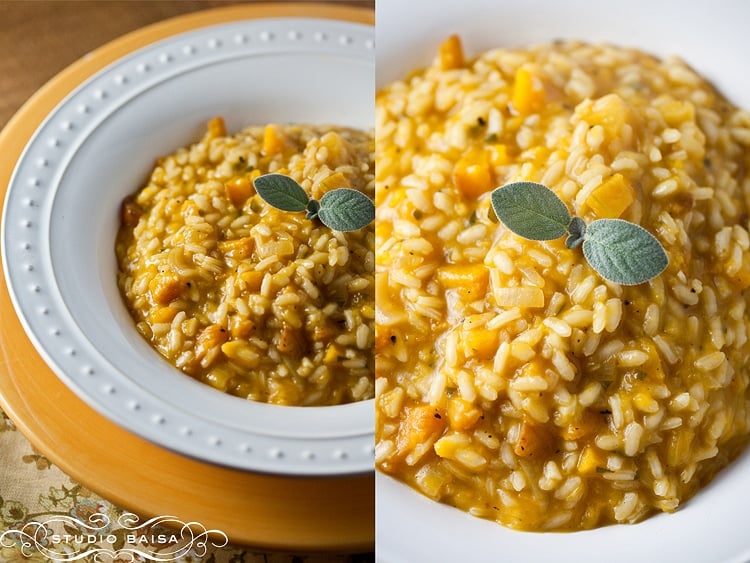 Risotto with Butternut Squash and Sage
This all natural, unprocessed dish is sure to make your mouth water as you are making this tasty meal.
Ingredients
1

Butternut Squash

,

halved, seeds removed, and cut into ½-inch pieces

Olive Oil

Sea Salt

Freshly ground Black Pepper

2

Shallots

,

minced

5

cloves

Garlic

,

minced

1-1/2

cups

Arborio Rice*

5-1/2

cups

Vegetable Stock

,

homemade, or an organic store-bought variety without preservatives

1-1/2

cups

White Wine

,

or, if that's too "processed" for your taste, use 1-1/2 cups hot water and 1 Tablespoon lemon juice

2

Tablespoons

freshly chopped Sage
Instructions
Preheat oven to 400 degrees. Place the squash pieces on a non-stick baking sheet or baking liner. Toss in olive oil, then lightly salt and pepper them.

Roast for approximately 25 minutes, or until squash is tender and just starting to brown. Set one half of the squash aside.

Take the other half of the squash and put into a blender with the white wine or hot water with lemon. Purée the mixture and set aside.

In a large pot, heat vegetable stock to boiling.

In a heavy saucepan, heat olive oil and sauté the shallots and garlic until translucent, but not brown. Stir in the Arborio rice and stir to coat the rice with oil. Slowly add in the broth, one cup at a time. As the rice has mostly absorbed it (about 5 minutes), add more. After about 20 minutes, add in the pureed squash and wine mixture, and the sage. Let the rice cook and absorb that. If you need more liquid, add more of the stock. Cook the rice until al dente, about 30 minutes.

Stir in the pieces of roasted squash and remove from heat. Garnish with a sprig of fresh sage.
Notes
* A note from Andrew: I asked Jackie if there was a whole grain we could use instead of the Arborio Rice (which I'm sure would offend the Risotto purists out there). She suggested substituting it with about 1 cup of Quinoa — and shortening the cooking time by half. If you give that a try, please let us know how it turns out!
Nutrition
Calories:
223
kcal
,
Carbohydrates:
48
g
,
Protein:
4
g
,
Sodium:
598
mg
,
Potassium:
767
mg
,
Fiber:
5
g
,
Sugar:
6
g
,
Vitamin A:
20305
IU
,
Vitamin C:
41.8
mg
,
Calcium:
121
mg
,
Iron:
3
mg
Like this recipe? Rate and comment below!