Donna Kelly & Anne Tegtmeier are a birth mother and daughter who reunited when Anne was 28 and bonded over their love for food and cooking. They blog at Apron Strings, and have authored one cookbook together. When Anne and Donna met, it was love at second sight! They have spent hundreds of hours in the kitchen sharing recipes and family stories and catching up in the nearly three decades they were separated. They love to tweak traditional dishes and give them a healthy, unprocessed spin.  You can find them on Facebook.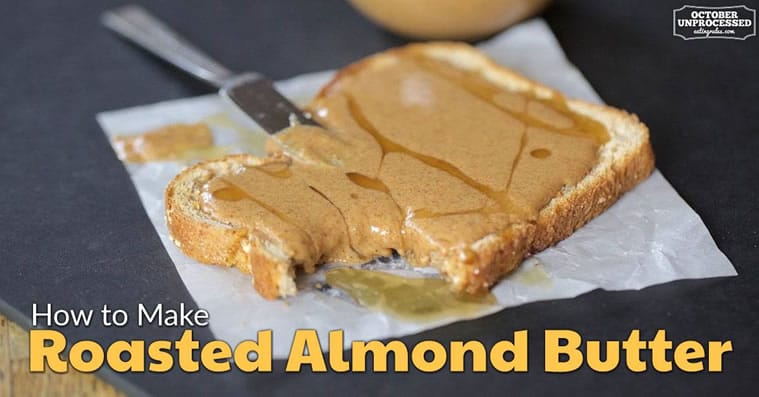 Why make your own almond butter? We give you this recipe as The Answer, which just happens to be a perfect match for October Unprocessed.

This is an accidental recipe. We couldn't find almond butter at the store with roasted almonds as an ingredient. So, we figured, how hard can it be to make Roasted Almond Butter? We bought a bag of almonds and decided to do our own roasting. We had just a bit of coconut oil in the bottom of the jar, and decided to use that instead of olive oil. A splash of vanilla is what really makes this recipe sing – adding that home-baked taste and sweetness without sugar!

This is a beautiful flavor combination. The coconut oil and vanilla add flavor and just a hint of sweetness without any sugar. So, so good. And healthy, too. Almonds contain lots of healthy fats, fiber, protein, magnesium, and vitamin E. The health benefits of almonds include lower blood sugar levels, reduced blood pressure and lower cholesterol levels. They can also reduce hunger and promote weight loss. Perhaps we should add to the saying "an apple a day." We should add: "A handful of almonds a day…"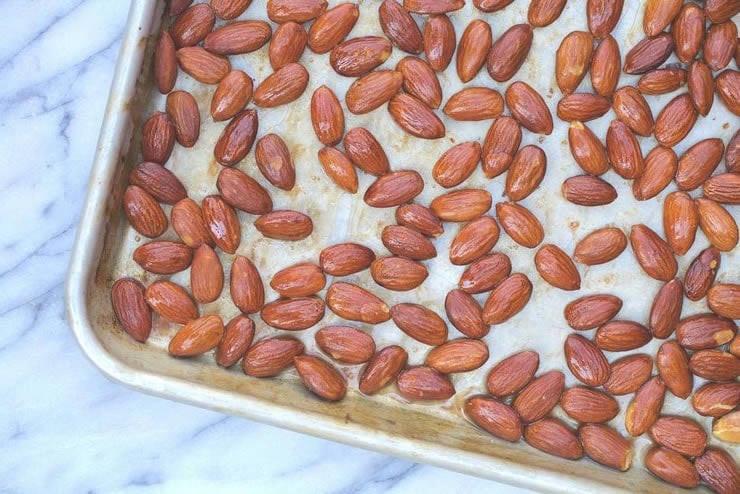 This fabulous almond butter should keep in your fridge for a few weeks, but we really can't verify that because ours was completely gone after two days. You might not just sit and eat yours with a spoon, though, so yours might last longer. Just sayin'. (NOTE: The coconut oil will make the mixture thicken after it has been in the fridge, so let it sit out awhile to loosen up before spreading.)
Once you have stashed your almond butter, it can be used in so many creative ways. Try our Vegan Sweet Potato Almond Butter Stew, or our unique Sesame Almond Butter Radishes. Crazy, but DE-lish.
Just follow these simple steps to your Ultimate DIY Roasted Almond Butter:
Simple Step One: Spread almonds on a baking sheet and roast at 350 degrees for 20 minutes.
Simple Step Two: Place almonds in food processor.
Simple Step Three: Whirl.
Simple Step Four: Add ingredients and process until smooth.

Ultimate Homemade Almond Butter
Just a few simple steps and you'll have delicious roasted almond butter!
Ingredients
2

cups

whole almonds

2

tablespoons

coconut oil

1

tablespoon

vanilla extract

1/2

teaspoon

salt
Instructions
Preheat oven to 350 degrees F.




Spread almonds on a baking sheet in a single layer. Bake for 20 minutes.

Add baked almonds, coconut oil, vanilla extract, and salt to a food processor and process until very smooth, about 2 or 3 minutes.

Store in an airtight container for up to two weeks in your refrigerator. Remove from refrigerator and let sit for about 10 minutes before using for spreadability