A long, long time ago, if you asked me to name my three favorite foods I would have answered: microwave macaroni and cheese; drive-through tacos; and Chinese takeout. The word "food" obviously being used loosely. But clearly, the meals that excited me were those that I ordered off a menu or got delivered to my door. Because they, I thought, were full of flavor.
Then, in 2004 while still in college (aka the land of processed food), I was diagnosed with a severe case of Lupus which caused my kidneys to fail. Suddenly, life changed. And so did my eating habits. After months of medical care, I stabilized, determined to do what I could to stay alive and strong–that meant losing the packaged goods and eating a low-sodium diet. But as a stubborn twenty-something, I was equally resolute to not miss out on anything, including the foods I craved.
Which gets us back to that mac 'n' cheese, tacos, and Chinese takeout. Today, most Americans consume more than 3,400mg of sodium a day according to the American Heart Association, the upper recommended limit being 2,300mg of sodium per day (about 1 teaspoon of salt, or 1 tablespoon of soy sauce).
But that table salt is not the problem. Most of the over-sodium we consume (75%) comes from processed foods. So at first, when starting my new unprocessed life, I thought I was destined for bland and boring. No more takeout. No more convenience. No more flavor.
Then I got to know my kitchen. And with the help of the Internet, cookbooks, and a ton of food television, I started to tackle each of the prepared foods I loved at home. And pretty soon, I discovered anything a package or can could do, I could do better. Including salt-free bacon.
The biggest discovery of all, though, was that flavor does not just come from bottled sauces, Chinese takeout boxes, or even the spice rack. It comes from the ingredients themselves. All five tastes–sweet, sour, bitter, umami, and yes, salty–can be found in whole foods. Mother Nature made her own spice rack with fruits, vegetables, and meat. A fact that will not only increase the depth of flavor and balance of your home-cooked, unprocessed meals, but will help you make the most from leftover ingredients in your fridge. So let's break it down. Then let's make an unprocessed, salt-free bloody Mary and put all five tastes to good use.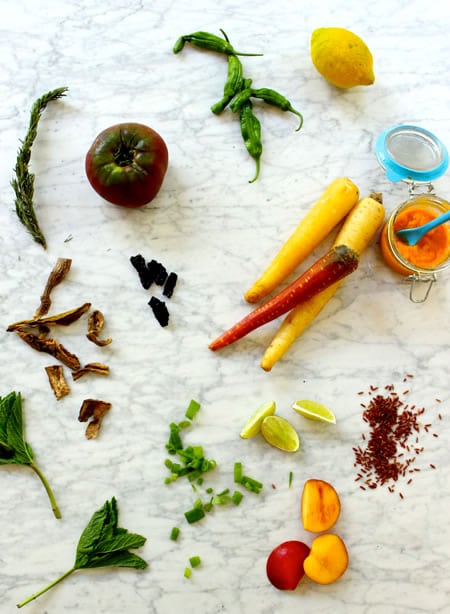 Sweet
I know what you're thinking: berries, cherries, and dates. Anything that would go well on top of a waffle or a bowl of ice cream. But sweet ingredients aren't just meant for dessert–sweet plays well with savory foods too. So don't overlook ingredients like corn, peas, and shrimp which all have a "sweetness" to them. Or the fact that even typically sweet fruits pair well with meat, like a balsamic blueberry steak sauce.
Sour
The easiest way to perk up a dish (or leftovers) is with a splash of something sour. And the easiest place to find that tang is in a squeeze of citrus. Orange, lemon, lime–squeeze and spritz as you like.
Bitter
Some people wince at the thought of adding bitter ingredients to their dishes. But just the right amount of bite offers a pleasant surprise to the palate, especially in typically mild or somewhat sweet dishes like mashed potatoes, shrimp, or roasted salmon. Here's the thing about bitter ingredients, whether you're talking onions or wasabi: by adding a little heat and something sweet (like browned butter), bitter ingredients mellow out so that they become pleasant instead of piercing.
Umami
When people think of umami, they think of high-sodium products like soy sauce, teriyaki sauce, and kimchi. But umami (or savory) flavor actually exists naturally in mushrooms, tomatoes, beef, and even green tea. And umami flavor actually gets stronger when ingredients are aged, dried, cooked, and cured, or simply paired with other umami-rich foods. So if you need to increase the savory taste of a dish, go for more umami.
Salty
You're probably thinking, how can you create a salty taste without salt? Well, it turns out most foods have sodium in them naturally. We can use that fact to our cooking advantage and use ingredients like beets, celery, carrots, meat, and shellfish (that are naturally higher in sodium) to infuse favorite typically salty dishes with natural salty tastes. No salt shaker needed.

Salt-Free Bloody Mary
Ingredients
4

large

celery stalks

with extra stems for garnish

2

small

red beets

trimmed and peeled

1 1/2

red bell pepper

stemmed and seeded

4

cups

no-salt-added tomato puree

see notes

1 to 2

teaspoons

freshly grated or prepared low-sodium horseradish

see notes

1 to 2

teaspoons

freshly ground black pepper

2

teaspoons

smoked paprika

1/2 to 1

teaspoon

cayenne pepper

2

lemons

1

tablespoon

white wine vinegar

Ice

for garnish
Instructions
If you are using a juicer, juice the celery, beets, and bell pepper. Place the liquid into a pitcher or large mixing bowl and add the tomato puree.

If you are using a blender, put the celery, beets, bell pepper, and tomato puree into a blender. Pulse until you have a vegetable smoothie. Then make a sturdy pouch out of some folded cheesecloth and, over a pitcher or a large bowl, carefully pour the blended veggies into it. Gather the cheesecloth at the top to close and then squeeze. Really squeeze, many times, until all the juice runs out of the cheesecloth and all you have left inside is dry veggie pulp. If you don't have cheesecloth, you can also pour the veggie smoothie into a fine-mesh sieve and use a wooden spoon or the bottom of a ladle to press down on the puree, squeezing the juice through until you have strained every bit into the pitcher or bowl. Set all your vegetable scraps aside.

Now that you have your vegetable juice, add 1 teaspoon of the horseradish, 1 teaspoon of black pepper, the smoked paprika, cayenne, juice of 1 lemon, and vinegar to the pitcher or bowl. Whisk together and taste, adjusting the spices (oh hello, horseradish and pepper) according to your cocktail preferences. I like mine spicy!

Place the Bloody Mary mixture in the refrigerator to chill, 15 minutes minimum or 2 hours maximum. When you're ready to serve, fill glasses with ice. Pour in Bloody Mary mixture and add a celery stalk for garnish. Cut the remaining lemon into wedges and offer them to guests as well for extra citrus punch.
Recipe Notes
A 24-ounce jar of tomato puree has a little more than 3 cups, so you can always fill the jar with 1 cup water and shake to loosen the leftover tomato puree to make 4 cups.
Regarding prepared horseradish, check the ingredient list carefully! Most store-bought jars contain ingredients that don't pass the kitchen test. Bubbie's is my favorite.
Don't be afraid to be creative with your presentation. Instead of rimming the glasses with salt, spackle the tops with a blend of freshly ground black pepper, paprika, and lemon zest for color and extra spice.
About the Author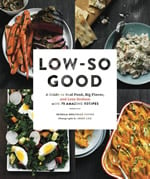 After lupus caused her kidneys to fail, Jessica Goldman Foung refocused her life and work to study food, health and the ways they interact. She began SodiumGirl.com in 2009 to capture her adventures in a low-sodium life.Today, Jessica is the go-to, low-sodium and special diet expert, contributing regularly to Food52.com, theKitchn.com, FoodNetwork.com, and Huffington Post Living. As well as appearing in print and broadcast media, including "Dr. Oz," "Access Hollywood Live," Cooking Light, Shape, Woman's Day, Ladies Home Journal, Better Homes & Gardens, Oprah.com, Well+ Good, and Lupus Now (cover story). Jessica works closely with the National Kidney Foundation and American Heart Association on patient education and recipe development. She released her first book, Sodium Girl's Limitless Low-Sodium Cookbook, in 2013. And released her second, Low-So Good: A Guide to Real Food, Big Flavor, and Less Sodium, in June 2016.  You can find Jessica on Facebook, Twitter, and Pinterest