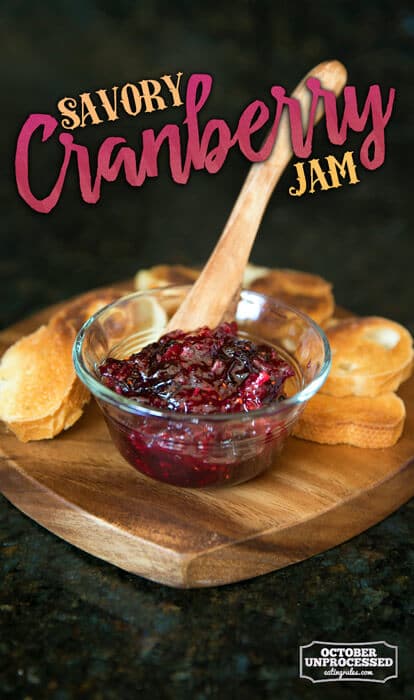 I know there's something nostalgic about cracking open a can of cranberry sauce and sliding it onto a platter. Seeing it sit there, in its still-cylindrical form – rings and all – can certainly bring back childhood memories.
But this is October Unprocessed.
We want something not only healthy (with no funky ingredients we can't pronounce, thank you very much) but we want something tasty too. This Savory Cranberry Jam will have all your guests taking out their phones to document just how good it is!
There are just six simple ingredients in this side dish and it only takes about 15 minutes or so to make. It really couldn't be easier and seeing it all come together is really exciting – if you get excited by these kinds of things! (I know you do, that's whey we are all here!) You might be tempted to leave out the raisins and although you could, the raisins add a nice sweet note to the otherwise savory ingredients.
This Savory Cranberry Jam can be used as both a side dish for your turkey or as an appetizer, shown here, atop a baguette with goat cheese. Fresh cranberries should be easy to find this time of year, but using frozen whole cranberries would work just fine as well. (Please note that this jam recipe is not a canning recipe. Please eat within one week of making…. If it lasts that long!)
Looking for another fall appetizer? Try this yummy Apricot and Fig Tapenade, full of nothing but real, healthy ingredients.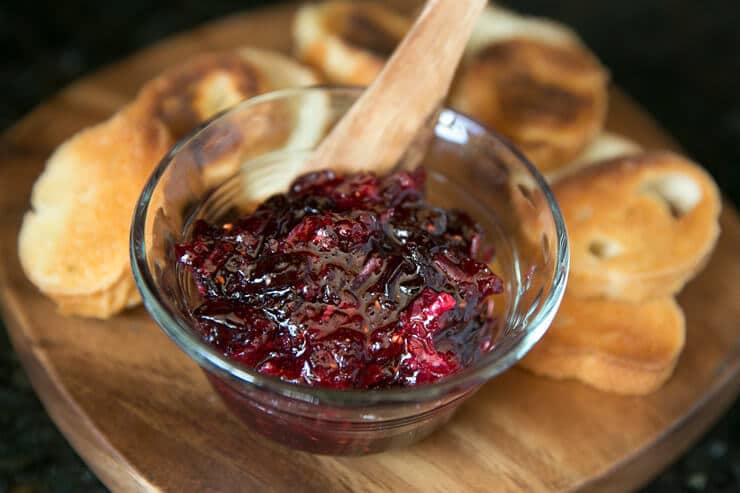 Savory Cranberry Jam
Savory Cranberry Jam is so easy to make - and it makes a beautiful side dish or appetizer that tastes better than any pre-packaged version.
To serve as a crostini appetizer, slice a baguette in 1/3 inch pieces and toast until golden brown on both sides. Spread the toasted baguette with goat cheese (or your other favorite cheese), then top with the jam.

Ingredients
1

cup

cranberries

1/2

cup

chopped onions

1

cup

unprocessed sugar

such as demerara, muscovado, or rapadura

1/2

cup

raisins

1/4

cup

orange juice

1

tablespoon

grated ginger
Instructions
In a medium saucepan, add the first six ingredients.

Bring to a simmer over medium-high heat.

Continue cooking, stirring and mashing often, until the jam has thickened, about 10 minutes.
About the Author
Karen Ard is a Los Angeles based photographer and author of Farm to Table, a lifestyle site featuring recipes and articles based on farmers market finds, food artisans, and sustainable living. Karen wanted to create a site that helps connect the dots for people between their food and the farmers growing it. As a full-time photographer and mom of two, Karen hopes people will realize that even with busy schedules, making these connections and changes in their diets is obtainable and rewarding. You can also find Karen on Facebook, Pinterest, and Instagram.