Austin Durant is a software entrepreneur/computer geek by trade and a fermenter/food geek by choice. He started fermenting after reading about the benefits of fermented foods in an article by the Weston A. Price Foundation. The benefits were obvious to him – it's nutritious, economical, and easy. He wanted to add the "community" aspect, so he started Fermenters Club as a way to spread the word and to teach others how to make and share fermented foods with their friends. Austin lives in San Diego's North Park neighborhood, which is ground zero for the local slow food movement. You can find the Fermenters Club on Facebook, Twitter, Pinterest, and YouTube.
I was delighted to be asked to contribute to the October Unprocessed movement! While fermentation is technically a form of "processing," it's nothing like the modern techniques that are used to extrude, pasteurize, deconstruct, re-construct, strip down or otherwise adulterate natural ingredients. Instead, it enriches food, using age-old techniques, and nothing more than salt and a little help from our (trillions of) microbial friends.
What is Fermentation?
Fermentation was discovered as a way to preserve foods beyond their harvest season, and was developed thousands of years before refrigeration and other modern technologies existed. There are many definitions, but as it relates to food preservation, fermentation is a technique that encourages the growth of "good" bacteria while keeping out dangerous bacteria and molds.

Why Ferment?
1. It's Healthy
Fermented foods are the original probiotics. The living bacteria involved in the fermentation process create enzymes and add vitamins to the food. They promote a healthy digestive system by supplementing and assisting the good bacteria in our gut flora (the trillions of symbiotic bacteria that live in our digestive system.) And scientific studies are proving that these beneficial bacteria do a lot to keep us healthy!
2. It's Delicious
All ferments are pickled, but not all pickles are fermented! Almost all pickles you find at the grocery store are "quick-pickled" using vinegar. Compared to quick-pickling, the flavors in fermented foods are much more complex, allowing flavors more time to develop naturally. Devotees describe the difference in flavor between quick-pickled and slow-fermented foods as a comparison between a $2 bottle of hooch versus a 40-year old Bordeaux.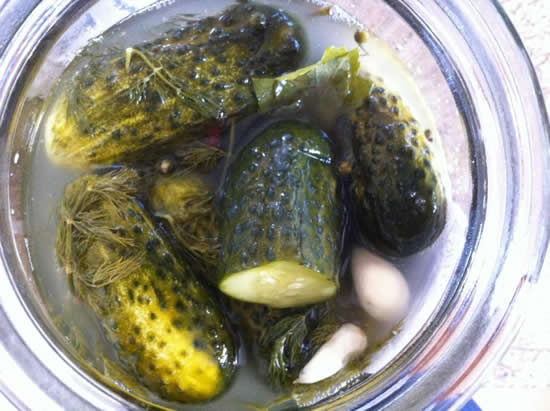 3. It's "Green"
Fermenting food requires no special equipment and no electricity. You can start with just a few basic ingredients, with items you probably already have in your kitchen: a wide-mouthed plastic or glass container, a plate, a dish towel, and kosher or sea salt.
4. It's Economical
Eating fermented foods is one of the least expensive and most natural ways to eat healthy. You can save money when fermenting by buying seasonal produce that's at the end of its growing season, when it's most abundant, and when farmers and grocers lower their prices to sell it before it goes bad. Plus you'll also save money because once you start eating fermented foods, you won't have to buy probiotic pills!
We recommend using seasonal (when a food is most abundant), organic (pesticide residues can slow or halt the growth of good bacteria), and locally grown (smaller carbon footprint, and tastes better!) foods whenever possible.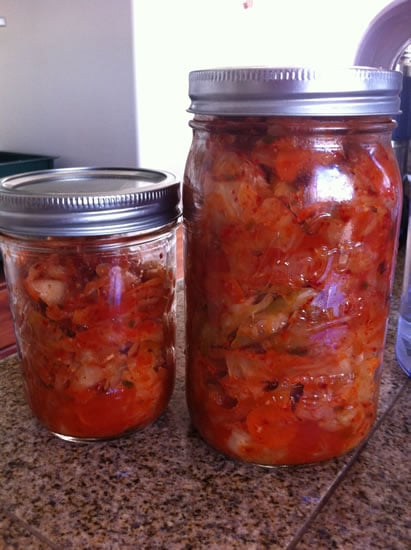 5. It's Easy
Most initial preparations take about 15 minutes. During the fermentation period (which can be from 3 days to 6 months or more), some basic cleaning and maintenance is recommended to ensure that your ferments stay free of surface mold. As Tom Petty put it, "The waiting is the hardest part!
6. It's Fun
Fermenting and sharing fermented foods with our friends and neighbors helps bring communities together, and connects us to our ancestors who used these techniques for millennia!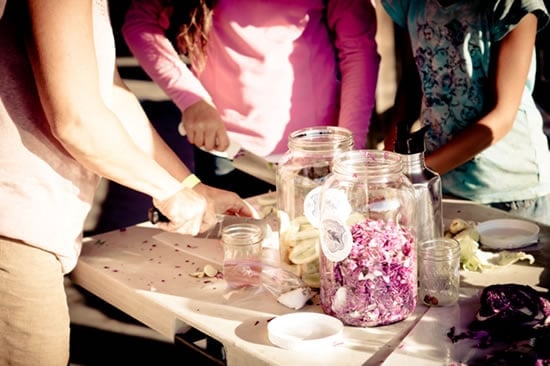 Fermented Garlic Dilly Beans
This video is 4:23 and shows the entire 13-day process, with updated progress every few days, as well as tips on keeping your ferment clean along the way.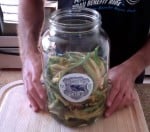 Fermented Dilly Beans
Garlic dill beans are one of the simplest recipes to get you started on the path to fermentation. Think of them as a "gateway ferment" to the wide world of fermented foods. Mwu-aahahahahahaha!
Total Time
5
days
30
minutes
Ingredients
1 1/2

lbs.

whole fresh string beans

any variety

1 1/2

quarts/liters filtered water

6-8

fresh dill sprigs

3

garlic cloves

or up to 8 if you REALLY LOVE garlic

4

Tbsp.

sea salt

1

tsp.

peppercorns

1/4

cup

pickle brine

from previous batch

1

fruit leaf

grape, cherry, apple, oak, etc.
Instructions
Make Brine: Mix 3 Tbsp. sea salt to 1 quart of water. Stir until dissolved.

Peel garlic cloves.

Add beans, garlic, dill sprig leaves (remove from stems) in layers into gallon-sized jar or crock.

Pour brine over vegetables up to 1 inch below the top of the vegetables (they will settle).

Add flexible lid and weight on top of veggies so they are completely submerged.

Cover with dish or tea towel & secure with twine or rubber band.

Put in coolest part of house or kitchen.

Check every few days. Scrape, spoon or wipe out any mold that forms on top.

Taste a bean starting after 5 days. When it has texture and taste you like, move to refrigerator. There they will keep for months (if they last that long!)