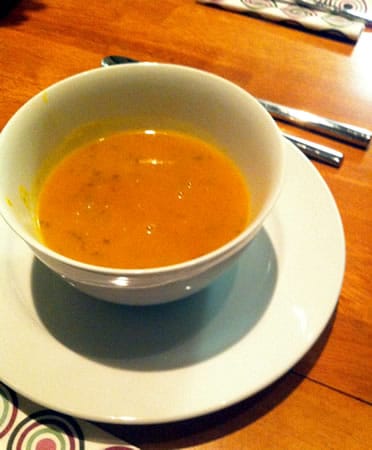 Matty prepared this vibrant soup as the first course of our recent dinner party (the same gathering that had us noshing on Renegade Pickles as our guests arrived).
The key to this recipe is to use the most delicious, sweetest carrots you can find (of course) and a fresh, perfect bunch of cilantro.
The pungent cilantro is tempered by the sweetness of the carrots — so it's surprisingly mellow for the amount of cilantro that goes into it.  That's a good thing, considering that as the soup was being served one of our guests told us she hates cilantro.  Oops!
Nevertheless, like everyone else at the table she eagerly finished her soup — and raved about it — so it's safe to say that this healthy recipe is a keeper.
Spicy Carrot and Cilantro Soup
Adapted from Linda Balslev's recipe in her NPR story, Cilantro: The Controversial Herb.
1 Tbs. Olive Oil
1 large Onion
1 pound Carrots
2 tsp. Ground Coriander
1/4 tsp. Cayenne
4 cups Vegetable Broth
1/2 cup Cilantro Springs
1 Tbs. Light Brown Sugar
Salt and Pepper to taste
If necessary, prepare the Vegetable Broth according to the package directions.  We used Better Than Bouillon Vegetable Base* which I find tends to be a bit salty — for a lower-sodium soup, simply reduce the amount of bouillon mix you add to the water.
While that's heating, chop the onion into medium-sized pieces (about 3/4″ squares, more or less).  Peel the carrots and slice them into thin rounds.
Heat the olive oil in a large pot over medium heat.  Sauté the onions for a few minutes, until they begin to turn clear.  Add the carrots, cayenne, and ground coriander, and sauté for another minute.
Add the vegetable broth and bring to boiling.  Simmer over low heat for about 45 minutes, until the carrots are soft.
Remove from heat and allow to cool for 5-10 minutes.  Transfer to your blender or food processor, add the cilantro, and purée until smooth.  You may want to do this in multiple batches.  Also, be careful if using the blender that it does not shoot out the top when you first start — cover the lid with a towel or plastic wrap to be safe.
Pour the soup back into the pot, and mix in the brown sugar.  Salt and pepper to taste (remember, the Bouillon is fairly salty, so if you use that it probably won't need much extra salt, if at all).  Re-heat if necessary, and serve immediately.
Makes 4 servings.
* I just took another look at the Better Than Bouillon ingredient list, and was disappointed to find that it contains partially hydrogenated oil.  Boo!  So… does anybody have a recommendation for a trans-fat-free, low-sodium, but-still-delicious vegetable broth or bouillon mix that makes a good substitute for chicken stock?  Thanks!
—
What, you haven't signed up for October: Unprocessed yet?  October is only a week away!  Better click on over here and take the pledge!
R,FTW! is short for Recipe For The Weekend! (or, if you prefer, Recipe For The Win!).  My goal is to present healthful — and delicious — recipes that are easy and fun to make, with an emphasis on better-for-you substitutions that don't compromise taste.