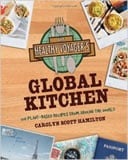 Carolyn Scott-Hamilton is the creator and host of The Healthy Voyager web series, site, and overall brand. An award-winning healthy, special diet and green living and travel expert, holistic nutritionist, plant based vegan chef, best-selling cookbook author, media spokesperson, sought after speaker, consultant and television personality, she is a respected figure in the world of healthy lifestyle and travel as well as special diet cooking and nutrition. The Healthy Voyager aims to help people live well, one veggie at a time! Follow Carolyn on Facebook, Instagram,  and Twitter.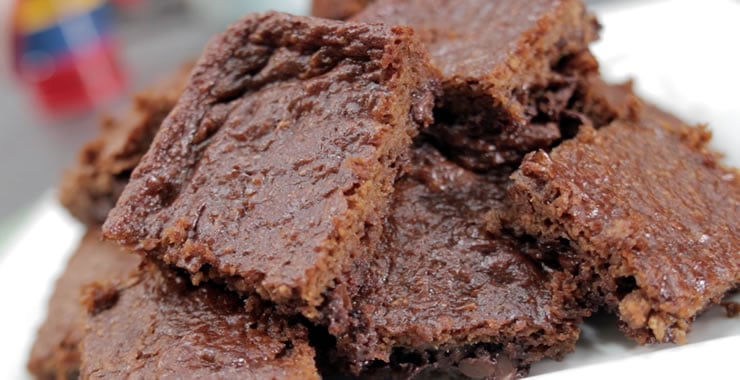 Let's face it, the holidays are around the corner and that means lots of fattening, sugary sweets will be showing up soon. But what if I told you that you could enjoy a decadent treat this holiday season without the guilt?
Yep! Not only are these sinfully delicious but they are also good for you! Packed with protein and veggies, these chocolatey dreams are also vegan, gluten-free, soy-free, and grain-free!
Right about now you're shaking your head in disbelief but I can assure you that these baked squares of heaven will disappear in seconds flat. Keep the ingredients a secret and spring it on the devourers after they've eaten the whole tray.
So let's get to it, shall we? Here we go!

Vegan Double-Chocolate Espresso Zucchini Brownies
Author:
Carolyn Scott-Hamilton
Prep Time:
Cook Time:
Total Time:
Serves/Yield:
16 Brownies
Ingredients
1 tablespoon of finely ground flax or chia seeds
3 tablespoons of warm water
1 cup almond butter
1½ cups skinned, seeded, and grated golden zucchini
⅓ cup maple syrup
1 teaspoon vanilla
1 teaspoon baking soda
½ teaspoon cinnamon
1 teaspoon cocoa powder
1 teaspoon ground espresso (add ½ teaspoon more for stronger flavor)
¼ teaspoon salt
1 cup vegan semi-sweet chocolate chips (or any dark chocolate bar, broken up into pieces)
Instructions
Preheat oven to 350 degrees F.
In a small bowl, mix together the ground flax or chia seeds with warm water, and allow to stand for 5-10 minutes until it makes a gelatinous paste.
Combine the flax/chia and all remaining ingredients in a large bowl.
Pour into a greased 9×9 baking pan (coconut oil works well).
Bake 25-30 minutes or until a toothpick comes out clean.
Cool, cut into squares and enjoy!

Also, if you want to see how easy they are, watch the Vegan Double-Chocolate Espresso Zucchini Brownies episode of The Healthy Voyager's Global Kitchen below!