My kids love fruits and veggies. They are not picky eaters. Lately my son, age 7, has shown a particular liking for my mushroom soup made with a stock of musky dried fungi that give a deep smoky umami flavor, and he is also partial to vegetable stir-fries rich with fresh ginger and nama shoyu (raw fermented soy sauce), while his 4-year-old sister's favorite dessert is dates and dark chocolate. Let me start by reassuring you that our relationship with food was not always this way!
My son came into the world wired a little differently from many kids, and although he walked early and was clearly intelligent, he struggled to speak and suffered with frequent colds. He also displayed behaviors that have put him in the sights of special needs professionals since the age of 2. My father is a chef who fed us real food growing up, so I never developed a taste for sodas or McDonalds (much as I might have liked to), but I still got sucked into the mindset that wholegrain Goldfish crackers and Cheerios were acceptable foods for my son, and at the time he was born I would best describe our diet as junk-food vegetarian, with lashings of milk and processed cheese.
In my quest to find answers to my son's health issues, I picked up a copy of Dr. Fuhrman's book Disease Proof Your Child and watched the documentary Forks Over Knives, and slowly I started to educate myself on the relationship between food and well-being. Changing our diet was NOT easy, and the first meal I worked on replacing was my son's beloved Trader Joe's mac 'n' cheese, a packaged food you find in the chill cabinet that is really gooey and addictive. My son was hooked on it and we had a fair few tantrums at meal times. However, I persevered and by the time my daughter came along her diet was totally junk free from the get-go.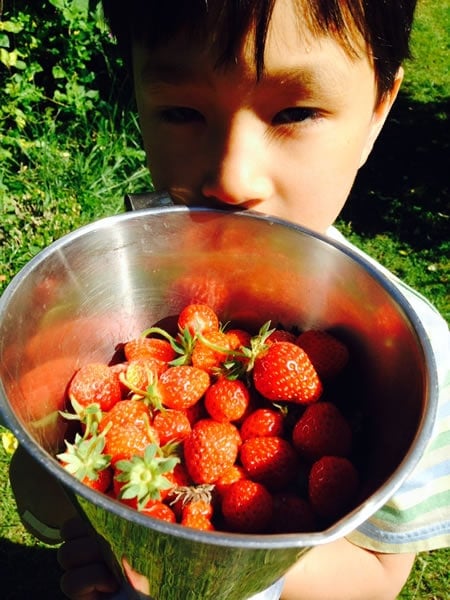 Back then healthy plant-based food blogs and cookery books were in short supply, particularly ones that would appeal to kids, so my quest for information led me to a year's training in holistic health coaching, and from there I decided to start my own food blog. As a single mum with two kids and a full-time job it was slow going to find time to learn about blogging, but as I read more about our food system I grew angry, and that fuelled my passion to stick at it. Somehow I reorganized our lives for a long weekend away to attend a food blogging conference, having finally got the blog online about a week beforehand (nothing like a deadline to make things happen!), and there I met others like Lisa Leake (100 Days of Real Food) and Vani Hari (The Food Babe) and realized there was a real food movement that was gathering steam.
I didn't just want to make regular real food though, I wanted to give my kids amazing food. Maybe it was growing up watching my father in professional kitchens and eating treats like mille-feuille while my friends had burgers and Coke, I don't know where the madness came from, but I enrolled in full-time culinary training at the Natural Gourmet Institute in New York, where the focus is on health supportive eating, and finding balance in life through food. Studying at NGI was like the clouds parting to reveal a huge ah-ha moment. I was immersed in making stocks, infusing oils, handling the very best organic ingredients, and what was totally mind-boggling was that my kids ate everything I brought home. In fact they devoured it.
It was then that I realized something important: somewhere along the way we lost sight of how to feed our kids. We dumbed their food down to kids' menus in restaurants, we accepted that the cheapest and poorest quality ingredients would end up in their meals at school, and we gave in to the marketing companies who sold us sugary junk packaged with smiling cartoon characters, because it was easier than putting up with tantrums at home. But the price we have paid is that we have a generation of picky eaters, who have higher rates of food-induced allergies and health problems than ever before. It's time for a paradigm shift to a world where children are fed only the most beautiful and highest quality food.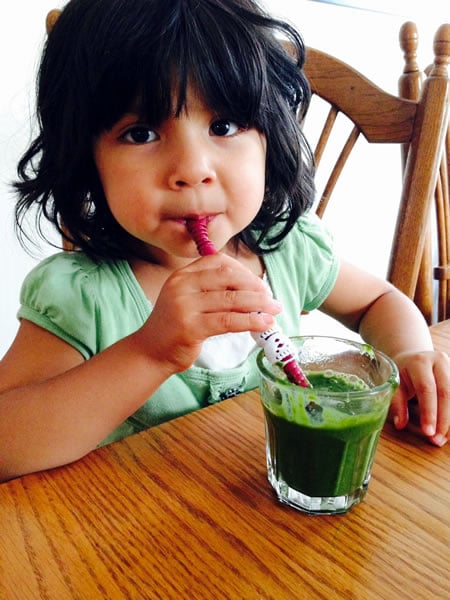 So, fast-forward to the present day. I recently moved myself and my two kids to rural France. Partly to be closer to family, but also because I want my kids and I to live this life where we are immersed in nature and local, seasonal, fresh food. I am developing my kids' palates as I hope they will grow up to find food as exciting and fascinating as I do, and one day come to view real food as normal and delicious.
It isn't easy. Kids don't naturally gravitate to tempeh, shoyu and organic broccoli, but if you stick with it and involve them in understanding your food choices then slowly they get on board. You also need to understand they are just kids, and sometimes they need to eat that bit of cheese pizza to fit in with their friends at school. It's all about balance.
As you can see from the photograph, my kids are bright and healthy. My son is still wired a little differently but he no longer needs trips to the doctor for antibiotics, and he is learning which foods trigger his less desirable behaviors. And now we are in France I have time to get back to growing my blog, and I have exciting plans!
You might like to try the recipe that started the journey for us, our vegan version of mac 'n' cheese – it's become a family favorite.

Vegan Macaroni and Cheese
Reducing the nutritional yeast to a quarter cup (some folks don't love the taste) and adding a good dollop of umeboshi paste really gives a nice cheesy tang to this family favorite.
Ingredients
½

large

sweet potato

scrubbed and cut into large chunks.

1

medium

carrot

top and tailed, washed and cut into thick slices

½

small

onion

peeled and halved

¼

red bell pepper

thickly sliced

½

cup

broken cashew pieces

pre-soaked for 2-4 hours, or overnight (See Notes)

1/4 to ½

cup

nutritional yeast

1

teaspoon

umeboshi paste

optional

½

teaspoon

turmeric

¼

teaspoon

smoked paprika

1

tablespoon

sweet white miso

1

teaspoon

Dijon mustard

1

half

small lemon

juiced

Non-dairy milk of your choice

preferably unsweetened (double-check ingredients!)

Whole grain pasta of your choice

sufficient for four servings
Instructions
Steam the sweet potatoes, carrots, onion, and red bell pepper until fork-soft.

When the veggies are half-cooked, put the water on to boil for the pasta.

When the veggies are soft, put them in the blender with the remaining ingredients, then blend, adding milk until you obtain a thick pouring sauce. If your blender is not a high-speed model, you might have to scrape down the sides and work the blender a little to get the sauce really smooth and creamy.

Finish cooking the pasta, drain, and then return to the pan. Pour the sauce on the pasta and stir over a low heat for a few minutes to warm through and combine thoroughly.

Serve with kid-friendly greens of your choice.
Recipe Notes
If your child can't tolerate tree nuts, consider either leaving the nuts out (which loses the creamy factor) or substitute soaked raw sunflower seeds to taste.
About the Author
Julie Askew is a single mum to two real food kids, a licensed family therapist, a chef, and a food blogger at The Real Food Kids. She's an English woman from New York, but recently relocated with her family to live the real food life in rural France. You can also find her on Facebook and Pinterest.