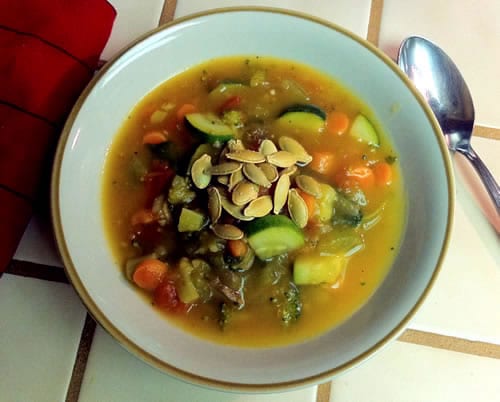 Here's a healthful, hearty soup we made last weekend.  Add a slice of 100% whole grain bread, and you've got a wonderful, soul-sustaining, winter meal!
My annual new year's party officially begins each year when we convene at the Costco in Redlands, CA, usually the day after Christmas. We grab two carts and load them up with enough food to last the lot of us nearly a week in the mountains.
This year, I was pleased to see that they had many more whole grain and organic options — including organic, cage-free eggs (we bought 9 dozen), 100% whole wheat spaghetti (6 pounds), and several different types of whole grain breads (6 sliced loaves and 3 dozen English muffins).
The biggest surprise, though, was the palette of 3-pound bags of Bob's Red Mill Quinoa. My jaw literally dropped: Quinoa! In the Inland Empire Costco!!
Times, they are a-changin'.
We had a terrific week, spending a lot of time together in the kitchen and then enjoying many family-style, home-cooked meals by the fire.
On the last night we had to figure out what to make with what we had left in the fridge. With an eclectic assortment of veggies still in the bins, the obvious answer was soup.
We had also brought with us a pumpkin that had been sitting by our front door since mid-October.  It wasn't squishy yet, so I was pretty sure it would still be edible.
So Saturday afternoon we decided to roast the pumpkin and then use it to make a soup with the leftover veggies. It worked out perfectly, making a hearty vegetable soup with a thick, rich base.
My friend Michelle and I made this up as we went along, and didn't actually measure anything — so the numbers I'm listing in the recipe below are definitely approximations. That's okay, though, there's no need to be exact. Soups should change depending on what you've got on hand!
Want to change it up even more? Toss in any kind of whole grains or whole grain pasta, beans, or a protein such as turkey or tofu. You could even throw in some peanuts or cashews, which will soften nicely as they cook.
Although we still had tortilla chips nearby, it was January 1st, so they were off-limits (rule #3!).  Instead, we topped the soup with freshly-toasted seeds from the same pumpkin. They added a perfect, guilt-free crunch!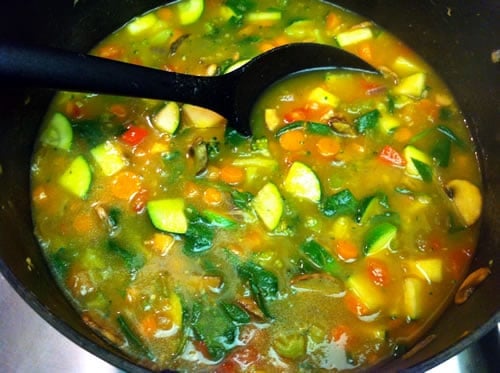 Vegetable Pumpkin Soup
We decided to roast the pumpkin and then use it to make a soup with the leftover veggies. It worked out perfectly, making a hearty vegetable soup with a thick, rich base.
Ingredients
3-4

cups

Pumpkin Puree

instructions below

8

cups

Vegetable Broth

Chicken Stock, or Water (divided)

3

tablespoons.

Olive Oil

1

medium

Onion

diced

6-8

cloves

Garlic

crushed

1

cup

Carrots

chopped

1

cup

Celery

diced

2

cups

Zucchini

diced

2

cups

Broccoli

chopped

1/2

cup

Mushrooms

sliced

1

cup

Baby Spinach

2

medium

Tomatoes

diced

Sea Salt & Fresh Ground Pepper

to taste

1

teaspoon

Dried Oregano

Toasted Pumpkin Seeds

instructions below
Instructions
Combine Pumpkin Puree with 1 cup broth. Puree with an immersion blender or regular blender until very smooth. Set aside.

Heat olive oil in a large pot on medium-high heat. Add onion, garlic, and carrots and sauté until soft, about 5 minutes. Add celery, zucchini, broccoli, and mushrooms and continue cooking for 3 or 4 more minutes. Add spinach, tomatoes, and remaining broth and bring to a boil.

If you're cooking this by yourself, you may want to chop all the veggies beforehand. If you're cooking with a friend, she can be chopping while you're stirring (or vice versa)-- so just chop things up in sequence and the timing should work out just fine.

After the broth comes to a boil, reduce heat so it's a slow simmer. Add the thinned pumpkin puree and continue cooking. Add the spices and simmer for at least 10 more minutes, until the tomatoes are cooked and have release their juices.

Ladle into soup bowls, and garnish with freshly toasted pumpkin seeds.

Pumpkin Purée & Toasted Pumpkin Seeds
We used a "carving" pumpkin — the same kind you get at the grocery store for making jack o'lanterns.  For soup or bread, that'll be just fine.  However, Laura (@Bwlrchik) recommends using the smaller "sugar" pumpkins for cooking, and Joel (@CptCrnch) recommends using "long-neck" pumpkins for pie-making.  Either way, a food processor or immersion blender will be tremendously helpful. (You can use a regular blender, but it'll be a hassle!)
Preheat your oven to 450ºF. Rinse your pumpkin thoroughly. Cut it in half — it won't really matter if you go through the middle or from top-to-bottom (we went through the middle and it worked great).  A bread knife works well, so you can "saw" through without slipping. Scoop all the seeds and soft stringy center section into a bowl with a spoon, and set aside.
Place the pumpkin halves cut-side-down in a large baking pan, and add about 1/2″ of water to keep it from drying out.  Bake, uncovered, at 450ºF for 45-60 minutes, until the skin can be pierced easily with a fork.
While it's baking, prepare the seeds. Separate them by hand from the stringy orange bits, and place in another bowl. You won't be able get all the orange clumps out, but that's okay. Do the best you can for this step. Next, fill the bowl of seeds with water and rub the seeds between your fingers — the rest of the orange bits will slide off.  Rinse a couple of times and you should be left with clean seeds. Scoop them onto a towel and blot dry.
Lightly grease a shallow baking pan or cookie sheet (using a pan with a lip helps keep the seeds from sliding off).  Spread the seeds on the sheet in a single layer, and then sprinkle a little bit of sea salt on them.
Once the pumpkin is done roasting, turn the oven down to 300ºF.  Give it a few minutes to cool down, and then place the seeds in the oven on the middle rack. After about 10 minutes give them a quick stir. Toast another 10 minutes, and check on them again. When they just start to brown, they're done!
Once the pumpkin has cooled, scrape the stringy flesh into a bowl. Purée with an immersion blender, food processor, or a regular blender, until smooth. For soup, you do not need to strain it.  However, if you'd like to use the pumpkin purée for baking, drain by scooping into a fine-mesh colander and allowing to drip for several hours. (Cheesecloth should work well, too).
Pumpkin purée also freezes well, so you can save it up to use in recipes year-round.