Homegrown Vegetarian Chili
Oct 02, 2012, Updated Feb 24, 2018
Chili wasn't the first thing that came to mind when Andrew asked me to participate in October Unprocessed. But as I pondered my thrillingly large pile of red and yellow heirloom tomatoes, jalapeños, poblanos, bell peppers, garlic and cilantro, all from my upstate New York garden, the idea of a homegrown chili was born.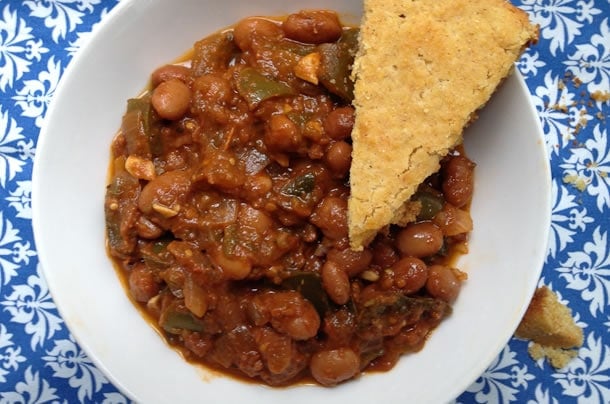 When the mailman surprised me with my latest Rancho Gordo order the very same day, the chili decision was made for me (or at least it felt that way). The maroon and ivory speckled Good Mother Stallard beans were simply calling out.
I must confess, this is the first time I've made chili without opening a single can. I usually reach for canned tomatoes, tomato paste – and (gasp!) canned beans if I'm in a major hurry. I can't tell you how good it feels, and tastes, to make an utterly unprocessed version. If I'd thought of it, I would have also added a foraged ingredient: epazote. The stuff grows all over the place on the sidewalks of Brooklyn – but then again, you never know if a dog has peed on it!
It was a bit hard to use my über-ripe heirloom tomatoes for chili instead of a salad, but I have to say, they gave this chili a lightness and sweetness that really set it apart from run-of-the-mill chili. And of course, using dried heirloom beans rather than canned also made for a more flavorful chili that canned beans could never begin to match. While I used Good Mother Stallard beans, Rio Zape beans would also be excellent choices, as would regular old pintos.
When using fresh tomatoes in a chili, it's important to keep the spicing subtle. I usually go for deep, dark intense chilis that call for toasted ancho chiles, chocolate, beer, coffee, etc. But here, I held back, adding only some mild New Mexico chile powder, cumin and Mexican oregano. That allowed the tomato and bean flavors to really shine.
So if you live in a part of the country where you can still get good fresh tomatoes in early October, get some and make this chili while the gettin's good.
Homegrown Vegetarian Chili
If you use homegrown or fresh ingredients in this chili there is no way you could go wrong!
Ingredients
1 1/2

cups

dried Good Mother Stallard beans

,

or other good chili beans, soaked overnight

4

cups

roughly chopped super-ripe tomatoes

,

cores removed

2

Tablespoons

extra virgin olive oil

4-5

cloves

garlic

,

minced

1

large

yellow onion

,

chopped

2

jalapeno peppers

,

minced

2

medium

poblano peppers

,

chopped

1

large

red or green bell pepper

,

chopped

2

tablespoons

New Mexico Red Chile Powder

2

teaspoons

ground cumin

2

teaspoons

Mexican oregano

1

teaspoon

salt

1/2

teaspoon

black pepper

2

teaspoons

honey or maple syrup

,

only if your tomatoes aren't super sweet

1/4

cup

chopped cilantro
Instructions
Drain the soaked beans, and place them in a large saucepan with 6 cups of water. Bring to a boil, then reduce heat and simmer until tender, about an hour. Drain, reserving cooking liquid.

Place the tomatoes in a food processor and process until smooth.

Meanwhile, heat the oil over medium-high heat in a large, heavy-bottomed pot. Add the garlic, onions and all peppers. Sauté for 7-8 minutes, until the vegetables are starting to brown nicely. Reduce the heat, add the chile powder, cumin, oregano, salt and pepper, and cook for two minutes.

Add the pureed tomatoes and bring to a boil. Reduce heat and simmer for 25-30 minutes. Add the cooked beans along with 1 cup of bean cooking liquid and simmer 20 minutes longer, partially covered. Add more bean cooking liquid if the mixture becomes too thick. Taste midway through the cooking time and add sweetener the flavor is too tart. When the chili is done, stir in cilantro and serve.
Nutrition
Calories:
248
kcal
,
Carbohydrates:
37
g
,
Protein:
9
g
,
Fat:
8
g
,
Saturated Fat:
1
g
,
Sodium:
664
mg
,
Potassium:
1003
mg
,
Fiber:
11
g
,
Sugar:
12
g
,
Vitamin A:
4105
IU
,
Vitamin C:
133.7
mg
,
Calcium:
95
mg
,
Iron:
4.6
mg
Like this recipe? Rate and comment below!