Veggie Puff Pastry Cups, and A Game
Oct 19, 2012, Updated Sep 20, 2018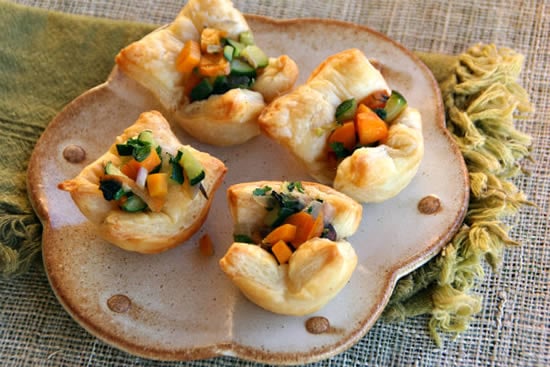 In our home, eating vegetables is important. There are at least two to three servings of vegetables in every meal. Sometimes I even serve vegetables for breakfast – yummy Garbanzo Pancakes with spinach and kale. I typically make recipes that are simple enough for the kids, and with the addition of a topping, sauce, garnish, etc. they are yummy for the adults too.  
I believe that fresh is best, especially when it comes to vegetables and fruits. I always use veggies that are in season (as vegetables that are in season taste incredibly yummy!) straight from the Farmers Market or occasionally use frozen veggies. I keep a few cans of veggies in case of a natural disaster but I have never been able to get myself to open a can of veggies. Why bother? Fresh tastes so much better, especially if I want my kids to develop a taste for vegetables.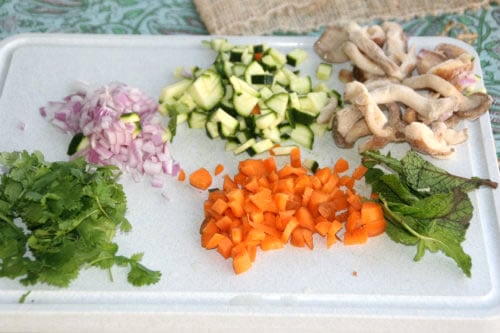 I fuss about teaching my children about vegetables and their nutritional benefits like I teach my kids how to read or play a game. These are the three ways that I mostly use in our home to get the kids to try new things. Until recently, where I have made up a new game: I will make a dish and come up with a few quick variations on a base and we taste/eat/try and give feedback on what we like better. With simple additions to the base, the recipe becomes appealing to everyone.
With these Puff Pastry Veggie Cups, my 2.5-year-old and I loved the simple cup with the naked veggies. My daughter loved the veggies cups with cheese, while my hubby went for the yogurt veggie dip with Sriracha on top. Viola! One dish, and without too much effort,  four happy customers.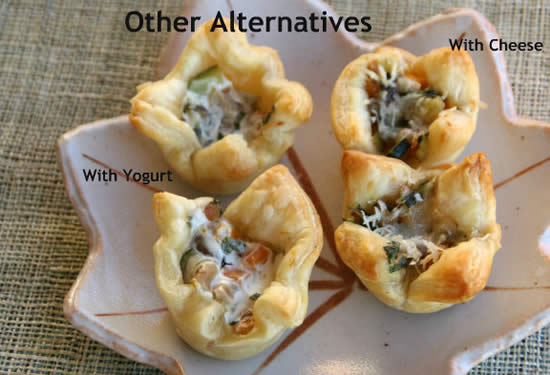 Veggie Puff Pastry Cups
Makes about 18 mini muffin Veggie Puff Pastry Cups. You will need mini muffin baking trays to bake the puff pastry cups.
Ingredients
½

cup

diced red onion

½

cup

diced carrot

¾

cups

zucchini

1

cup

mixed bag of frozen mushroom

1

tsp.

cooking oil

½

tsp.

salt

10

mint leaves finely slivered

2

tbsp

finely chopped cilantro leaves

Puff Pastry sheets

,

Trader Joe's sell them, I bought mine from my local Indian Store. Check the ingredients to be sure they're unprocessed, or make your own.
Instructions
Thaw or make home-made Puff pastry Dough.

Pre-heat oven at 370F.

Cut the puff pastry sheet into small squares of 2 inches and place them in mini muffin trays. Bake them for 20 minutes till they are flaky and light brown in color.

Remove from oven and cool the puff pastry cup.

Heat oil in a skillet on medium heat.

Add the onions and sauté them for 2 minutes till they become translucent.

Add frozen mushrooms and sauté for 2 minutes.

Then add the carrot and zucchini and sauté for 1 minute.

Add the salt, mint, cilantro for cook for another 30 seconds.

Turn off the heat.

Spoon the veggie mixture into the puff pastry cup.
Notes
Variations:
- Mix Plain Greek Yogurt 1 tbsp yogurt with 1 tbsp veggie mixture and spoon the mixture into the baked puff pastry cup. Fills about 4 mini puff pastry cups.
- After spooning the veggie mixture into a baked cup, add ½ tsp grated Parmesan cheese and bake for 2 minutes till the cheese melts.
Nutrition
Calories:
37
kcal
,
Carbohydrates:
1
g
,
Sodium:
57
mg
,
Potassium:
66
mg
,
Vitamin A:
630
IU
,
Vitamin C:
1.3
mg
,
Calcium:
3
mg
,
Iron:
0.1
mg
Like this recipe? Rate and comment below!