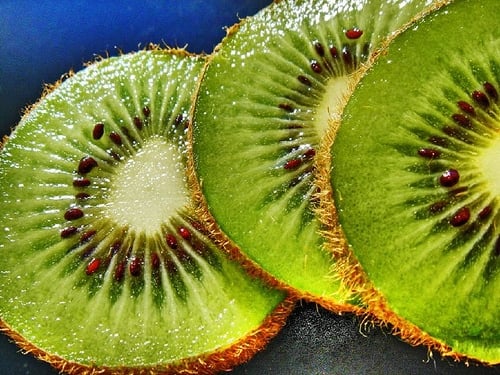 You probably already know that the delicious kiwi fruit is an excellent source of vitamin C and fiber (and a good source of potassium, copper, magnesium, vitamin E, and manganese).
What you probably didn't know is that you can also eat the skin!  It's much softer and thinner than you'd expect, and contains more fiber and nutrients.
What I love most, though, is that leaving the skin on makes preparation so much easier!  Just cut off the little nub where the fruit was attached to the branch, and then eat the whole kiwi like an apple, or simply slice it up.
No more tedious peeling, wasted fruit because you peeled too much, or exasperated attempts to Ginsu a slippery green ball.
Here's another little kiwi factoid:  Once cut, they release an enzyme that will soften other fruits (and themselves) — so if you're adding kiwi to a fruit salad, make sure you wait until the last possible minute to cut them up and toss them in.
Learn more about this great fruit from this in-depth article on kiwi.
—
Photo by Lyubov.