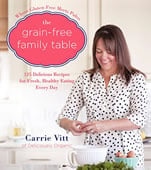 Carrie Vitt is the author of the successful cooking blog Deliciously Organic, and has authored two cookbooks: Deliciously Organic and The Grain-Free Family Table. Carrie also runs a successful meal-planning business and an online 10-video course called Real Food Boot Camp that teaches how to reduce inflammation and find better health with real food. After struggling with health issues for years, she turned to an unprocessed, grain-free diet and has been able to overcome Hashimoto's disease, chronic migraines, IBS, and eczema. You can also find Carrie on Facebook, Twitter, Instagram, and Pinterest.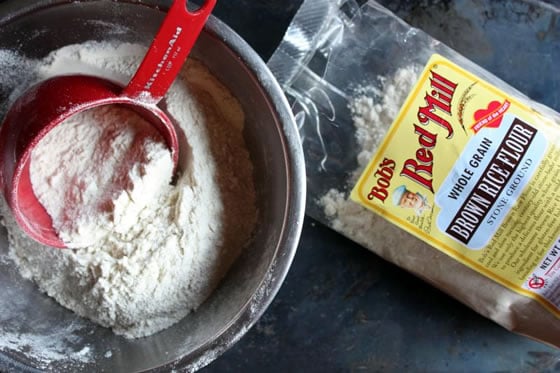 Gluten-free flours are becoming more popular as people are becoming aware of how gluten can play a role in bettering their health. In years past, gluten-free flours were mainly used by those with Celiac Disease, but evidence has come to light that those who suffer from autoimmune disease and other illnesses may benefit from avoiding gluten.

Many gluten-free flours can be made at home with the help of a grain mill. You can purchase whole amaranth, rice or corn in bulk and then grind them when needed at home. These gluten-free grains last for years in a cool pantry, so no need to worry of them spoiling.

The list below isn't a completely comprehensive list, but rather a list of some of the more popular and easy to find flours. I'm dividing the flours into two categories gluten-free and grain-free.

Grain-Free Flours
Coconut Flour: Coconut flour is made from dried and ground up coconut meat. It has a nice, pleasant coconut aroma, is higher in protein and is great to use with a combination of other flours. Coconut flour absorbs a large amount of liquid, so this is why you'll see recipes calling for 1/2 cup coconut flour and 6 eggs. I prefer to use Bob's Red Mill or Tropical Traditions coconut flours.
Almond Flour: This flour is made from blanched almonds. The skins have been removed to make for a more fine texture. It's a great flour to use in grain-free cookies, cakes and more. Almonds are higher in omega-6 fatty acids which in excess can cause inflammation, so it's best to keep watch of how much you consume. Out of all of the brands I've tested, Honeyville is my preferred brand.
Arrowroot Flour: Arrowroot is flour made from the bulb of the arrowroot plant. The arrowroot is dried and ground into a powder. When added to baked goods, it gives the bread or cake a lighter texture and sometimes a bit of a crunch. It's also a great 1:1 substitution for cornstarch. A small bottle of arrowroot at the grocery store can be pricey, so I prefer to buy Bob's Red Mill arrowroot flour in bulk from Amazon.
Tapioca Flour: Tapioca flour is simply ground tapioca. It's also a great thickener and adds lightness to a cookie or cake.
Potato Flour: This flour is made from dried and ground potato. It retains it's potato flavor, so I prefer to use it in cooking as a thickener instead of in sweet baked goods.
Garbanzo Bean Flour: This flour is made from grinding garbanzo beans into a fine powder. It's a nice thickener for sauces and I also like to use it in my favorite grain-free pizza dough.
Gluten-Free Flours (with grains)
Rice Flour: Rice flour is made from finely ground rice. It can have a gritty texture when used alone, so I prefer to combine it with other flours for a softer feel. Aside from baking, rice flour is also a great flour to dredge meats in before sautéing.
Amaranth: Amaranth flour is made from grinding the amaranth seed to a powder. It has a nutty taste and is a nice flour to use in cakes and muffins.
Millet: Millet is another subtle-tasting flour made from grinding millet to a powder. It can be a bit more gritty than other flours, so I like to use it in a combination with other flours.
Oat Flour: This flour is made from grinding oat groats to a fine powder. There are conflicting studies on whether pure oats are problematic for those diagnosed with Celiac, so if you choose to use oat flour it's best to decide if this is the right flour for you.
Corn Flour: Corn flour is made from grinding the entire kernel of corn into a flour. It's a nice flour to use for homemade corn tortillas or cornbread.
Sorghum Flour: Sorghum flour is made from grinding sorghum grain into a flour. It has a sweet taste to it and is a nice flour to use for muffins, cookies and cakes.
Buckwheat Flour: While it has the word "wheat" in it, have no fear, this is a gluten-free flour. It's made from grinding buckwheat into a flour. It has an assertive flavor and is higher in protein.
Binders
Since gluten-free and grain-free flours don't contain gluten, they usually require some sort of ingredient to bind them together. Many gums can be hard on the digestive system, so there are only a few unprocessed binders that I personally recommend.
Unflavored Gelatin: For those of you who eat meat, bovine gelatin is a flavorless ingredient that is perfect for binding gluten-free flours in baked goods. Gelatin contains between 6-12 grams of protein per tablespoon, helps aid in digestion, and can contribute to the building of strong cartilage and bones. Gelatin has also been shown to benefit the digestive tract, immune system, heart, liver, muscles, and skin. It also helps aid in detoxification. Not all gelatin is created equal, so it's important to purchase from a good source. Bernard Jensen and Great Lakes  gelatins both come from grass-fed animals and do not contain any MSG (most other brands of gelatin do contain MSG). Now, it might sound like a processed food, but it's basically the same as if you made a pot of chicken stock, moved the gelatin from the liquid and let it dry.
Agar Agar: Agar Agar is a seaweed gelatin substitute. While it doesn't contain as many health benefits as gelatin, it's a great option for those who don't consume meat. And remember, not all agar agar is created equal, so make sure you find an unprocessed brand such as Eden Foods.
What About Soaking?
Have you ever eaten beans and then had some digestion issues the next day? This is usually from the phytic acid in the beans. But, if the beans are soaked overnight and drained before cooking, the digestion issues are usually solved. Most grains, nuts, seeds and beans contain phytic acid which is an enzyme inhibitor, so if you're interested in helping your body digest all of the nutrients you are putting into it, it's best to use flours that have been soaked overnight to release the phytic acid. It takes a little forethought, but can easily be done at home. For instructions and further reading, click here.
Combining Flours
I usually don't use just one flour when cooking or baking. Below are my two favorite combinations. Please keep in mind, these combinations don't work for all recipes, but in my experience have worked very well for muffins, cakes, and quick breads.
Gluten-Free Flour Combination (with grains) equal to 1 cup white flour:
1/4 cup brown rice flour
1/4 cup oat flour (or millet)
1/4 cup sorghum flour
1/4 cup arrowroot flour
1/2 teaspoon unflavored gelatin
Gluten-Free Flour Combination (without grains) equal to 1 cup white flour:
1 cup almond flour
2 tablespoons coconut flour
1/2 teaspoon unflavored gelatin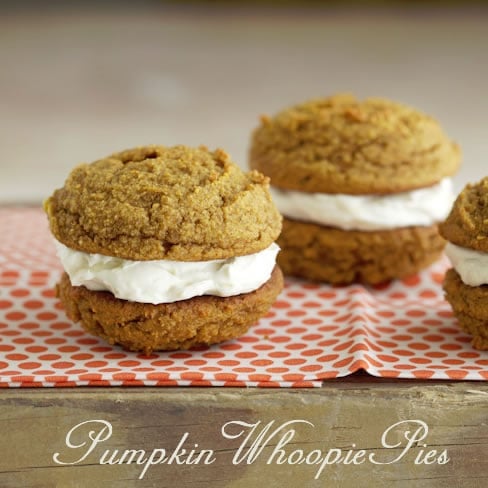 Since it's fall I thought I'd share with you one of my favorite grain-free treats – Pumpkin Whoopie Pies. These whoopie pies make for a great spongy cookie on their own – the cookies almost taste a bit like muffin tops. Two spiced cookies are paired together with whipped butter, cream cheese and maple syrup to sweeten. They are quite the treat.

Gluten-Free, Grain-Free Pumpkin Whoopie Pies
Ingredients
For the Cookies:
8 tablespoons unsalted butter, melted (or coconut oil)
¼ cup honey or maple syrup (I prefer a light honey such as clover)
2 large eggs, room temperature
¾ cup pure pumpkin purée
1 teaspoon vanilla extract
1¾ cups almond flour
3 tablespoons plus 1 teaspoon coconut flour
1 teaspoon baking powder
1½ teaspoon baking soda
3 teaspoons pumpkin pie spice blend
½ teaspoon Celtic sea salt
For the Filling:
½ stick unsalted butter, softened
8 ounces cream cheese, room temperature
2 tablespoons maple syrup
½ teaspoon vanilla extract
Instructions
Preheat oven to 350°F and adjust rack to middle position. Whisk together melted butter, honey, eggs, pumpkin purée, and vanilla. In a separate bowl whisk together the flours, baking powder, baking soda, pumpkin pie spice, and sea salt. Pour flour mixture into wet mixture and whisk until just mixed.
Using a 2-inch ice cream scoop, drop 18 mounds this will only make 9 pies, since you need 2 mounds per pie batter onto a baking sheet lined with parchment paper. Bake 12 minutes, until springy to the touch. Cool completely. Repeat with remaining batter.
Whisk together the butter, cream cheese, maple syrup and vanilla until fluffy (if it's not sweet enough for your taste, simply add a bit more maple syrup). Spread the flat side of 8 cakes with the cream cheese frosting and top with another cake.
Photo of Gluten-Free Bob's Red Mill Rice Flour © 2011 Andrea Nguyen, used under Creative Commons License.