Apple Pecan "Mummy" Dumplings
These halloween "mummies" desserts are a modified apple dumpling that uses scraps of pastry dough to simulate bandages, apple slices for the bodies, and little bits of dry cranberry for the spooky, otherworldly eyes!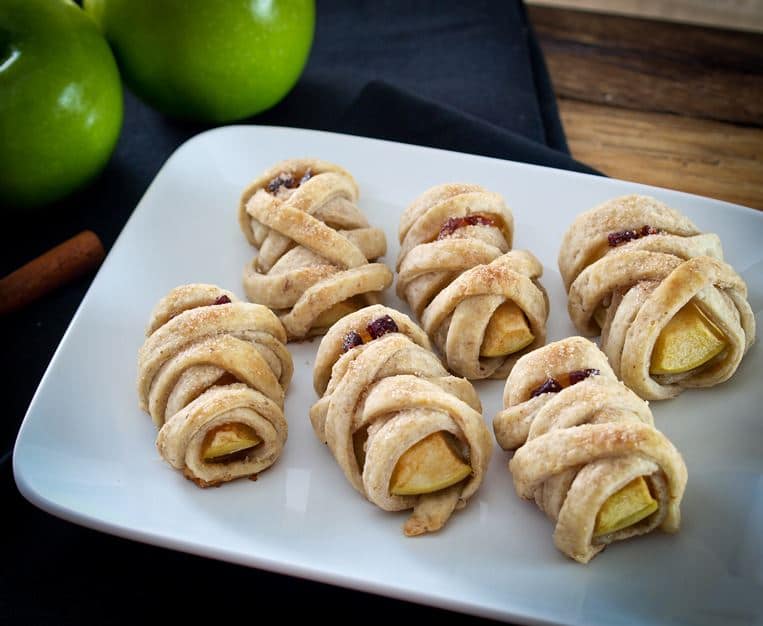 Halloween is nearly here!
I love Halloween more than any other holiday. As a kid I loved everything about it – dressing up, waiting impatiently until the sun set (and as a kid that seemed like FOREVER), and then hitting the streets with my dad in tow to get as much candy as I could. Thankfully my parents were rather strict with the candy consumption, letting me pick a just a few items from my trick-or-treat booty to be eaten over the next few days. They knew the dangers of giving me too much sugar!
Running up to the big night my mom would make special Halloween themed treats to get us all into the spirit. Looking back, I enjoyed her homemade goodies far more than the store-bought candy. These days I get to enjoy the Halloween season with the children of my friends. I love taking over a fun food craft that also becomes a tasty, and much better for you than candy, treat that they can help make! These little mummies are cute, spooky, and a perfect project for little hands!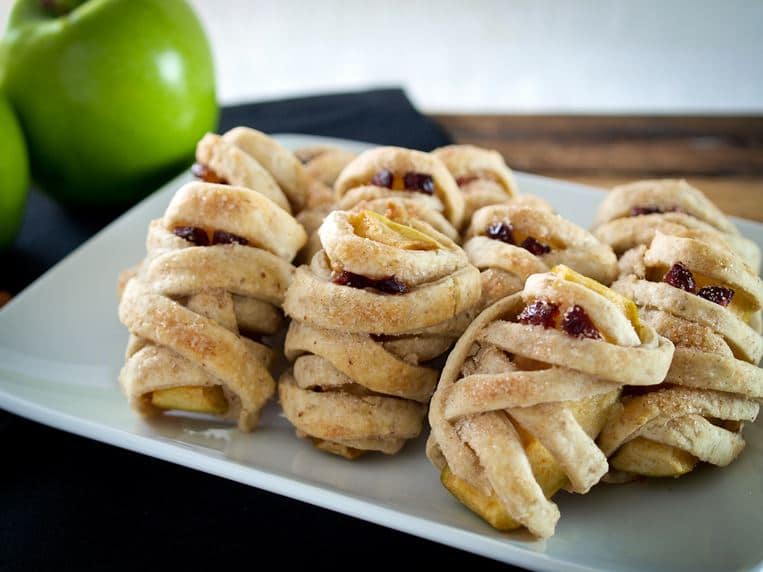 This recipe is a modified apple dumpling that uses scraps of pastry dough to simulate bandages, apple slices for the bodies, and little bits of dry cranberry for the spooky, otherworldly eyes! This is a fun recipe and a good activity for kids. Younger kids can help mix the dough, coat the apples, wrap the apple 'mummies', and place the cranberry eyes. Older kids can do all of the above as well as help slice the dough 'bandages' – with supervision of course!
The pastry "bandages" have finely ground pecans in them to add some color and flavor. Once baked the nuts toast and make the bandages look deliciously "aged." If nuts are an issue for your family feel free to leave them out and add ½ teaspoon cinnamon to the dough for a similar "aged" effect. If you are vegan feel free to substitute your favorite unprocessed vegan butter alternative for the butter.
These would make an elegant dessert for an adult Halloween cocktail party. There is no reason adults should be excluded from the frightening fun! If you do have kids consider these for an after trick-or-treat snack to keep the candy cravings to a minimum.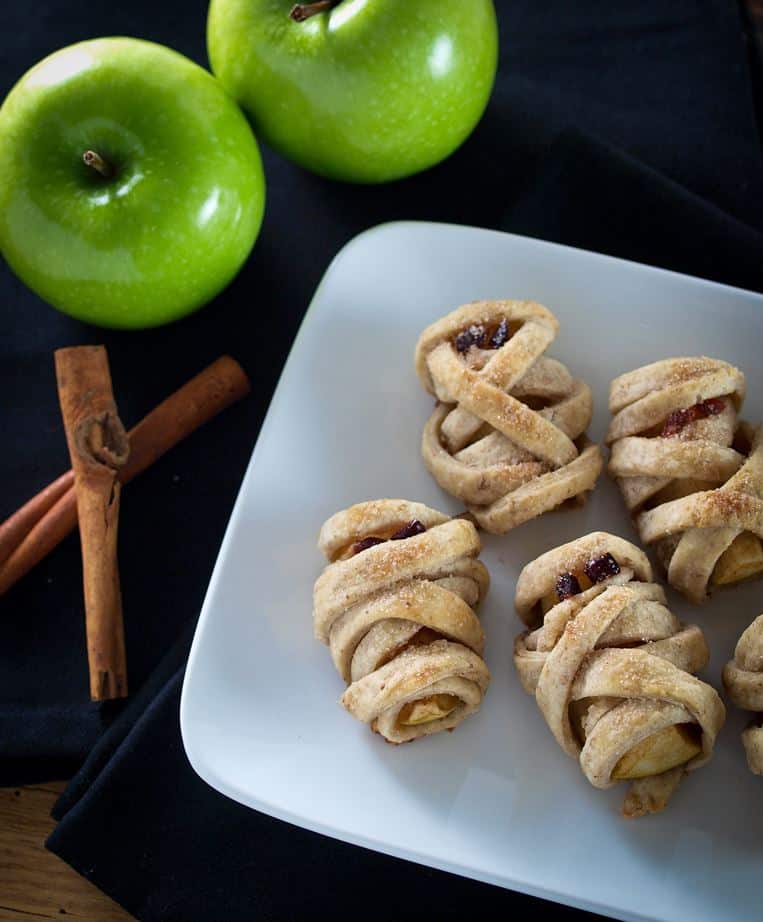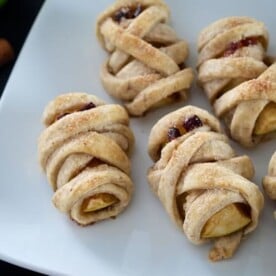 Apple Pecan "Mummy" Dumplings
These delectable treats are the perfect way to end any night with a sweet bite.
Ingredients
For the pastry "bandages"
2

cups

all-purpose flour

,

unbleached, un-enriched

½

cup

finely ground pecans

,

or your preferred nut

2

tablespoons

evaporated cane sugar

½

teaspoon

sea salt

12

tablespoons

unsalted butter

,

cubed and chilled (I prefer Kerrygold)

6-8

tablespoons

ice water
For the apple "bodies"
3

organic Granny Smith apples

,

cored and cut into 8 wedges

¼

cup

evaporated cane sugar

½

teaspoon

cinnamon

8

dry cranberries

,

organic
Instructions
Begin by making the pastry.

In a large bowl combine the flour, ground pecans, sugar, and salt. Whisk to combine. Add the cubed butter and, with your fingers, rub the butter into the flour mixture until the mixture looks like coarse sand studded with pea sized pieces of butter.

Add the water, starting with 5 tablespoons and adding additional water a tablespoon at a time, and mix with your fingers until the dough is shaggy but forms a moist clump when pressed together. Turn the dough out onto a lightly floured surface and press into a rough rectangle. Don't worry if the dough feels too shaggy at this point, it will smooth out as you knead. Fold the dough in half and press it out with your palm to form a ½-inch thick rectangle. Repeat this process 4 more times, then wrap the dough in plastic and chill for 30 minutes.

Once chilled roll out the dough on a lightly floured surface until it is between 1/8 and ¼-inch thick. Using a pizza cutter slice the dough into long strips. Thinner is better, but they should not all be the same size. The more rustic the better, just make sure they are no thicker than ¼-inch thick. Place the strips on a baking sheet, cover with plastic and chill for 10 minutes.

Heat the oven to 350 F and line a baking sheet with parchment paper.

Once chilled it is time to wrap the mummies.

With a clean towel pat the apple slices dry. In a small bowl combine the sugar and cinnamon and mix until thoroughly combined. Toss the apple slices in the cinnamon sugar mixture then wrap the apple slices in 2-3 strips of the dough each to give them a mummy look.

Place the wrapped mummies skin side down on the parchment lined baking sheet about 1-inch apart. Sprinkle the tops with additional cinnamon sugar. Cut each cranberry into 4 pieces. Place two bits of cranberry between the strips of dough at the top of the apple to make eyes.

Bake for 18-22 minutes, or until the dough is lightly golden brown and the apple is tender. You can test for tenderness by piercing the apple, where it is exposed from the wrappings, with a paring knife. When the knife slides in and out with ease they are done. Cool for 3 minutes on the pan before transferring to a serving dish. Enjoy warm or at room temperature!
Nutrition
Calories:
257
kcal
,
Carbohydrates:
28
g
,
Protein:
3
g
,
Fat:
15
g
,
Saturated Fat:
7
g
,
Cholesterol:
30
mg
,
Sodium:
99
mg
,
Potassium:
89
mg
,
Fiber:
2
g
,
Sugar:
11
g
,
Vitamin A:
375
IU
,
Vitamin C:
2.1
mg
,
Calcium:
12
mg
,
Iron:
0.3
mg
Like this recipe? Rate and comment below!