Avocado Cucumber Soup
Oct 15, 2014, Updated Aug 12, 2017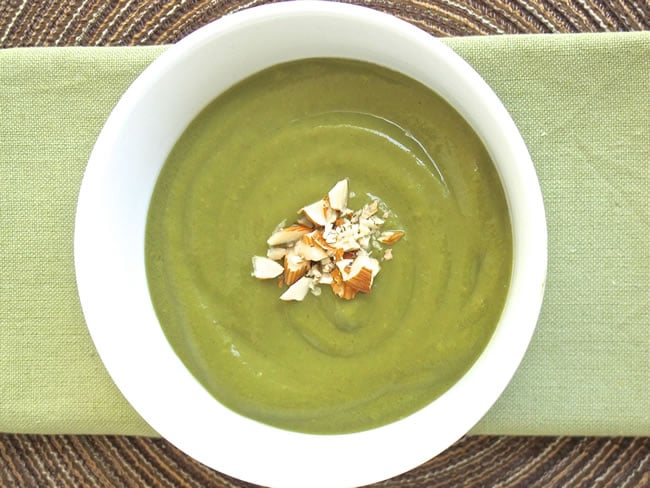 I've always been fairly aware of the food I put in my body, though that doesn't mean they've always been the right choices. I jumped on the low-carb craze, followed quickly by the all-protein, all the time diet. Then there were the fat-free and low-fat products that used to line my refrigerator shelves. I couldn't pronounce half the ingredients in those products, but I thought, I'm doing great, right? Then why was I feeling bloated and lethargic? I didn't think much of it. Who has time?
Then I encountered a running injury. Being athletic most of my life, I'd been used to bumps, bruises, aches, and pains after my sport du jour. They came and went, until I ran my first half marathon. A hamstring strain slowed me down, but I still managed to finish, beating my imagined record time. The strain persisted after my training was over. And persisted, and persisted. Months of physical therapy, bodywork, needles, surgeries, pills, patches, and pain turned into a year, then two. Relief was fleeting and temporary.
Then I turned to a holistic doctor. One blood test revealed large amounts of inflammation in my body. We talked about diet. I thought I was doing okay, but then looked deeper at all the places that the inflammation bad boys lurk like processed food, refined sugar, and cooking oils. Then there was a further subset including gluten, dairy, and processed meat. All of these foods promote inflammation in the body and weren't doing anything to expedite my healing process – quite the contrary, in fact.
I started omitting the unhealthy culprits and drilling down further and testing specific ingredients one at a time to see how my system would respond. My body was very vocal about what it liked and what it didn't when I started to return previously hiatused ingredients to my diet. There wasn't a lot of guesswork.
I pay much better attention to my body now. I read labels. If I can't pronounce it, or put it through the Eating Rules "kitchen test," I avoid it. I feel the best I have in two years. The pain is subsiding, I have more energy, I'm much more active and my skin looks great.
I haven't considered this a sentence or a curse. It's become an opportunity to discover a whole new world of food. When my morning fruit smoothie was missing a dairy mixer, I made my own almond milk then used the pulp to make homemade crackers. My kitchen has become a fun playground to see how I can make recipes and products healthier.
This avocado cucumber soup is a wonderful anti-inflammatory recipe due to all the phytonutrients in the avocado. You also have natural fiber, vitamins A, B, C and K with more phytonutrients and antioxidants from cilantro and mint. And of course there's no dairy here, but there's no need due to the avocados' creamy texture. And if none of that excites you, dig in anyway, because it's a really tasty, refreshing soup!
Avocado Cucumber Soup (Dairy-Free)
Serve chilled.
Ingredients
3

ripe avocados

,

peeled with seed removed

2

cucumbers

,

cut into cubes to fit into the blender

1-1/2

cups

seedless grapes

,

stems removed

1

jalapeño pepper

,

stem and seeds removed

1

bunch

fresh cilantro

,

stems removed

1

bunch

fresh mint

,

stems removed

zest and juice of 1 lime

1

tablespoon

apple cider vinegar

1

cup

water

1/4

cup

chopped almonds

,

to garnish

salt and pepper

,

to taste
Instructions
Place avocados, cucumbers, grapes, jalapenos, cilantro, mint, lime and vinegar in a blender and mix until the ingredients are combined and form a liquid.

Gradually start adding water until the desired consistency is reached.

Season with salt and pepper and garnish with almond.
Nutrition
Calories:
326
kcal
,
Carbohydrates:
21
g
,
Protein:
6
g
,
Fat:
26
g
,
Saturated Fat:
3
g
,
Sodium:
18
mg
,
Potassium:
1044
mg
,
Fiber:
12
g
,
Sugar:
6
g
,
Vitamin A:
545
IU
,
Vitamin C:
25.5
mg
,
Calcium:
63
mg
,
Iron:
1.6
mg
Like this recipe? Rate and comment below!