Dorothy Reinhold is the publisher, food writer, photographer and recipe developer at Shockingly Delicious, where she posts terrific, tried-and-true, scrumptious, "scary good" recipes with big flavors. She has been named one of the Top 50 Mom Food Bloggers by Mom.me, a Top 100 Food Blog by Babble.com, and PBS's NextAvenue declared her one of the 25 best food blogs for baby boomers. She's been featured in the Los Angeles Times, Sunset Magazine, Taste of Home magazine, on Yahoo Shine and has written for Huffington Post, America Online, Foothills Magazine, and has had a 20-plus-year food column in Southern California newspapers. You can connect with her on Facebook, Instagram, and Pinterest.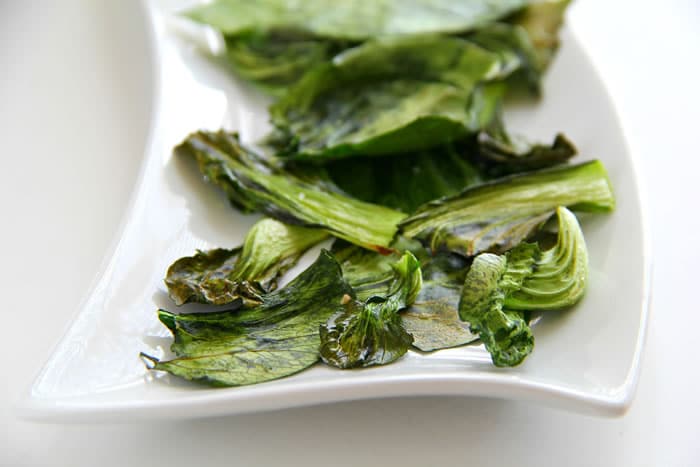 Kale chips?
Sooooo two-thousand and eight.
Google "kale chip recipes" and in less than half a second, you'll get 1,900,000 results. (Go ahead, I'll wait while you do this. I have half a second to spare.)
So, at any given moment, whether it's National Kale Day or not, you and two million other individuals are baking kale chips and feeling virtuous because you haven't opened a bag of greasy potato chips, which very well might have some questionable additives in the ingredient list. (Go ahead, I'll wait while you consult the bag of contraband chips in your pantry to prove this.)
So let's break out of the kale chip rut, shall we, and move on to the next trendy, nutritious, leafy green.
Yep, we're lookin' at YOU, baby bok choy!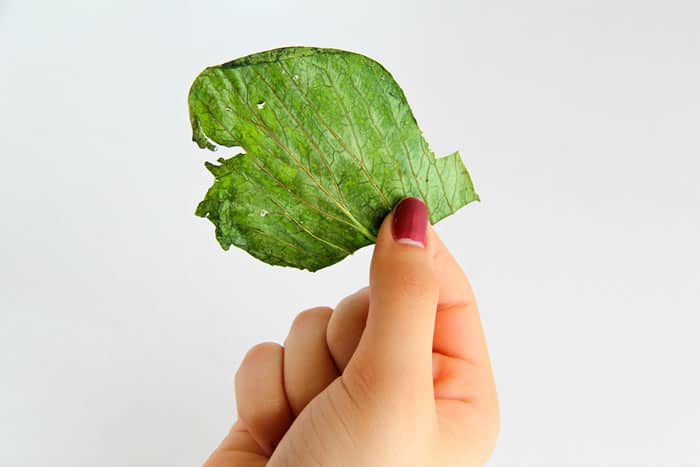 If you haven't fully embraced baby bok choy, your time is now. Smaller, cuter, a bit milder and naturally sweeter than its larger cousin, full-size bok choy, it has delicate leaves with crunchy celery-like stems, with appealing texture variations. Any food that is both crunchy and yielding in the same bite is A-OK in my book.
It's also one of the most nutrient-dense vegetables on the planet, with abundant calcium, iron, Vitamins A, C and K, folate and B6. Fat-free and extremely low in sodium, it has only two grams of carbohydrates per serving.
Slice it and use in a stir-fry, add it raw to salads, whirl it in with your morning green smoothie, and chip-ify it if you dare.
I dared, and you should, too.
Bok Choy Chips
Prep Time:
Cook Time:
Total Time:
Ingredients
2 heads baby bok choy
½ teaspoon extra-virgin olive oil
Few grains sea salt
Instructions
Heat oven to 325F degrees. Cut bottoms off bok choy leaves, leaving the green tops. If leaves are large, tear leaves in half. (Reserve stems for another use, in a fresh salad or stir-fry.)
Place leaves in a large mixing bowl. Add the barest whisper of olive oil and stir – just enough to lightly coat the leaves, but not make them soggy. Place leaves in a single layer on a nonstick baking sheet, spreading leaves out if they are folded. Using your thumb and forefinger, sift a few grains of salt over the leaves. Truly, just a few grains. (If you are having trouble picturing what I mean, think of what Matthew McConaughey is doing with his fingers in those new car commercials.)
Bake for about 6 minutes. Remove tray from oven and remove any individual chips that are crispy and done. Those that have more stem on them may need another minute or so back in the oven. Watch closely.
Remove and allow chips to cool (5 minutes). Place on a serving platter and enjoy!