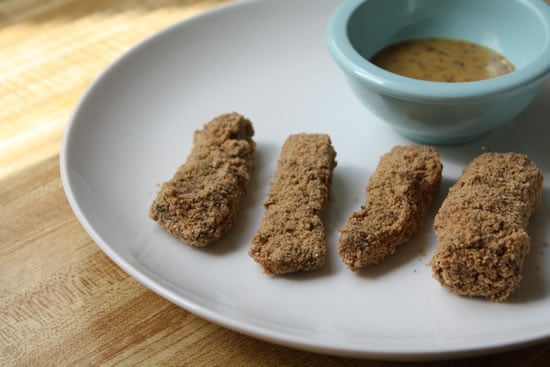 If you haven't noticed, we are officially living in a time of whole grain revival. I don't know about you, but I keep my membership card proudly on my person at all times. Whether that's cooking up a batch of polenta to cut into for a nourishing side throughout the week or a pot of congee for easy breakfasts or comforting dinners, our household turns to whole grains with faithful regularity.

Not only are the health benefits being extolled but with the surge of folks with food allergies and intolerances, a renewed interest in ancient grains has risen and I must admit I am learning so much from friends who practice a gluten-free lifestyle that is not rife with gluten-free processed foods about grains and new ways to use them.
It is helpful, then that I should work for a small cereal company. Last year, during October Unprocessed, I shared an article on DIY cereal made of whole wheat berries. Cereal didn't always have the nefarious associations of late. The fact that initially cereal was developed for digestive health actually points to how very far the industry has gone from its roots. The idea of eating your nutrients and vitamins is beginning to find its own resurgence and poses its own opportunities. And this is where buckwheat enters the picture.
Buckwheat found me unexpectedly in the aisle of a nearby Russian grocery store, about a year ago. We purchased a bag of kasha, toasted buckwheat groats and headed home to make a pot. The taste surprised me with its keen nuttiness and earthy complexity. I found myself dipping into that pot throughout the week, making a bowl of breakfast porridge or spooning roasted eggplant on top. A meager portion of buckwheat kept me satisfied for a long time and soon after, became another staple in our glass jar-lined pantry. I have since tried the non-toasted variety and find myself enamored of both.
When we began developing the Buckwheat & Hemp cereal at work, that newfound love for buckwheat continued its momentum. I found myself sitting in meetings doodling its name with recipe combinations. I was smitten and let myself fall ever deeper into that vortex.
The process in which the Buckwheat & Hemp cereal is made is as straightforward as the DIY cereal of last year's telling. Buckwheat groats, organic brown rice and organic hemp seeds are steamed until soft. They are then combined and rolled flat. Next, they are toasted with a bit of organic maple syrup and organic brown rice syrup and a hint of sea salt. We ended up calling it a supergrain cereal because of the powerful marriage of buckwheat and hemp.
When buckwheat and hemp come together, the fiber lode naturally offered in a serving is 5 grams with protein at 6 grams. The term "supergrains" is also a bit of a misnomer since buckwheat is a pseudo-cereal and not a grain. It hails from the sorrel and rhubarb family. We all know where hemp comes from and it's probably a good thing that no intoxicating properties are imparted to eaters of hempseeds. Instead they can count on a pretty good source for omega-3, 6, and 9.
Our first batch of the cereal had me sneaking spoonfuls. The second batch only confirmed my initial suspicions. This cereal would be my kryptonite. So what to do with a newfound infatuation – pull it into as many out-of-the-bowl occasions as possible. This zealot response brought me to create a fish stick for adults.
This fish stick punches up the nuttiness of the buckwheat and hemp with the woodsy hint of rosemary plucked from the backyard. The firm white fish, halibut, was caught along the Monterey coastline. Instead of using breadcrumbs that have no great nutritional value, freshly ground Buckwheat & Hemp cereal steps in to add crunch and fiber. Dunking the fish stick in maple mustard dipping sauce rounds off the experience for something that suggests store-made fish sticks belong in the store, especially when you can make your own.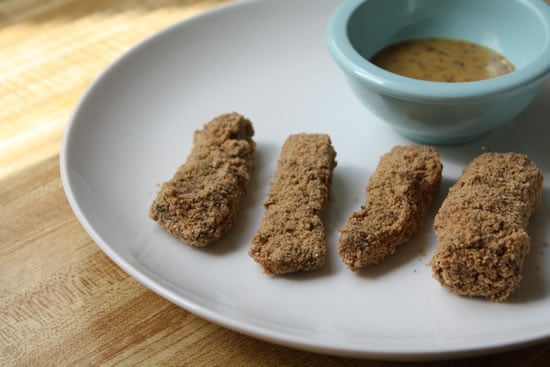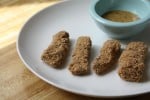 Buckwheat & Hemp Fish Sticks with Mustard Maple Dipping Sauce
This fish stick punches up the nuttiness of the buckwheat and hemp with the woodsy hint of rosemary plucked from the backyard.
Ingredients
For the Fish Sticks:
2

cups

Buckwheat & Hemp cereal

1

tablespoon

fresh rosemary

1/2

teaspoon

real salt

1/4

teaspoon

pepper

1

cup

buckwheat flour

1/2

pound

firm white fish

I used halibut

1

egg
For the Dipping Sauce:
1/4

cup

mustard

2

Tablespoons

maple syrup
Instructions
Preheat oven to 350 degrees. Grease a roasting pan or line with parchment paper.

Place cereal, rosemary, salt and pepper into a blender and process until finely ground. Pour contents onto a large plate.

Pour buckwheat flour onto a separate plate. In a small bowl, whisk the egg.

Place halibut filet on a cutting board and make narrow incisions down the length of the fish so that you cut long strips. Then you will cut these long strips in half. In the end, you should have 16 fish sticks.

Assemble your line-up with your cutting board of fish first, followed by the plate of flour, then the egg wash, next the plate of buckwheat bread crumbs and lastly your lined or greased roasting pan.

Proceed to dredge each cut fish section into the flour until nicely coated. Then, dip into the egg wash until all surfaces are nice and eggy. Lastly, dip and roll the fish stick in the breadcrumbs until all sides are coated. Place on the lined roasting pan. Repeat the process with all remaining fish sticks until they have all been shellacked with the flour-egg-breadcrumb mixtures.

Cook for 12 minutes.

While the fish sticks are cooking combine the mustard and maple syrup in a small bowl. Set aside.

Remove the fish sticks from the oven and serve with Maple Mustard sauce.
About the Author
Annelies Zijderveld is the online community manager at Attune Foods where their food philosophy of simple ingredients, simply made, shapes their recipes. She also writes the blog, the food poet where she constructs food poetry that bridges imagery, words and art into poems. She lives in San Francisco where she likes to take blackberry foraging walks in her neighborhood and make calculated flavor risks in the kitchen. You can also find her on Twitter and Facebook.