Katie Barszcz writes about her adventures cooking in a very Small Boston Kitchen. I figure if she can whip up amazing, unprocessed meals in the tiniest of kitchens, then so can the rest of us — and maybe we can learn some of her secrets, too. Today she shares her story and the recipe for her new Chicken Cranberry Wheat Berry Salad.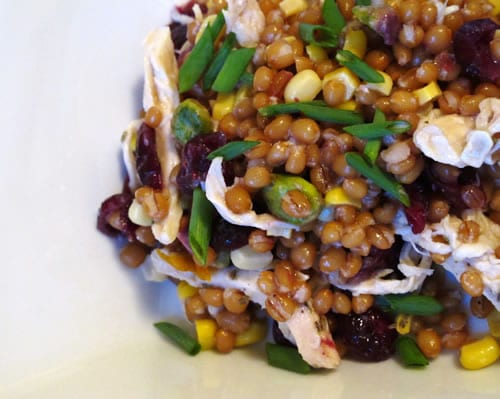 My Small Boston Kitchen really is small and I do mean wicked small (yes, we do actually say that out here).  If you were to walk over to my stove, you'd probably notice that it's just a tiny step up from an easy-bake oven.  In addition to that, I have one little chunk of counter space in which I do all my slicing and dicing (although sometimes for bigger projects, my coffee table serves as back-up counter space).  I also have to use my own hands to suds up my dishes because I don't have enough space for a dishwasher.
However, for all of the things my Small Boston Kitchen lacks, it makes up for them by being cozy, bright, and cheery.  It's the type of place you don't mind spending massive amounts of times in.  With a vintage-y decor that is accentuated by cheerful colors of perky, citrusy oranges and bright, deep blues, this little slice of space is where I spend most of my time — and where I am my happiest.
That being said, with the hours upon hours on end that I spend in my kitchen (and really, thinking about food in general) not all that often are my thoughts focused on diet.  I had always considered myself to be a relatively "healthy" eater.  I love vegetables and I do cook with lots of whole grains (to me, they just taste "meatier" and more substantial).  I also don't care to mask the natural flavors of my dishes with butters or heavy oils, and I go light on the salt for that same reason: I like to taste my food and appreciate it for what it is.
When I accepted the October: Unprocessed challenge at the start of the month, I'll be honest, I wasn't exactly sure what to anticipate, nor did I have any expectations.  Instead, I looked at it as an opportunity to turn my attention to what I'm choosing to put into my body as well as to challenge my creativity in the kitchen.  Now, at a little over two weeks in, I can certainly and with utmost confidence say: Mission accomplished.
One of the things I didn't anticipate when starting this challenge was the swarms of questions that I'd receive.  Ranging from, "Why are you on a diet?" to "What does that even mean?" I have now heard them all. The most common question I'd get is, "How do you feel? Do you feel any different?"
The truth is, I do feel different. I feel more energetic and alert. It just seems easier to get out of bed in the morning.  I also used to be a religiously two-cup-a-day kind of coffee drinker and this month I've found that I'll finish one cup, shrug my shoulders and abandon the familiar thought of a second cup.
In addition to the way I feel, this project has given me a fresh outlook on the items that make their way from the grocery store shelf into my cart.  I'm amazed at what's in some of the things that I had once thought to be "healthy."  For example, I am a pretzel fiend.  They are my snack of choice and to much dismay, I've found that store-bought pretzels are off-limits this month.  Sparked by encouragement and a severe case of pretzel withdrawals, I took matters into my own hands and headed to the kitchen to make my own.  It took hours of rolling out small bits of dough, boiling and baking, but the end result was more satisfying that anything I could have ever purchased.
Not only have I felt challenged in the kitchen to make things I normally would just buy, I've also been challenged to use ingredients that I haven't necessarily worked much with in the past.  Because of this, I wanted to share one of my favorite new creations that was sparked by this month's endeavors: Chicken Cranberry Wheat Berry Salad.  When I created this dish, I was looking to use ingredients that are in season and something that would be perfectly comforting on a chilly fall Boston day. This was easy to make, cost little money, and made a ton — I found myself packing up the leftovers and taking them with me to work for lunch.
This dish is just so dang tasty for many reasons, the first one being the texture. At first bite, you are greeted by the subtle resistance of the wheat berries that seem to pop in your mouth but then all of that gives way to tender chicken, chewy dried cranberries, and crunchy pistachios.  There's also a lot of flavor going on in this dish and for that, I love it.  The earthiness of the wheat berries are complimented by rustic, dried rosemary with is then balanced by sweet, fresh corn, tart cranberries, and salty pistachios.  The whole dish is then brightened up by freshly-squeezed lemon juice.  Simply put, a bowl of my Chicken Cranberry Wheat Salad keeps my taste buds guessing and wanting more.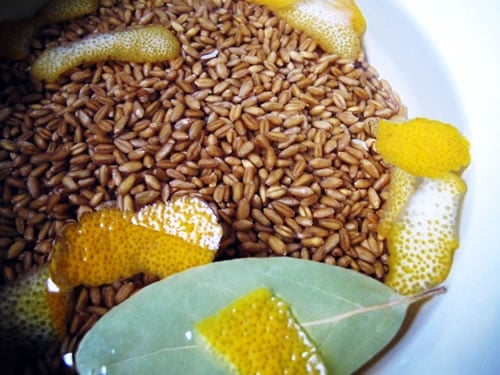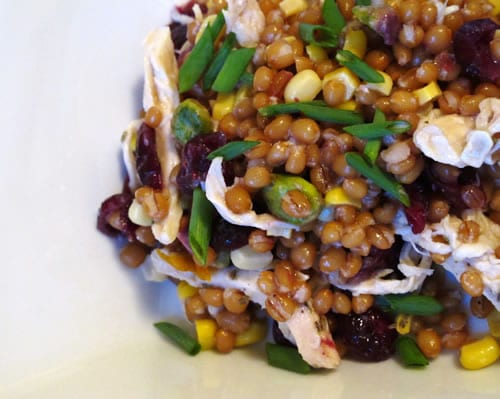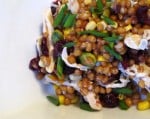 Chicken Cranberry Wheat Berry Salad
Simply put, a bowl of my Chicken Cranberry Wheat Salad keeps my taste buds guessing and wanting more.
Cook Time
2
hours
40
minutes
Total Time
2
hours
55
minutes
Ingredients
1

meyer lemon

a regular lemon will do

3 1/2

cups

water

more if needed

2

cups

wheat berries

rinsed

1/2

cup

white wine

1

bay leaf

2

chicken breasts

extra virgin olive oil

enough to lightly coat the chicken

1

ear of corn

cooked and the corn cut from the cob (frozen corn works here too)

2

teaspoon

dried rosemary

3/4

cup

dried organic cranberries

1/4

cup

pistachios

shelled and toasted

2-3

sliced green onions

salt and pepper to taste
Instructions
Extract the juice from the lemon and set aside. Add the water, wine, wheat berries, and the bay leaf to a pot. Peel the lemon and add the peels to the pot. Bring to a boil and then reduce the heat and cover. Simmer for about 2-3 hours, keeping an eye on the pan and adding more water if needed, until the wheat berries have softened and they start to split open a bit.

While the wheat berries are cooking, coat the chicken in a little extra virgin olive oil and some salt and pepper. Place the chicken onto a baking sheet and bake at 400°F until it is cooked through and not pink in the center. Let the chicken cool and then, using a fork, shred the chicken into bite-sized bits.

Once the wheat berries are done, drain off any excess water and discard the lemon peel and bay leaf. Add the chicken, dried rosemary, corn, and cranberries. Stir to combine, and add the fresh lemon juice. Add the toasted pistachios and sprinkle with the sliced green onions.

You can serve it immediately while still warm, enjoy at room temperature, or have it cold.