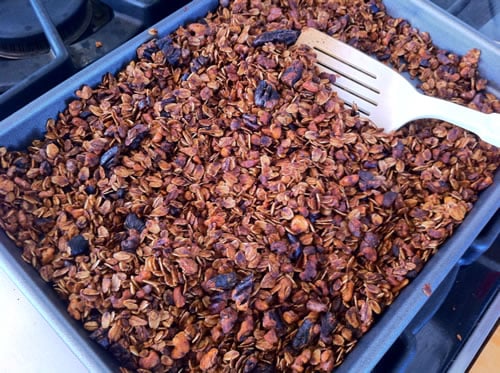 My dad's been making his own granola for quite a few years, and I think by now he's perfected the recipe.  At least, he's now got it exactly the way he wants it.
Store bought granola is often a caloric explosion from all the fat and sugar they add.  Yes, my dad's recipe uses a fair amount of sugar (he uses honey) and fat (I'm using coconut oil), but when you make your own, you know exactly what's in it, you can change it to suit your tastes, and, above all, you can control that added fat and sugar.  As dad points out, "One should feel free to modify."
And oh yeah, it's a heck of a lot cheaper than buying the pre-made stuff.
I made a small batch this morning. I didn't have on hand the nearly 10 cups of oats that his recipe calls for, so I simply made 1/4 the recipe.  I also had only a few almonds left in the pantry, so I substituted chopped walnuts (and still included the pecans).  I then splurged a little and added 1/4 tsp. Almond Extract for some bonus almondy yummness.
So even if this recipe isn't fat- or sugar-free, I believe it's still a wholesome addition to your breakfast lineup.  As always, fresh, unprocessed, whole foods are totally the way to go.
Thanks, dad!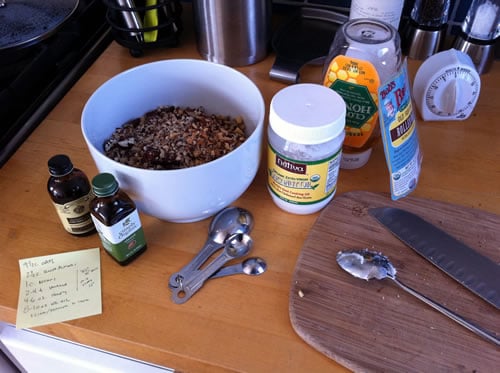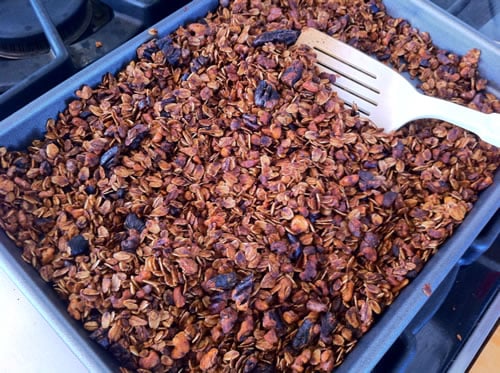 Dad's Homemade Granola
Keep in mind that the serving size should be small: 1/3 cup.
Ingredients
9½

cups

rolled oats

not instant

2½

cups

sliced almonds

1

cup

pecans

optional

cinnamon and/or nutmeg to taste

optional

2 to 4

tablespoons

vanilla extract

½

cup

honey

Dad prefers Miller's Wildflower

1

cup

oil

I use coconut oil, dad uses vegetable oil
Instructions
In a large bowl, mix dry ingredients together. Combine the liquid ingredients in a measuring cup (microwave for 45-60 seconds to soften the honey), then stir into oat/nut mixture until evenly coated.

Spoon onto a large, flat baking sheet (lightly oil pan if not non-stick) and bake at 350°F for 45 minutes. Stir well every 15 minutes. After 45 minutes, take a small amount out, let it cool for a minute, and test for doneness. If still soft, bake an additional 8 minutes, and test again. Do not overcook.

Let cool, then store in an airtight container.