Halloween Unprocessed: Date Cocoa-Nut Candy
Oct 30, 2010, Updated Oct 27, 2017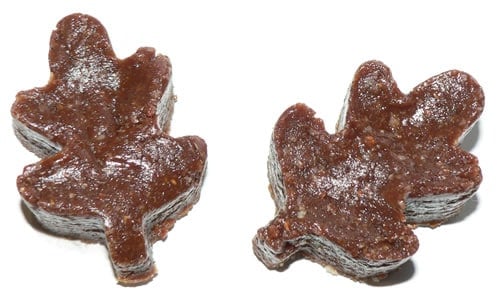 As the air turns colder, and the wind begins to howl, you may not be safe this Halloween. When the dark of night surrounds you and the pale moon casts its shadowy glow, you are going to need protection. As the heavy footsteps land sharply at your door, heaven help you if you offer the terror of small children's nightmares on this sacred Hallows Eve: A box of raisins.
Though parents might embrace you in gratitude, no one can stop the angry children from fitfully lobbing rotten eggs and toilet paper at your health-conscious house. Don't you know Halloween is for candy?!
Well, not on this unprocessed Halloween! When the evils of corn syrup and hydrogenated oils frighten you more deeply than the goriest of ghouls, you might set tradition aside. As you string garlic around your doorway to keep vampires out, you must also clutch at protection from horrific processed foods that bring damnation to your soul (or clog your arteries or damage your liver).
Now, others might argue that only the devil himself would dare deny children of their sugar sweet glories on this one night of the year. But let us not forget that Halloween was not always filled with candy bars.
As a child growing up in the 1980s, I recall with great affection the glorious cornucopia that was my trick-or-treat bag. My siblings, my god sisters, and I would all work the trick-or-treat beat together — thirstily hunting for fun. Halloween was our favorite holiday. In a mob-like pack we fell upon the neighborhood. We never knew quite what to expect as we knocked on each door. Into our bags dropped an assortment of sticky sweets. But we also gathered eclectic fare: Pennies, a nickel (!), boxes of raisins (of course), apples (we weren't afraid — we knew our neighbors), and several delicious home-baked goods like popcorn balls.
There was one elderly man who even gave us laughter. When we rang his door bell and hollered "Trick or treat?" he would inevitably reply, "Trick!" He would then demonstrate a silly card trick or pretend to pull a coin from someone's ear. What a delightfully devilish Halloween treat!
With our bags (well, actually, in those days we used pillow cases) loaded like the seeds in a pumpkin, we would head back to my fairy god parents' house to sort our loot. We each staked a claim on a corner of the living room floor and proceeded to dump our goodies in large piles before us. Then the bartering and trading would begin. We could rarely remember which house gave us the Snickers bar (a rare, but coveted gift) or the nickel (a far greater prize). Even the boxes of raisins — a snack we knew we could eat without having to ask Mom — were sold to only the highest bidders. There was almost always a rather large and ominous pile of tiny, unwanted penny candies left behind.
In all the warmest of my Halloween memories, it is never the candy I think of most. It is of time shared with family and friends, extravagant costumes, that old man with his magic tricks, ghost stories, and the chili Mom served afterwards.
So, for the worried parents who don't want to deprive their children of some supposedly sacred custom tied to processed sweets: Let it go! Candy is but one of the many joys experienced on Halloween. Without it, the day still has plenty of delicious moments to savor.
Therefore, I offer a few Halloween alternatives to celebrate all the fun that can be had without processed foods. Take heed with these precautions guaranteed to bring spirituous joy to even the most hesitant of specters. (Cue the ghastly organ pipe.)
Alternative Tricks to Replace Spooky Processed Treats
Seed or nut packets
Larabar "Minis" (a little expensive, perhaps – but a wonderful treat!)
Magic tricks (here's a helpful video guaranteed to have kids ringing your doorbell all night long)
Stickers
Popcorn
Dried fruit
Or, try these homemade candies. They are easy and kids can help make them. They are chewy like any good candy should be, and made with lots of farmers' market ingredients (from my town in Sacramento, California.) They are sweetened with date sugar and honey, filled with fruit and fiber, and just perfect for the occasion.
Oh, and I nearly forgot… BOO!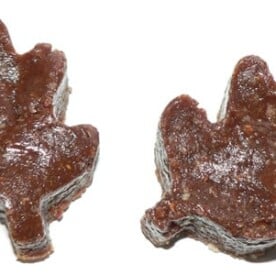 Date Cocoa-Nut Candy
Farmers' Market Ingredients: walnuts, dates, almond butter, honey

Supermarket Ingredients: oat bran, coconut, cocoa powder, date sugar, hazelnut oil

Yield: 24 candies, cut to 1 inch by 1 inch (could be more or less, depending on size of your cookie cutter)
Ingredients
1 ½

cups

walnuts

,

processed in a food processor for about 30 seconds

1 ½

cups

dates

,

pitted

½

cup

oat bran

½

cup

shredded unsweetened coconut

½

cup

almond butter

½

cup

cocoa powder

½

cup

date sugar

4

tablespoons

honey

½

teaspoon

hazelnut oil
Instructions
Blend all the ingredients in food processor until well-incorporated into sticky but firm dough. Remove from processor and spread onto a pan to about 1 inch thick. Refrigerate overnight.

The next day, you can cut them into squares like snack bars, or use miniature cookie cutters to cut them into fun shapes.
Nutrition
Calories:
257
kcal
,
Carbohydrates:
29
g
,
Protein:
6
g
,
Fat:
13
g
,
Saturated Fat:
4
g
,
Sodium:
24
mg
,
Potassium:
278
mg
,
Fiber:
5
g
,
Sugar:
16
g
,
Calcium:
67
mg
,
Iron:
1.9
mg
Like this recipe? Rate and comment below!