Spice Blends and a Recipe for Dukkah
Oct 11, 2013, Updated Sep 07, 2017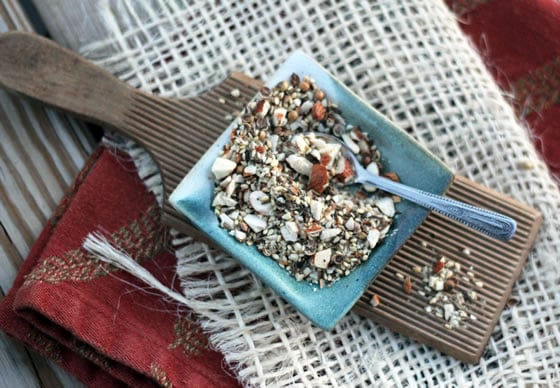 Grab your mortar and pestle and start pounding. Homemade spice blends are easy to make from simple, unprocessed ingredients and taste delicious. A sprinkle of ras el hanout or a dollop of green curry paste and your taste buds come alive!
We rely on spices for flavor and, at times, the foundation for a whole meal. The challenge, though, is to avoid the musty jars of commercially ground spices and mixes and instead start making our own at home. Knowing what goes into your spice mix makes it much more likely you'll grab it from the rack and start sprinkling.
I like to buy whole spices in small quantities from bulk bins for the freshest flavor. Spices don't have a long shelf life, and once ground they lose their pizzaz quickly. Homemade spice mixes are not labor intensive. Usually, they involve just a few minutes of toasting, grinding and perhaps a little chopping if making a mix that includes fresh herbs. Keeping your pantry stocked with staples such as raw nuts and seeds and whole spices makes it all the more easy. The results are healthier, more flavorful and often less expensive than store-bought. Inspiration can be found by reading what's listed on a jar label at the market and then making your own fresh version at home.
To prepare a spice blend, whole spices, raw seeds and/or nuts are quickly roasted in a small pan on the stove top or in the oven (be sure to stir often and keep a close eye on them to avoid burning). Your kitchen will fill with warm, toasty scents as you then pound the spices with a mortar and pestle. I often pause to inhale deeply – such homey, comforting fragrances!
An Egyptian spice blend that is popular throughout the Middle East and is a big favorite of mine is dukkah. Nuts (usually hazelnuts), dried chickpeas, sesame seeds, coriander, cumin, salt and pepper are all traditional to include in this mix. Recipes vary from family to family – I think there are as many variations as there are cooks! Some might be more herbal, some spicy, but they all involve roasting and pounding the spices to create the blend.
Dukkah is typically served with bread and olive oil for dipping, but don't limit yourself here. Sprinkle it on veggies, roasted potatoes or eggs. Garnish a bowl of soup or rub some onto salmon before grilling. There are many ways to enjoy dukkah and I reach for my jar of it often.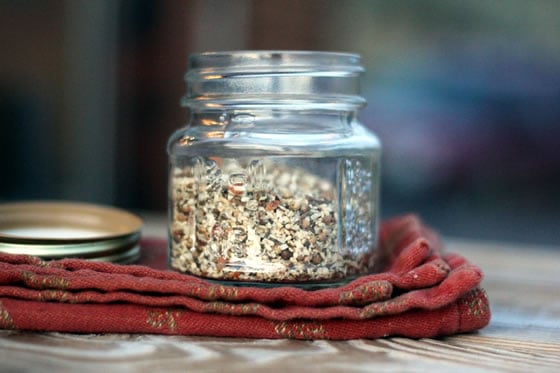 Dukkah
Dukkah is typically served with bread and olive oil for dipping, but don't limit yourself here. Sprinkle it on veggies, roasted potatoes or eggs.

Ingredients
1/4

cup

raw whole almonds

2

tablespoons

raw sesame seeds

1

tablespoon

cumin seeds

2

tablespoons

coriander seeds

1

teaspoon

freshly ground black pepper

1/2

teaspoon

flaky sea salt
Instructions
Place a small, heavy pan (I use a cast iron one) on the stove over medium high heat and warm it for a few minutes. Add the almonds and stir them for a few minutes until they are toasted and fragrant. Pour them onto a cutting board and add the sesame seeds to the pan. Stir the seeds for a minute or two, until they start browning. Quickly pour them into a mortar. Repeat the toasting with the cumin and coriander seeds.

Grind the seeds together with a pestle. Finely chop the almonds and add them to the mixture and along with the pepper and salt. Grind a few more times to mix. Store the dukkah mix in a covered jar and sprinkle liberally.
Notes
Don't have a mortar & pestle? You can use a spice grinder instead.
Nutrition
Calories:
354
kcal
,
Carbohydrates:
20
g
,
Protein:
12
g
,
Fat:
28
g
,
Saturated Fat:
2
g
,
Sodium:
16
mg
,
Potassium:
560
mg
,
Fiber:
11
g
,
Sugar:
1
g
,
Vitamin A:
75
IU
,
Vitamin C:
2.1
mg
,
Calcium:
377
mg
,
Iron:
9.5
mg
Like this recipe? Rate and comment below!