Matty Wilder is a "puckish pickler with a propensity toward preserving and potent potables," writing about his pickling and entertaining adventures at I Make Pickles. (He also happens to be my betrothed, so he's obligated to contribute a guest post to October Unprocessed!)
He made this super-easy Kimchi recipe a little while back, and it was a knockout hit — we didn't even get a chance to snap a photo of the finished product. For more pickling adventures and insight, don't forget to follow Matty on Twitter.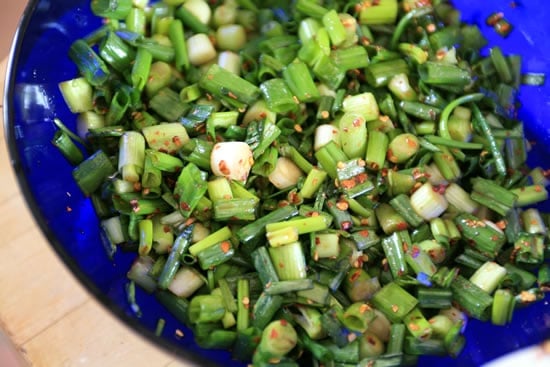 Pickling anything can involve a bit of a process, but don't let that deter you, especially during October Unprocessed.  To be sure, this is just the kind of process we should be investigating this month.  So I thought I'd share an experience with an unprocessed process that I found particularly satisfying, as did our guests.
Leave it to Mark Bittman and his encyclopedic How to Cook Everything Vegetarian
 to provide a way we mere Anglo mortals can enjoy homemade kimchi, without having to bury a big barrel full of it in the yard for several months.  I was paging through his tome one afternoon in preparation for our housewarming gathering a few months back and my eyes fell right on the kimchi page and were immediately entranced.  Most any menu I plan for a gathering at the house will include some sort of pickled something, but I hadn't even considered cabbage.  As I read on, I was relieved that it seemed rather flexible as far as proportions and ingredients, depending on your preference for spice.  He suggests eating it immediately or keeping it in the refrigerator for up to seven days — I went for five and I'm sure it would have continued getting better and better for at least another week (had there been any left.)
It happened we were heading to one of our local farmers' markets with friends one Sunday morning, so I took that as my cue to pick up the necessary ingredients.  I of course first looked for Chinese or Savoy cabbage but instead had to settle on a regular green.  I found that essentially it did not matter in terms of flavor or aesthetics, though I've yet to try it again with a more appropriate variety.
The timing worked out nicely as our party was just under a week away.  I wanted it to be able to marinate at least five days to maximize the flavors.  And as the mixture of soy sauce, garlic and scallions assured me, the flavor was only going to get richer and deeper in the coming days.  First part of the process was extracting the moisture from the cabbage leaves.  You pull apart your cabbage, separating each leaf and sprinkling with kosher salt.  Bittman recommends layering them in a colander over some sort of bowl or large dish, so that any moisture will drip below.
Perhaps this is why Chinese or Savoy is recommended, as I found the green to be quite thick and taking a lot longer to wilt than the recipe suggested.  I covered the cabbage with a towel and added some weight to the top to help expedite this process.  Just a few cans, nothing too heavy.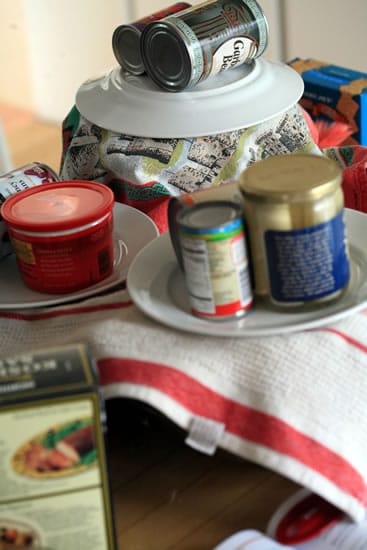 For the mixture, you chop up several bunches of scallions and about a head of garlic.  Throw in some soy sauce and sesame oil and crushed red pepper (or chili powder) and inhale deeply.  As I combined all of these ingredients, I found myself wanting to jump in.  The tantalizing smell and color was almost too much.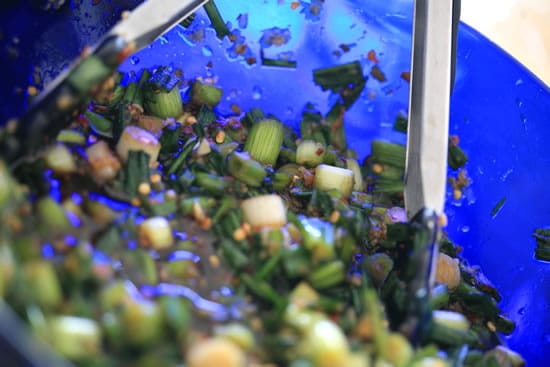 I mean how can you really go wrong with that combination?  This is where there is flexibility, as you can tweak to your liking any number of these items, or add a few more.  Soy sauce can be so strong, I'd like to find a way to use less and allow for some other flavors to be picked up.  But again, you can't screw this up.  I think the key is scallions, and lots of them.
So needless to say, the five days this spent in our refrigerator brought it to orgasmic levels.  I couldn't refill the dishes quickly enough to keep up with the demand of our guests.  And believe me, it was a challenge to keep it sealed up in the fridge all week without so much as a leaf falling out and landing in my mouth.  That's what a dedicated host I am.  It went so quickly, we never even got a photo of the finished product, so you'll have to just see for yourself what it looks like in your own kitchen.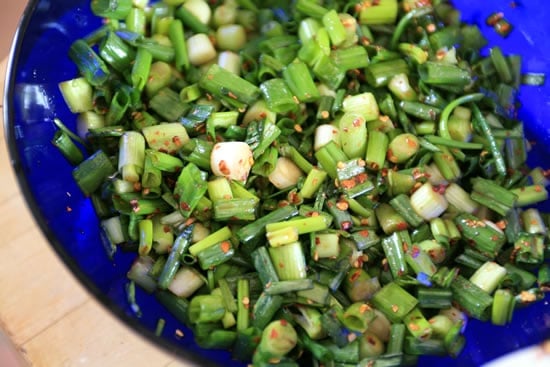 Easy Kimchi
Prep Time
2
hours
15
minutes
Total Time
1
day
2
hours
15
minutes
Ingredients
2

heads Cabbage

about 3-4 pounds (Chinese or Savoy preferred, I used Green and survived)

1/2-3/4

cup

Sea Salt

this is for the wilting, so use your judgment for more or less

3

bunches Scallions

chopped and including much of the green

2

Tbs.

crushed Red Pepper Flakes

1/3

cup

Soy Sauce

we always use low-sodium in our house

1

Tbs.

Sesame Oil

A small to medium head Garlic

crushed or minced (I love garlic so more is always more, but feel free to use less)

1/4

cup

Sugar

you may add more here too, I tend to use sugar judiciously in pickling

A few pinches of ground Ginger
Instructions
Separate the leaves of the cabbage and add salt as you layer them in a colander. Allow them to sit over a bowl for up to two hours, or more, depending on the thickness of the leaves. You want them to be rather wilted before adding your spicy sauce.

For the sauce, combine scallions, garlic and the other ingredients in a large bowl. Chop the cabbage and toss with the mixture.

This amount stores nicely in 4-5 wide-mouth quart jars. Keep in the refrigerator for at least 24 hours, or up to seven days. Best to agitate the jars at least once a day while marinating.

Grab your chopsticks and celebrate the moments of your life.