Farro with Spinach, Lemon, Basil, and Pine Nuts
Oct 04, 2013, Updated Sep 07, 2017
I have been "going unprocessed" in stages over time. I didn't plan out the steps, but looking back I can see that I made healthy changes in increments. I recommend focusing on one area at a time. Here's how it worked for me:
Two years ago I subscribed to a CSA (community-supported agriculture) produce box. Every week I got a delivery of farm-fresh produce. At first I felt inundated with more vegetables than I knew what to do with. Since I didn't want to let the good food go to waste, I got busy cooking. I had to find new recipes to cook vegetables that were unfamiliar to me. I embraced the challenge like an Iron Chef with a secret ingredient. The flavorful, fresh produce tasted so good that simple recipes came out well. Some cooking attempts didn't turn out, but overall, we added many delicious vegetable dishes to our family dinner repertoire. Now I shop at a local farmers' market to get my farm-fresh produce.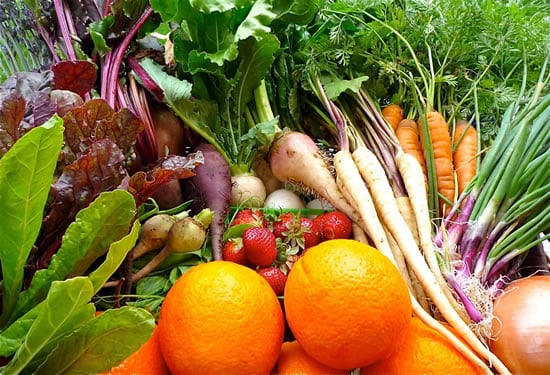 Last year I took the October Unprocessed challenge and started reading grocery labels carefully. Reading the additives article on Eating Rules really helped me understand the ingredients on labels. I learned that most unfamiliar words are processed ingredients, but not all of them have to be taboo. Understanding the labels better helped me to make better choices in the market. For example, I discovered that the chicken broth that I was buying had added sugar in it. The solution was simple– I just switched to another brand. Once I found my new brands and liked their taste, I was all set. Just make sure you allow for extra time in the market if you are in an extensive label reading phase.
This year I am making many diet changes at once as I shift to a low cholesterol diet. I have to say that it's been hard for me to make so many big changes at once. I have to remind myself that change can be hard and that it is a process that happens over time. I'm out of my cooking repertoire. Thus, preparing meals is taking longer, and some of the food doesn't taste great. I feel pressure when my family is sitting at the dinner table waiting to eat. Sometimes they don't understand why I can't cook what I usually cook. Other times they are excited about new, successful dishes. So just know that if you are struggling, sometimes I am too. I may get disappointed or frustrated, but I won't be deterred for long. I keep trying to cook in new healthy ways. I'm determined to find more food that is healthy and amazingly tasty. Yes, the dishes must taste sensational. I have been wading through the dull food that just won't cut it for a foodie like me. My repertoire of great unprocessed, healthy food keeps building. I share these recipes on my blog Foodie Goes Healthy.
Today I am sharing one of my successful unprocessed, healthy recipes: Farro with Spinach, Basil, Lemon, and Pine Nuts. This dish can be made as a vegan or vegetarian main dish or as a side dish. This recipe comprises all the best Italian flavors in a bowl. It's even "kid-approved."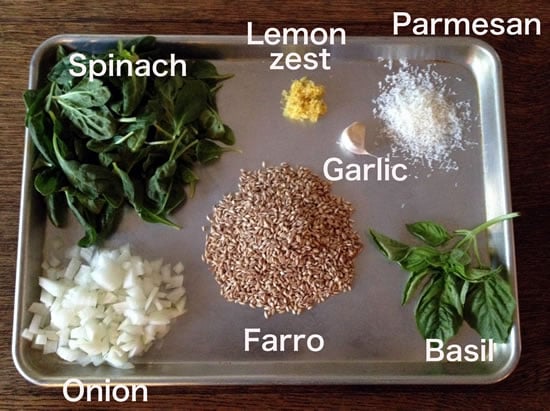 For this dish I have been experimenting with several different ancient whole grains. Suffice it to say that I haven't mastered kamut or spelt yet, but the one thing I can say is definitely pre-soak kamut and spelt overnight. Don't believe a package instruction that says there is a "no-soak" method for whole grain kamut and spelt. The winning grains in my house for this recipe are whole grain farro, pearled farro (some of the outer bran is removed), and whole wheat orzo pasta. If you haven't eaten farro before, it's a whole grain that has a slightly nutty flavor and a chewy texture similar to barley. It works as a substitute for pasta or rice in many dishes. I love that the whole grain farro doesn't need to be soaked overnight; it just cooks a little longer. Ironically, my farro package didn't include "no-soak" instructions for whole grain farro, so I've included instructions below.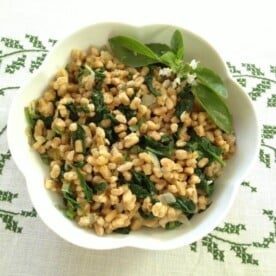 How To Cook Whole Grain Farro
No soaking necessary.
Ingredients
1

cup

whole grain farro

,

l used Bob's Red Mill

2

cups

vegetable stock

,

I used Pacific organic low-sodium or water

1/2

teaspoon

kosher salt

,

omit if stock is salty
Instructions
Follow package instructions to cook the farro, or use these no-soak instructions:

Put the whole grain farro, stock, and salt in a small pot. Bring to a boil. Cover and reduce flame to low. Cook for 40-45 minutes or until the farro is tender but not mushy. For pearled farro, the cooking time is approximately 25 minutes.
Nutrition
Calories:
181
kcal
,
Carbohydrates:
40
g
,
Protein:
4
g
,
Sodium:
765
mg
,
Potassium:
140
mg
,
Fiber:
7
g
,
Sugar:
1
g
,
Vitamin A:
250
IU
,
Calcium:
14
mg
,
Iron:
1.2
mg
Like this recipe? Rate and comment below!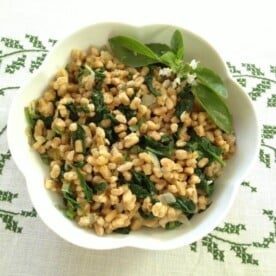 Farro With Spinach, Lemon, Basil, and Pine Nuts
My recipe is inspired by an orzo dish in
Cooking With Too Hot Tamales
by Mary Sue Milliken and Susan Feniger. I like to cook farro and beans when I have more time over the weekend and store them for later use in multiple dishes during the week. This recipe comes together quickly on a weeknight if the farro and beans are made ahead. This hearty dish can be made earlier in the day and then reheated.
Ingredients
1

tablespoon

olive oil

1/2

small

onion

,

chopped small

2

cloves

garlic

,

minced

1

large

bunch of baby spinach

,

wash and leave wet (about 5 oz.)

Several grinds of black pepper

A few pinches of kosher salt

1-1/3

cups

cooked farro

,

made from 1 cup of raw farro

1/4

cup

toasted pine nuts

Zest from 1/2 of a small lemon

1

cup

cooked white beans

,

optional Note that home-cooked flavorful beans will taste best, but canned beans can be substituted.

6

large

basil leaves

,

julienned

1/4

cup

grated parmesan cheese

,

optional
Instructions
In a large sauté pan, heat oil over medium heat. Add the onions and sauté for about 8 minutes. Add garlic and sauté for 2 minutes more, until the onions are translucent.

Then add the spinach with the water still clinging to the leaves. Sauté until the spinach is wilted and just tender, about 3 minutes. Sprinkle the spinach with a large pinch of salt and a couple grinds of pepper.

Next add the cooked farro, pine nuts, lemon zest, and cooked beans (optional) to the pan. Stir to combine, and warm up all the ingredients on the stove stirring occasionally.

Add the basil and parmesan cheese (optional). Taste for seasoning: add a few pinches of salt and several grinds of pepper. Also, taste for balance of flavors, and add a little more zest or basil if preferred. Serve warm.
Nutrition
Calories:
199
kcal
,
Carbohydrates:
17
g
,
Protein:
8
g
,
Fat:
11
g
,
Saturated Fat:
2
g
,
Cholesterol:
5
mg
,
Sodium:
99
mg
,
Potassium:
326
mg
,
Fiber:
3
g
,
Vitamin A:
155
IU
,
Vitamin C:
1.4
mg
,
Calcium:
115
mg
,
Iron:
2.4
mg
Like this recipe? Rate and comment below!
If you just bought a big bag of farro and wonder what else you can make with it, here are some ideas:
Add cooked farro to vegetable soup.
Mix cooked farro with heirloom tomato sauce or pesto sauce as a side dish.