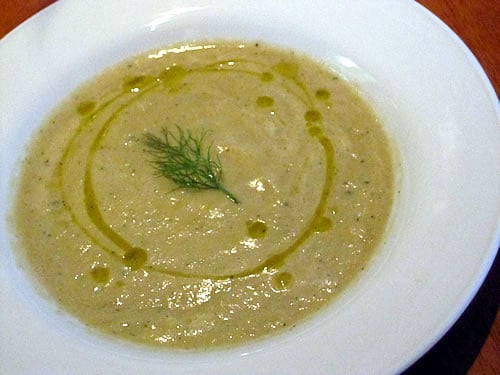 I tried the fantastic vegan fennel and garlic soup at Real Food Daily a few weeks ago, which inspired me to try my hand at something similar.  This was surprisingly easy, and — get this — might actually be one of the most delicious and satisfying things I've ever made.
Fennel, Leek, and Zucchini Soup
Prep Time:
Cook Time:
Total Time:
Ingredients
1 Fennel Bulb, sliced
5 stalks Celery, sliced
2 Leeks, sliced
3-5 cloves Garlic, diced OR 1 tsp. Garlic Powder
1 Zucchini, with skin still on, sliced
3 Tablespoons Olive Oil
3 cups Hot Water
2 teaspoons Better Than Bouillon Vegetable Base
2 cups Fat-Free Milk
Instructions
In a large saucepan, sauté the olive oil, fennel, celery, and leeks for about 10 minutes. Add the garlic and zucchini and saute another 5 minutes, or until everything's soft.
In a bowl or large measuring cup, mix the bouillon into the water to make a veggie broth, then add to the veggie mix. The veggies should be completely covered in broth. Simmer gently for 10-15 minutes, stirring occasionally.
Remove from heat and pour in a large ceramic bowl to cool a little (or whatever works). Purée everything with an immersion blender, regular blender, or food processor.
Once the veggies are puréed, add the milk and blend, just briefly. Place back on the stove and heat again, stirring frequently, and be careful not to boil.
Garnish with a spring of fennel and a drizzle of olive oil.