Five Materials for a Healthy Kitchen
Sep 17, 2015, Updated Sep 01, 2017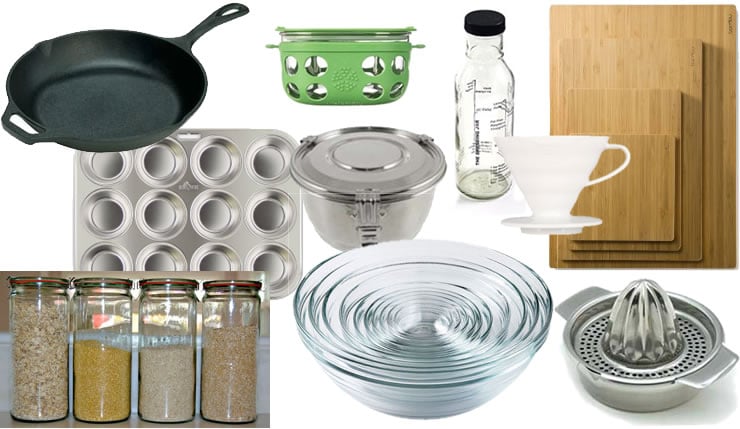 Once you've made the commitment to detoxing your diet, you might be wondering how to make your kitchen a healthier place to prepare, serve, and store real food. Now—as you prepare for the challenge of a month without processed foods—is the perfect time to think about finding safe, durable kitchenware to prepare homemade meals for your family and friends.
Here are the top five materials we recommend for a healthy kitchen, and why:
1. Cast Iron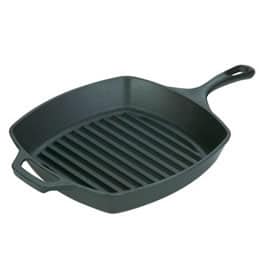 Pots and pans made of cast iron are heirloom-worthy kitchenware workhorses that can be used on the cooktop and, if necessary, transferred into the oven for continued cooking or braising. Uncoated cast iron cookware requires careful "seasoning" with oil to ensure that food doesn't stick to the surface.
Fortunately popular cast iron cookware manufacturers like Lodge are now selling cast iron cookware with a "pre-seasoned" finish. Their enameled cast iron cookware comes in gorgeous colors and the finish is even easier to maintain. Enameled cast iron dutch ovens and casseroles are best for cooking "slow food" like soups, stews, roasts and chili.  If you have invested in a piece of enameled cast iron cookware, you can also marinate meat or store leftovers—even tomato-based foods like chili—in the refrigerator, as the ceramic finish is impervious to acid.
Unlike pans that are coated with a layer of chemicals to prevent sticking (yeah, we're referring to the synthetic polymer PTFE found in Teflon), cast iron cookware does not release gases or chemical particles into the air or your food when it is heated—so you can get your sear on without worrying about what you're inhaling.
To preserve the naturally non-stick properties of your cast iron cookware, it's best to rinse well with warm water using a stiff brush. Then reheat on the stove top until dry. Cookware reaches 400F in 4 minutes on medium heat and is considered sterile once it reaches 212F, so no soap is necessary. Rub with a light coat of oil after every wash.
2. Stainless Steel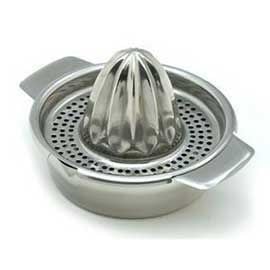 Stainless steel is everywhere in kitchens, from decorative finishes to cookware and utensils.  It's a time-tested, durable, and non-toxic material that can withstand use (and even abuse) on the cooktop, in the oven, on the table, or for storage in the fridge or pantry. Many stainless steel products are also comprised of recycled material, making this a great green option for your kitchen and family.
The numbers (18/8, 18/10, 304 etc) you see associated with stainless steel can be confusing but they're quite simple.
In 18/10 Stainless Steel, the first number refers to the percentage of chromium present and the second represents the amount of nickel. Chromium helps bind oxygen to the surface which protects the iron in stainless steel from rusting. Nickel enhances the corrosion resistance.
18/8 and 18/10 are also known as 304 Grade, and are the two most common grades of stainless steel for food prep and dining.
High quality stainless steel won't rust or become pitted from contact with acidic foods like orange juice or tomato sauce, as it is a non-reactive material.  That also means it won't absorb food odors and flavors from one use to the next. It's also extremely durable and easy to clean. So stainless steel is a favorite material for reusable water bottles and lunch gear, too.
For those who experience a nickel sensitivity, we recommend cooking with nickel free stainless steel cookware. Made from Japanese steel, each piece has copper melted into the steel which conducts heat quickly and evenly.
3. Glass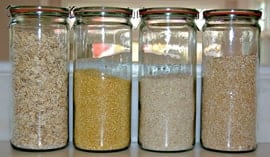 Baking, serving, and storing your food in glass is the perfect way to add safe sparkle to your kitchen.  Glass kitchenware is free of lead and chemicals like BPA that are commonly found in plastics, which makes it the perfect material for your kitchen creations and ingredients.
Fortunately for the klutzy cook, glass is not as fragile as it appears—especially brands like Duralex and Anchor Hocking tempered glass, which can withstand temperature changes or even being dropped without breaking.  If tempered glass does happen to break, which actually takes a fair amount of effort, it shatters into chunks rather than shards, making for an easier and safer cleanup.
Using glass bakeware takes the guesswork out of testing for doneness; a quick peek at your pie crust is enough to tell whether you've gone from browned to burnt.  Unlike metal pans, glass bakeware heats very evenly, with few hot spots. Glass also retains heat for longer than metal, which means that your lasagna will stay warm long enough for you to get it to the table. Because of glass' excellent heat retention properties, you may want to adjust your oven temperature down by 25 degrees to prevent over-browning. This precaution is especially important if you are adapting a recipe that was written for a metal pan, or if you are baking a treat that contains a fair amount of sugar.
When you store food in glass, you can have confidence that it'll taste the same when you crack open the fridge again: glass is non-porous, which means that odors and flavors can't be absorbed. Glass can also be used in the microwave, which makes it perfect for packing and reheating lunches. Air and moisture can significantly alter the flavor, texture and freshness of dry foods, so for storage of dry goods, airtight glass jars are the best bet. Plus, glass is a beautiful way to not only see what you have on hand, but also to prevent bugs and pests from nesting in your ingredients. Best of all, glass is a natural material and real (like the food you put into it).
4. Bamboo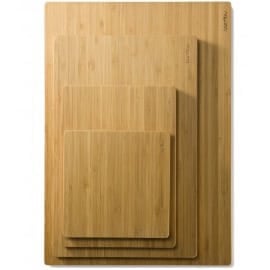 Bamboo is a renewable resource that is harvested in a sustainable way, but it's a kitchen favorite for more reasons than its eco-friendliness.  Bamboo is less porous than other woods, which means it is less likely to take on or transfer odors (if you've ever sliced an apple on a cutting board that was previously used for onions, you'll appreciate this benefit.)  Bamboo absorbs very little moisture compared to other woods, and for this reason it also resists swelling, which can lead to cracking and warping.
Cutting boards made from bamboo won't dull your knives, and they are also less likely to result in cross-contamination than plastic boards thanks to the naturally-occurring anti-microbial compounds in bamboo.  Plus, getting the cutting board down from the cabinet is easier with bamboo than with other materials, as it is lighter in weight.
Bamboo kitchenware is easy to keep clean by handwashing and air drying.  Like wood, bamboo needs an occasional massage with Bamboo Goo or food safe oil to keep the surface from drying or cracking.
5. Ceramic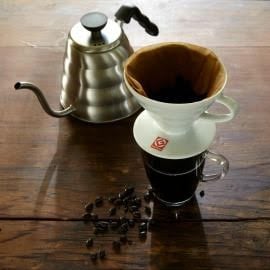 Ceramic is a kitchen- and earth-friendly material that can withstand extreme temperatures.  For coffee enthusiasts, this glazed pour over coffee dripper is ideal to brew the perfect cup of joe. Most conventional coffee makers are made of plastic that contain BPA — not the best idea for steaming-hot water to pass through on a daily basis.
Glazed ceramic, which has a non-reactive finish that resists oozy disasters like melted cheese, is impervious to scratching, won't release any particles into your food, and can even go in the dishwasher. Because it is unreactive, ceramic can be used to cook and store all kinds of foods without creating an "off" flavor or leaching into your favorite recipe.
Now that you know our picks for the safest kitchen materials, take inventory of the tools you use in the kitchen and consider for a moment what they're made of.  Make sure that the things you use most are safe for your family and do justice to the beautiful, healthy food coming out of your kitchen.
Pledge to take stock of the materials in your kitchen. Then tell us: which piece of gear is next on your list to add to your healthy kitchen?