For the Love of Beans
Oct 03, 2011, Updated Aug 22, 2022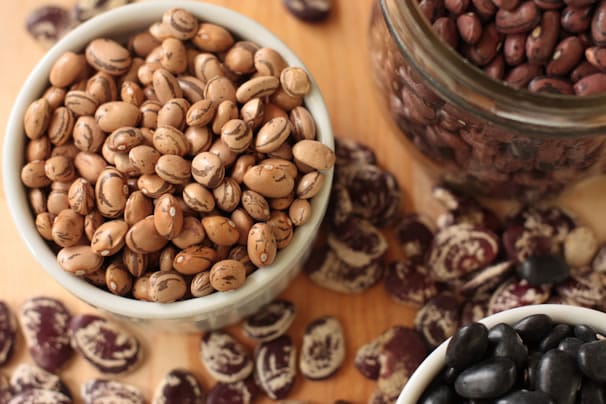 Aside from vegetables freshly plucked from my garden, I think beans are the ultimate unprocessed food. I mean, just look at them. They're perfect little balls of nutrition.
For anyone who wants to eat a more unprocessed diet – especially a vegetarian one – beans are absolutely essential. As holistic nutrition expert Alex Jamieson [who wrote a guest post for October Unprocessed 2010] explains, "Beans and legumes are great sources of vegetarian protein, no matter which ones you choose." Of course, beans are superstars in the fiber department, and diets high in fiber have been associated with a lower risk of heart disease. That alone should motivate you to be a bean-a-holic.
Here's a roundup of delicious and inventive ways to incorporate beans and lentils into every meal of the day. I'm not going to cover overly-familiar territory like beans and rice, chili, lentil soup, or any form of tofu. I want to inspire you to think outside the chili pot!
Beans for breakfast
First of all, Johnny Cash wrote a song called Beans for Breakfast. What more reason could you need to try it?  OK, nutrition is a pretty good reason, too. Adding beans to your morning can help you break out of that refined white flour breakfast routine.
Black beans, egg whites (or tofu), salsa and reduced-fat or vegan cheese in a whole wheat tortilla.  Healthy breakfast heaven.
Eat breakfast like an Egyptian with Ful Medames, a traditional fava bean dish.
Feeling more traditional? Whisk a half-cup of pureed white beans with four whole eggs, four egg whites, a cup of skim milk and a bit of vanilla and cinnamon for a protein-spiked French toast batter.  No one will taste the beans.
Beans for dessert
Don't be skeptical – beans blend into dessert recipes seamlessly. It's a perfect way to get more fiber into your kids' diets … not to mention your own. Here are some favorites full of unprocessed bean-y goodness (most of them gluten-free.)
Lentils as a meat substitute
The chewy texture of lentils makes them a great stand-in for meat. They work best in hearty dishes like these:
Chickpea flour for breads, tarts and pizza
Whether you call it besan, gram, chickpea flour or garbanzo bean flour, this stuff is my new obsession, and a great way to add fiber – and flavor – to doughs and baked goods. Chickpea flour is readily available from Bob's Red Mill, but if you want to get really unprocessed about it, you can make your own.
Instead of serving nan with your next Indian meal, try these spiced-up Missi Rotis for a higher-fiber accompaniment.
Chickpea flour makes for an incredibly good savory tart crust. I recently made this swiss onion and chard tart, adding a base layer of cashew cream, and it was swoon-worthy.
It's easy to make socca, a chickpea flour pancake originating in the south of France, or a similar Italian flatbread called farinata. Madhur Jaffrey's chickpea flour and parmesan pizza was inspired by these, and makes for an easy weeknight meal.
Bean salads
Sure, you've sprinkled some beans into your green salad, and you've had the ubiquitous black bean salad with corn. But dig deeper into the bean salad world and you'll start to realize there are spectacular ones that deserve more than side-dish status.
Bean cakes
Bean cakes (or patties if you prefer) aren't trying to be burgers. They are a softer but equally satisfying centerpiece for a meal, usually topped with a flavorful salsa or chutney. Trust me, you won't miss meat when you have one of these babies on your plate:
White beans for creamy soups and sauces
White beans are a must-have for gluten-free cooks as well as cholesterol-watchers. Pureed with some water or stock, they provide an easy way to thicken soups and sauces without using wheat flour or heavy cream. It's an "invisible" way to add protein and fiber to your soup or stew.  Lentils can similarly thicken
For a creamy vegan take on pasta with vodka sauce, make your favorite marinara recipe, and stir a half cup of pureed cannellini beans and a few tablespoons of vodka near the end of the cooking time. Mix with cooked pasta and you're done!
White bean flour is another handy thickener for gravies, soups and sauces – and a quarter cup contains 8 grams of fiber and 7 grams of protein.
Bean and lentil sandwich spreads
Rather than eating meat or even a processed vegetarian "lunch meat" on your sandwich, why not try a delicious bean spread?
Simply puree black beans with a little olive oil, lime juice, cayenne pepper and garlic. Spread on whole wheat bread with avocado, roasted red peppers and red onions.
Crunchy bean snacks
Why munch on chips or pretzels when you can get your snack fix and protein & fiber fix at the same time? Make a big batch of roasted edamame or chickpeas and you won't find yourself reaching for processed snacks.
Ezekiel bread, cereal and tortillas
OK, I have to admit, I used to pass right by Food For Life's Ezekiel products in the supermarket. Between the Bible reference on the packaging and the idea of sprouted legumes in my cereal, I wasn't exactly sold. But my growing dissatisfaction with sweet breakfast cereals, and a desire to boost my protein and fiber intake prompted me to take another look. Ezekiel bread is made from wheat, barley, beans, lentils, millet, and spelt, creating a complete protein – a big deal for vegetarians and vegans. Much to my surprise, I love the cereal, which is like a crunchier version of Grape Nuts – with no sweetener added.
A few last thoughts
I hope I've inspired you to make your October: Unprocessed a bean-filled one. Alex Jamieson wanted me to pass along these shopping tips: "When buying beans, quality is important. Buy organic dried or canned beans as several studies have shown that organic foods, including beans, offer more nutrition because they're grown in healthier soil. Also, buy your beans from brands like Eden Foods in BPA-free cans to avoid toxic residue from the packaging."My own tip is to get dried heirloom beans from Rancho Gordo. Once you've had Yellow Indian Womans, Good Mother Stallards or Christmas Limas, you won't go back.