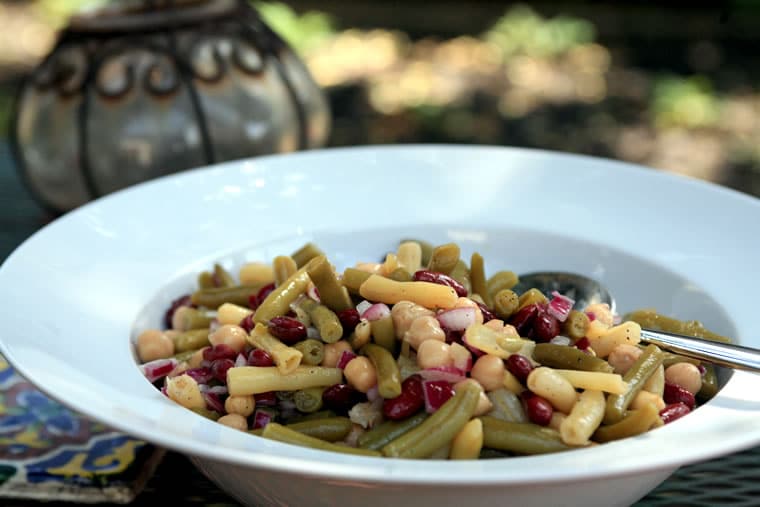 Yesterday I had the pleasure of attending a Food Bloggers Los Angeles meetup, hosted by Two Broads Abroad. It's always a casual affair, in which local food bloggers friends get together for a potluck meal and to discuss a particular aspect of blogging. (Yesterdays topic? Pinterest.)
It's always a fun time that goes by way too quickly; food bloggers are such lovely, enthusiastic, and supportive folks. (And I'm ever-grateful for Erika, Patti, and Dorothy for leading the charge on all things FBLA.)
Since Mother's Day is just around the corner, we were asked to bring a dish honoring our mothers. You know, something mom used to make.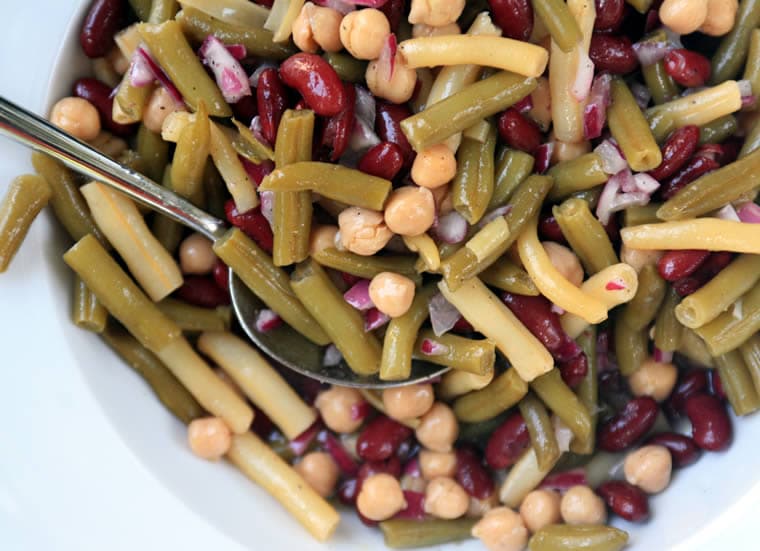 So I flipped open the three-ring binder my mom gave me a few years back, filled with the recipes she's collected over the years.  I love thumbing through the various recipes — and seeing where many of them came from ("Grandma Martha's Sewing Class" is my favorite). It gives a perfect hint of a rich history and tradition. There are even a couple of recipes that just say "Andrew" beneath the title — a clue that I've long enjoyed spending time with mom in the kitchen.
It's funny, with all the cookbooks we have in our kitchen, that's the one I go to most often. And if you scan through many of my posts, you'll probably notice that there are a lot of "Thanks, Mom!" parentheticals peppered throughout. When I pause to think about how much I know in the kitchen, a heck of a lot of it came from her.
So, thank you mom, for teaching me so much, for your inspiration and guidance, and for your Rule-of-Three.*  Also, for this super-simple four bean salad recipe, which takes just about four minutes to make. I love you.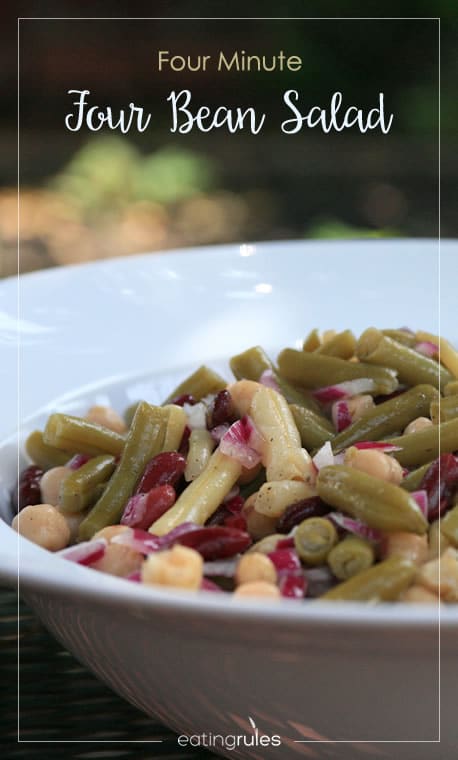 4-Minute Four-Bean Salad
A perfect side dish for a summer picnic! It's best when made a day or two before, so the onions have a chance to pickle a little bit in the vinegar, and all the flavors have some time to get to know each other.
Ingredients
1

can

yellow (wax) beans

2

cans

green beans

1

can

red kidney beans

1

can

garbanzo beans

(chickpeas)

1

small

onion

finely diced

1/4

cup

unrefined sugar

optional

1

teaspoon

black pepper

1/2

cup

vinegar

distilled white, or apple cider

1/4

cup

extra virgin olive oil
Instructions
Open all the cans and empty the beans into a colander in the sink. Rinse.

Add all ingredients to a large container, ideally one that has a leak-proof lid. Attach the lid and roll or flip the container to mix the ingredients.

Refrigerate for at least a few hours (overnight is better). Roll or flip the container occasionally to help it marinate. Serve cold.
* Mom always insisted I try something at least three times before giving it up.  Soccer practice, piano lessons, whatever. I had to go three times before I was allowed to quit (which often didn't happen after that third time). Smart woman, that one.