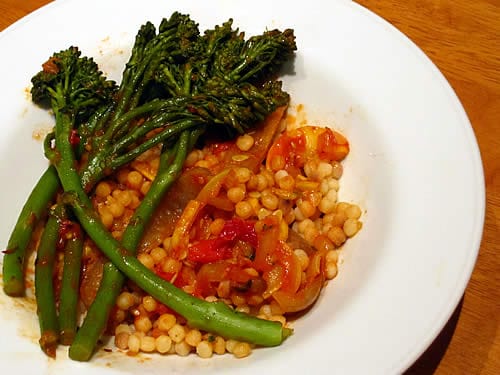 This recipe-for-the-weekend is a bit of a cheat meal, since it's not whole-grain pasta.  But the delightfully chewy texture of these little, toasted pearls makes it totally worthy.
The pasta is clearly the star of the show, so feel free to use whatever veggies you've got on hand.
According to one pasta maker's website, Fregola Sarda is…
…Toasted breadcrumb-like pasta from the island of Sardinia.

In its March 2006 issue, Health magazine praises fregola sarda for its healthful benefits. Says food editor Frances Largeman, "My new fave pasta…You get to indulge in fregola without the typical carb and calorie overload…It has a special kind of dietary fiber called resistant starch that helps maintain blood sugar and improves digestion…You might say I'm hooked on this classic and you will be too."

Fregare means "to rub," and this fregola pasta is made by rubbing coarse semolina pasta and water together to create crumbs. The crumbs are then toasted, which imparts a rich, earthy flavor to the pasta. The pasta is cooked a little like rice, with an excessive amount of water that is allowed to evaporate during the cooking process.
I tried to verify the Frances Largeman quote, but the Health Magazine online archives don't seem to go back that far.  Anybody have the March '06 issue lying around?

Fregola Sarda with Seasonal Vegetables and Sun-Dried Tomatoes
Prep Time:
Cook Time:
Total Time:
Ingredients
½ bunch (about 10 stalks) Broccolini
1 Yellow Squash, diced
1 Tablespoon Olive Oil
2 cloves Garlic, chopped
¼ Yellow Onion, diced
1 Purple Bell Pepper, sliced*
1 cup Cherry Tomatoes, sliced in half
¼ cup Sun-Dried Tomatoes (packed in Oil)
1 Tablespoon Organic Tomato Paste
5 leaves fresh Basil, chopped
¼ teaspoon freshly-ground Black Pepper
Instructions
Cook the pasta as directed. In our case, it took 25 minutes, not the 15-17 the (beautiful) packaging recommended. Make sure you use plenty of water, as they expand significantly!
While the pasta is cooking, steam the Broccolini and Squash. In a separate pan, saute the garlic, onion, and bell pepper in the olive oil. Once the onions are soft, lower the heat and add the tomatoes, tomato paste, and basil. Once that's all cooked, add the steamed vegetables and mix together. Add pepper to taste.
Mix the cooked pasta with the vegetable mixture. When plating, pull out the Broccolini (now coated in the tomato sauce mixture), and lay on top.
If you can't find Fregola Sarda, I'd recommend Israeli Couscous or Orzo Pasta instead.
Notes
*Although it's not necessary to use a Purple Bell Pepper, that's what we had on hand, and it made for a nice detail. My second choice would be a red pepper.