As a vegetarian for 25+ years, Nancy Rose Eisman is a passionate, enthusiastic proponent of eating a plant-based diet. Through her blog Adventures with Nancy Rose, and in her main work as brand ambassador, writer, and marketing/promotions specialist with Melissa's Produce Company, Nancy is talking the talk and walking the walk. A member of the International Association of Culinary Professionals and Les Dames d'Escoffier International, Nancy's produce-centric point of view is a good step in the unprocessed direction. You can also find Nancy on Pinterest.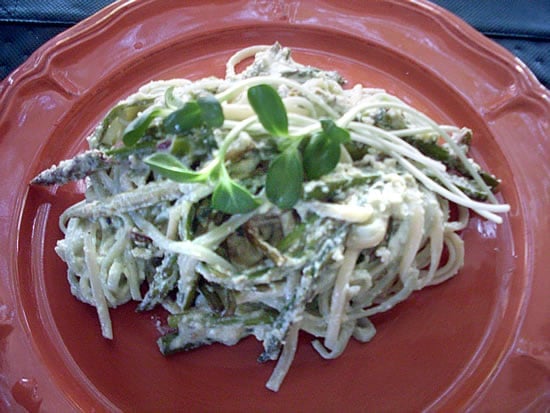 Great ingredients are the inspiration, and recipes are the GPS to making magic happen in your kitchen. You see something prepared on a cooking show or in a magazine, eat a dish at a friend's or in a restaurant, and the recipe provides you with a map to recreate the dish exactly, or as a guide to making it your own. Your next step to a great culinary creation should be to choose fresh, natural, unprocessed ingredients as much as possible, and then you're on your way to a healthy, delicious whole food experience.
For October Unprocessed I turned to a favorite dish of mine, Fettuccine al Limone from C&O in Marina Del Rey. Their recipe is made of perfectly cooked pasta with a heavenly creamy and cheesy sauce with vodka and a twist of lemon. To make it my own and to make it healthier I added fresh asparagus and green onions for extra flavor and texture. Because the recipe had taken a green turn, I opted to swap out the lemon with fresh lime, and to keep my carbon food print as small as possible, rather than go to the store for vodka I substituted a white rum that I had on hand.
Wait, there's more!  I wanted to create a creamy sauce without dairy and know that raw nuts are commonly used this way in vegan recipes.  The vegan lemon cream sauce recipe I found used cashews which I didn't have so I substituted macadamia nuts.  The consistency of the sauce was too thin and not creamy enough so I added a small amount of soy milk and it still wasn't right. Luckily I had a perfectly ripe avocado (more green), threw that in the processor, and voila!, a very delicious, thick, and super-creamy sauce that had all the cheesy richness of alfredo with none of the cheesy cholesterol.  Garnished with sunflower sprouts (because there's never enough green), I had to send myself to my room after two helpings or I would have eaten the whole thing.  Really.

GPS Pasta (i.e., Green Pasta Supreme)
Author:
Nancy Rose Eisman
Ingredients
1 cup raw macadamia nuts
¾ cup water
⅓ cup plain soy milk (not non-fat)
1 avocado
zest of 2 Key limes
3 Tbsp. lime juice
½ tsp. minced garlic
a splash of rum (optional)
Kosher salt and fresh black pepper to taste
1 bunch asparagus (about 20 spears, cut in half)
3 green onions, cut into thin strips
olive oil
12 ounces whole wheat linguine
handful of green pea shoots for garnish (optional)
Instructions
Put all the sauce ingredients in a processor and whip it into a frenzy until you have a nice, faintly green colored, and very fragrant creamy consistency. Season with s&p and set aside.
Slice the asparagus pieces in half lengthwise. Heat a spoon or two of olive oil in a saute pan then add the asparagus. Saute on medium-high heat about 4-5 minutes. Add the green onion strips and continue cooking another 2-3 minutes. Season and cover.
Cook the pasta until al dente then drain. Add the pasta to the saute pan with the asparagus and green onions and toss together. Add the wonderful creamy sauce and toss until the pasta and veggies are coated. More s&p if you like. It tastes as good as it smells, so dig in already.