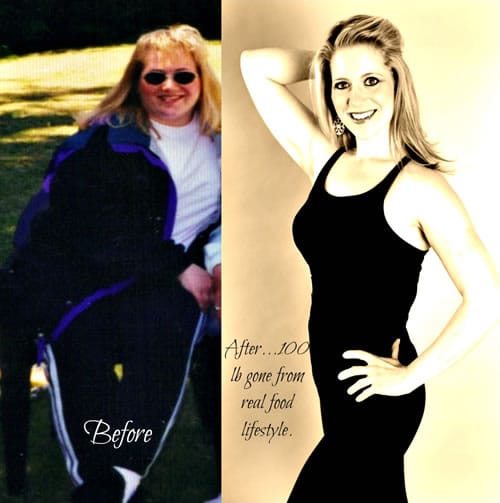 Several years ago I made a decision that changed my life forever. I was going to stop dieting. Stop counting calories and stop waiting until I hit 120 pounds to be happy with myself. I was going to do something every single day to be healthy that day and no longer worry about my weight. I was going to stop eating processed diet meals and packaged diet food. I felt sick all of the time, my weight was continually increasing despite constantly being on a diet and I had lab work telling me this diet food wasn't helping – I was pre-diabetic, had high blood pressure and high cholesterol. I had been overweight since about eight years old and obese since high school. I was finished with this lifestyle, once and for all.
I will never forget the day I made the decision to never again go on a diet and instead begin living for a healthy future, regardless of my current weight. I was almost 26 years old and had a beautiful 2-year-old daughter. I was in the process of taking business courses and nutrition courses online so I could launch my personal chef business – my dream job. I was on the couch one day as my daughter played. She was so gorgeous, happy and seemed to have limitless energy. It hit me as I sat there with no energy and so unhappy with my body that if I continued on this path I would not be around for her for very long. I would be lucky to reach the age of 70 or 80 and at this rate, my quality of life would be poor. Most of all, if I continued to model the life that led me to the state I was in (processed foods daily, poor nutrition, not much exercise) she was more than likely going to end up overweight herself and destined to a life dealing with the diet-related disease that myself and most of my family had.
From that very moment on I decided I was going to be healthy every day, no matter what my weight was. I threw out all of the processed diet food. I already loved to cook so I started "healthifying" the foods we loved. I had been studying nutrition so I could have some knowledge to design meals for my personal chef clients, and I started implementing what I learned into my own life. No calorie counting, but watching portion sizes, eating just what my body needed. Every day I made healthy choices to help me have a healthy future. I started taking walks because I knew it was good for my heart, not because I was trying to get to a specific size.
Within about one year I lost 40 pounds. I had my son about this time and after he was born I lost another 60 pounds. This was over 5 years ago.  I feel amazing and living this way honestly helped me begin learning to love myself, something I had never felt. I feel proud of what I serve my family. I feel so happy when I help a personal chef client enjoy real-food meals that allow them to reach weight loss goals effortlessly, or just get their family to enjoy a healthy meal together.
I have a mission to help people learn how to feed their bodies right – not to lose weight, but to have a healthy future. I want to help families create a healthy living legacy to pass on to future generations. Getting back to basics and enjoying the beauty and amazing flavors of real food, what a gift that is! I think it is about finding what works for each individual, taking baby steps if necessary. Being educated and constantly striving to do better, this is the way to a long, healthy, vibrant life. With the busy lives many of us live, having healthy meals nightly seems like the impossible. I hope to help those in that situation and as a personal chef I find it such a gift to be able to help an individual or family enjoy healthy meals again. I also created my healthy menu plan, Menus by Mesa de Vida to help people nationwide, not just in my own backyard. I aim to help busy people who want to provide delicious meals for their family,  to become healthy kitchen rock stars and bring more life to their family table.
This is why I was so excited to come across the October Unprocessed challenge in 2011. What an amazing concept! For some families this is a place to gain education and begin living a life that doesn't include Hamburger "Schmelper" nightly. For others who already live a pretty healthy life, it may inspire them to make just one more change for the better and hopefully inspire someone else to do the same. This may even be life changing to someone out there, it may actually save their life, like going "unprocessed" more than likely saved mine.
I want to share a recipe that is a personal chef client favorite, as well as my family's. Food has to be delicious AND nutritious for me to pass it on, as well as pretty easy. I like to pack as many vegetables into recipes as I can to not only add nutrition, but to make a smaller portion of something like an enchilada dish more filling. I personally keep high quality frozen organic vegetable around to bump up the veggies in recipes easily.  I highly recommend doing this yourself, if you can. I try to eat mainly what is local and in season, but also realize that this isn't possible for everyone. Again, it is a process of small changes, for some of us this means buying a bag of high quality frozen organic veggies at the market, versus relying on canned GMO corn like we used to. Do your best. Instead of rolling these enchiladas I make it casserole style – easy! I will share my homemade Ranchero sauce recipe, or to make it even easier you can simply use pureed tomatoes or a pure tomato sauce. I hope you enjoy!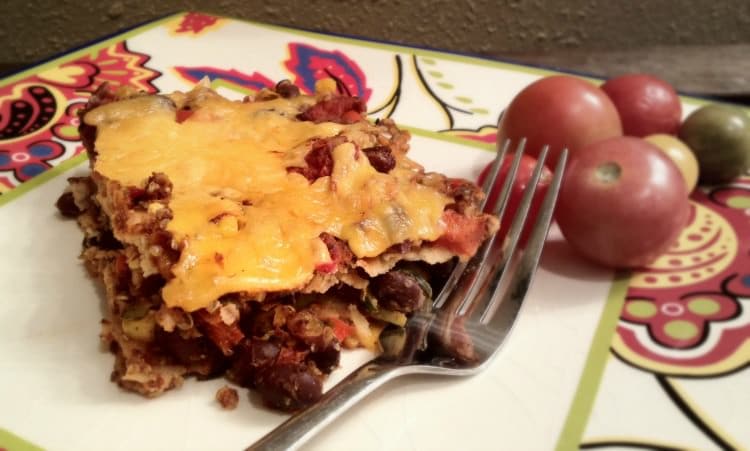 Black Bean and Quinoa Enchiladas
This mouth watering recipe makes for an incredible substitute over their counterpart.
Ingredients
2

tsp

healthy oil/fat of your choice

1

onion

chopped fine

1

red bell pepper

chopped fine

1

jalapeno

chopped fine

1

carrot

shredded or chopped fine

1

cup

kale

shredded fine (or use tender baby kale, Or, have a fresh zucchini? use that instead!)

2

tsp

dried ground chili powder

my favorite is Ancho Chili powder

1

tsp

dried cumin

1

tsp

dried oregano

2

pinches

Kosher/sea salt

1 1/2

cups

cooked black beans

some of us may grab a can of organic canned beans

1

cup

cooked quinoa

I like to plan ahead and cook a big batch at the beginning of the week to keep on hand.

1

cup

fresh or frozen organic corn

3-4

cloves

garlic

minced

1

lime

juiced

4-8

corn tortillas – I use 4 in my family so we can have a larger portion of all of the vegetable/bean/quinoa goodness.

check the ingredients to make sure they fit in with the #Unprocessed rules, or make your own.

About 2 cups pureed tomatoes

some of us will use organic canned, others may choose to process their own. Also try this recipe for my Ranchero Sauce if you wish!

1

cup

shredded organic cheddar cheese

optional

1

cup

fresh cilantro

chopped
Instructions
Preheat oven to 400 degrees, lightly oil a baking dish, approximately 9" x 13". Heat a large skillet over medium high heat, add oil, swirl to coat. Add the onion, bell pepper, jalapeno, carrot, kale and seasonings. Cook, stirring occasionally until the vegetables are tender, about 8 minutes.

Stir in the black beans, quinoa, corn and garlic. Lightly smash the black beans with the back of the fork or a potato smasher. Continue cooking the entire mixture, stirring occasionally, for about 5 more minutes until the ingredients get lightly golden brown. Squeeze the fresh lime juice over the mixture and stir, turn off the heat.

In the bottom of the baking dish, spread a little of the pureed tomatoes or Ranchero sauce. Tear the tortillas to fit the pan. Layer the tortillas, bean mixture and sauce 2-3 times depending on the size of your pan. Top with the cheese if using.

Bake for about 20 minutes. Wait about 10 minutes to cool before serving. Garnish with fresh cilantro and most of all…Enjoy!
About the Author
Chef Kirsten Helle is a mom to two crazy kids who lost over 100 pounds when she set out to create a healthy new family legacy.  She turned her passion for healthy cooking and exploring culturally rich recipes into a career as a personal chef for professional athletes and high-profile clients.
You can learn more about Chef Kirsten on her website and you can connect with her on Facebook, Instagram, and Twitter.