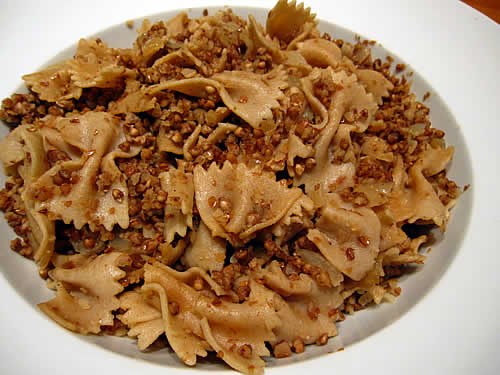 When I was a kid, my grandmother used to make Bow Ties & Kasha for us when she would visit from The Bronx.  I always loved it, and now it's become "comfort food" for me.  It's healthy and delicious, and just "feels like home."
Kasha specifically refers to Buckwheat Groats in traditional Jewish cooking (though in Russia it is a generic word for cereal).  The Kasha was also used as a filling for knishes, a type of filled dumpling.  Buckwheat was originally cultivated in Asia, and remains popular there, particularly for Soba Noodles.  Today, Russia and China lead the world's production of buckwheat.
Varnishkes is connected to the word vareniki, which originally meant a rectangular noodle.  The bow-tie pasta, or varnishkes, is made by taking a rectangular noodle and pinching it into a bow-tie shape.
This dish is traditionally made with chicken (or beef) broth and schmaltz (rendered chicken fat), but we prefer to use vegetable stock and olive oil.  Every cookbook and family seems to have a slightly different variation of this recipe, but no matter what, it always has the bow ties and kasha.

Kasha Varnishkes
Prep Time:
Cook Time:
Total Time:
Ingredients
½ pound 100% Whole Wheat "Bow-Tie" (Farfalle) Pasta
1 cup uncooked Buckwheat Groats (Kasha)
1 medium Onion, chopped
3 cups Vegetable Stock
1 Egg (or ¼ cup Egg Whites)
2 tablespoons Olive Oil, divided
Salt and freshly ground Pepper
Instructions
Cook the pasta according to the directions on the package. While that's cooking, sauté the onion with 1 Tablespoon olive oil in a small skillet. Set aside once the onion turns clear.
In a large pan, heat 1 Tablespoon olive oil. Add the kasha and egg to the pan, stirring quickly to coat the kasha in the egg. Continue to stir until the egg is "set," and each buckwheat grain is separate and dry. Add the vegetable stock to the groats, and simmer, covered, until all the liquid is absorbed (about 7 to 12 minutes).
Mix the pasta, onions, and cooked groats together in the large pan. Use more or less pasta, according to the pasta/kasha ratio you prefer. Stir while heating, and add salt & pepper to taste.